Now You See Me 2 Trailer: Watch The First Minute Of The Movie Now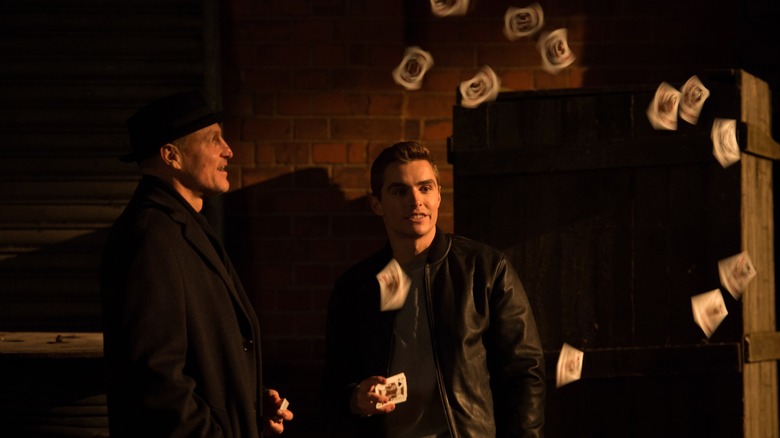 Lionsgate has released a new trailer for Now You See Me 2. The new piece of marketing shows how Morgan Freeman's character, incarcerated skeptic Thaddeus Bradley, has somehow framed the Four Horseman and is using the magician group to do his evil bidding. Of course we also see a lot of visual flourishes thanks to the film's magic-fueled heist set-pieces, many of which appear to use too much CG for my tastes. (As an amateur magician, I'd love to see more practical magic being used, as some of these visuals look too impossible even if the ideas are based in possible science.) Hit the jump to see the third Now You See Me 2 trailer.
True story, I almost saw this sequel while I was in Las Vegas covering CinemaCon. I was actually in the Colosseum at Caesar's Palace with a packed crowd. David Copperfield, one of the film's producers, did a magic trick and introduced the film. I saw the first 15 minutes of the movie and was pleasantly surprised at how much I was enjoying the film... and then, like a magic trick, the movie disappeared. It wasn't part of the plan – security had been alerted to a misplaced backpack, which resulted in a bomb scare that required the entire arena to be evacuated. Once it was determined that there was no danger, it was too late to restart the movie. So I'm actually more excited to see this film now than I was before.
And you too can see the first minute of the film, which is narrated by Freeman's character and recaps the events of the first film set to some fun visual illusions. See the first minute of Now You See Me 2 in the clip below:
Now You See Me 2 stars Jesse Eisenberg, Woody Harrelson, Mark Ruffalo, Lizzy Caplan, Daniel Radcliffe, Morgan Freeman, Michael Caine, Dave Franco, and Jay Chou.
THE FOUR HORSEMEN [Jesse Eisenberg, Woody Harrelson, Dave Franco, Lizzy Caplan] return for a second mind-bending adventure, elevating the limits of stage illusion to new heights and taking them around the globe. One year after outwitting the FBI and winning the public's adulation with their Robin Hood-style magic spectacles, the illusionists resurface for a comeback performance in hopes of exposing the unethical practices of a tech magnate. The man behind their vanishing act is none other than WALTER MABRY [Daniel Radcliffe], a tech prodigy who threatens the Horsemen into pulling off their most impossible heist yet. Their only hope is to perform one last unprecedented stunt to clear their names and reveal the mastermind behind it all.
G.I. Joe: Retaliation director Jon M. Chu is at the helm of the sequel this time, and it arrives in the middle of this summer on June 10th, 2016.