'The Nice Guys' Final Trailer And Early Reactions: Shane Black Does It Again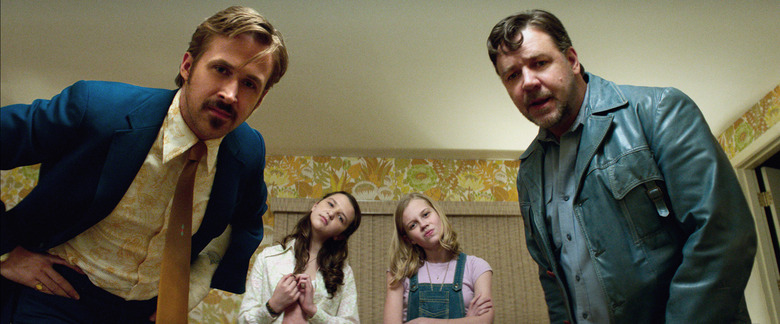 Forget all of those super-serious superhero-on-superhero showdowns. Sometimes, the brightest sparks fly when two not-so-heroic foes are forced to join forces. And no one does that particular genre of story like Shane Black, as we've seen in films like Kiss Kiss Bang Bang and Lethal Weapon. His latest, The Nice Guys, pairs a hapless detective (Ryan Gosling) with the gruff enforcer (Russell Crowe) who broke his arm, as the two get caught up in an ever-more-tangled web of intrigue involving a missing girl, a dead porn star, and Matt Bomer in a really unflattering haircut.
All of the marketing so far has suggested that Black is up to his usual tricks – colorful characters, ridiculous action, crackling dialogue – with typically spectacular results. And the first reactions from early screenings are backing that up. Get a taste of the Nice Guys buzz and watch the Nice Guys final trailer after the jump.
First, take a moment to drink in the Nice Guys final trailer.
This looks like so much fun. Gosling may love playing strong, silent types in dead-serious dramas like Drive and The Place Beyond the Pines, but in my opinion he's never better than when he gets to play charismatic motormouths. And Crowe's steady, solid, perpetually cranky-looking character is the perfect foil for Gosling's high-strung energy. Black even manages to pull off the trick of writing a cute kid character who doesn't grate with her precociousness. (He did this pretty damn well in Iron Man 3, too, if you'll recall.)
But look, anyone can cut together an entertaining trailer, right? Luckily, the early reactions indicate we're very right to be pumped for this one.
The Nice Guys is great. Shane Black is full on Shane Black here and @russellcrowe & @RyanGosling could make a series out of these characters

— Eric Vespe (@EricVespe) May 5, 2016
The Nice Guys: if I were any more in the tank for this, I'd drown. With that being said, it's reallllllly funny and stuff.

— Will Has The Same Handle on BS (@williambgoss) May 5, 2016
Look, I haven't seen Civil War yet but I HAVE seen The Nice Guys and it's fucking GREAT

— Duchess Twigglyspat the Cinema Cat (@loquaciousmuse) May 5, 2016
There's a chance THE NICE GUYS is the ultimate Shane Black film. Holy shit is this one great.

— Andrew Woods (@JimJarmuschHair) May 5, 2016


The Nice Guys arrives in theaters May 20.
"The Nice Guys" takes place in 1970s Los Angeles, when down-on-his-luck private eye Holland March (Gosling) and hired enforcer Jackson Healy (Crowe) must work together to solve the case of a missing girl and the seemingly unrelated death of a porn star. During their investigation, they uncover a shocking conspiracy that reaches up to the highest circles of power.