Star Wars Bits: Mark Hamill Shares A Few Stories, A New 'Star Wars' Video Game Is Announced, And The Original Role Of Boba Fett Is Revealed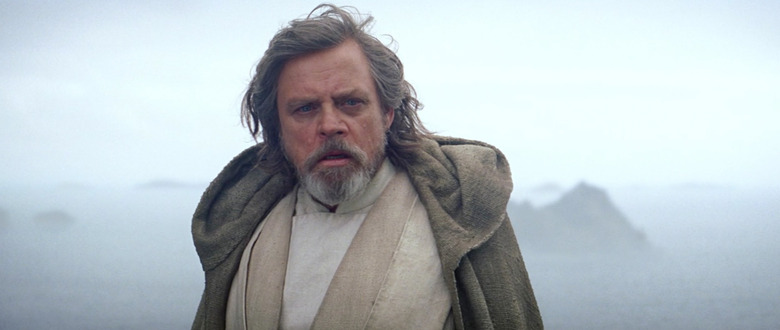 In today's edition of Star Wars Bits:
Mark Hamill talks about reading the screenplay for Star Wars: The Force Awakens.
The original role of Boba Fett is finally revealed.
Mondo releases a cool C-3PO art print.
Dave Filoni teases the return of a certain helmet on Star Wars Rebels.
Chuck Wendig shares a tiny taste of Star Wars: Aftermath – Life Debt.
Claudia Gray reveals secrets about Star Wars: Bloodline.
Everything you need to know about Korr Sella.
EA and Respawn announce a new Star Wars video game.
Story details from LEGO Star Wars: The Force Awakens come to light.
Fantasy Flight Games reveals the latest X-Wing expansion.
The actor behind Greedo defends the character's honor.
Preview pages from Marvel's The Force Awakens comic book.
Plan to drop to cash on Star Wars-themed tiki mugs.
Mark Hamill recently sat down for a sprawling interview with The Sun, where he talked all about the process of making The Force Awakens and what lies ahead. He recounts the first time he read the screenplay:
I read the script on a little iPad with a security man with me so I couldn't take notes ... The first few words in the crawl are 'Luke Skywalker has vanished' and I thought, 'Boy, this is going to be good!' I thought, 'Good, I'm going to have one of those 11th-hour entrances.' I wanted impact. I wanted to affect the storyline.
And he recounts the first time he watched the finished film:
The very first time I saw the film was at the premiere in Los Angeles, even though I was invited to see it before that at a little screening room. I would rather see it with a full audience. I thought it was amazing what they were able to do. It worked on the level for somebody who had never seen one of those films before.
He also chats about the original opening of the film, which we previously covered.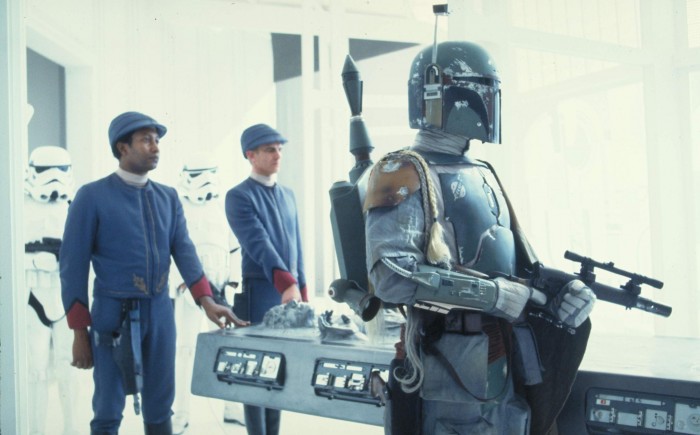 Inverse has posted a fascinating interview with Craig Miller, Lucasfilm's first fan relations officer, and he reveals that Boba Fett was originally a much larger character in the original trilogy. In fact, he claims that the Mandalorian Bounty Hunter was going to be the chief villain of Return of the Jedi, with the final confrontation between Luke and Darth Vader saved for another trilogy:
Originally Boba Fett was set up in Empire as a character, and the third movie's plot was going to be more about Boba Fett rescuing Han Solo and all of that. Boba was gonna be the main villain... That was set up, why he was taking Han Solo away, why there was a thing with him in the Christmas special.
When George decided not to make a third trilogy, he completely jettisoned that story line, which is why in the first ten minutes, Boba Fett gets bumped into and falls into the mouth of a giant monster. So he took what was planned for the third trilogy, which was the confrontation between Luke and Darth Vader, and the battle with the Emperor, and that got squished down from three movies to one movie. And that became the plot of Jedi.
This should be taken with a grain or salt or two since Lucas' original plans for the Star Wars series seemed to change based on which direction the wind was blowing on a given day, but this is just plain fascinating.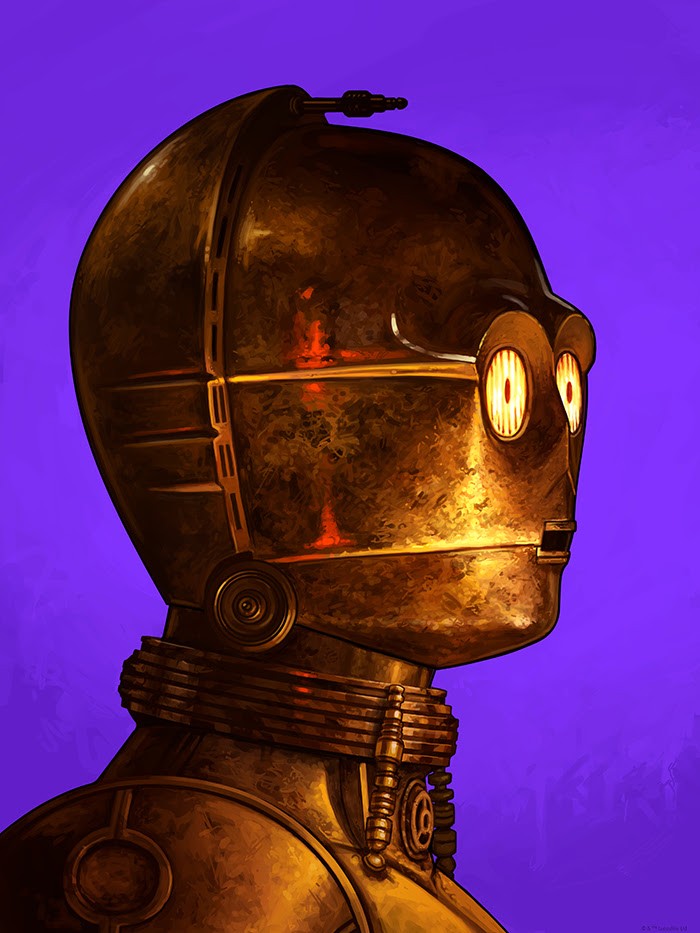 Mondo is currently selling a timed edition of this Mike Mitchell C-3PO portrait, which means that anyone who wants one get it as long as they order within the allotted timeframe. By the time you're reading this, time will be running short, so act fast if you want one. The poster is a 12" x 16" giclee and will cost you $55.
#MayThe4thBeWithYou! What is this? You can see it, if you are willing... pic.twitter.com/eKpPXbpuIy

— Dave Filoni (@dave_filoni) May 4, 2016


Star Wars Rebels may be on summer hiatus following its season two finale, but executive producer Dave Filoni used Star Wars Day as an excuse to tease the upcoming third season. Specifically, he took to Twitter to reveal that Star Wars: The Clone Wars veteran Captain Rex will once again return to Rebels and that he's bringing his distinctive helmet with him. Filoni has previously announced that he will be making a big announcement about this show at Star Wars Celebration in July, so keep your eyes and ears open.
May the 4th follow up: Rex in Season 3 looking like classic Clone Wars. #MayThe4thBeWithYou pic.twitter.com/R4XE6artEX

— Dave Filoni (@dave_filoni) May 5, 2016


Star Wars: Bloodline is available to purchase and read right now (and I'll have a deeper look at the book going up sometime next week), but Star Wars: Aftermath – Life Debt is waiting in the wings with a release date of June 12. Author Chuck Wendig celebrated Star Wars Day by sharing the first line of the book on his personal blog and after more than a few jokes and false starts, it was revealed to be:
Leia paces.
So there you go. Life Debt opens with Leia Organa pacing.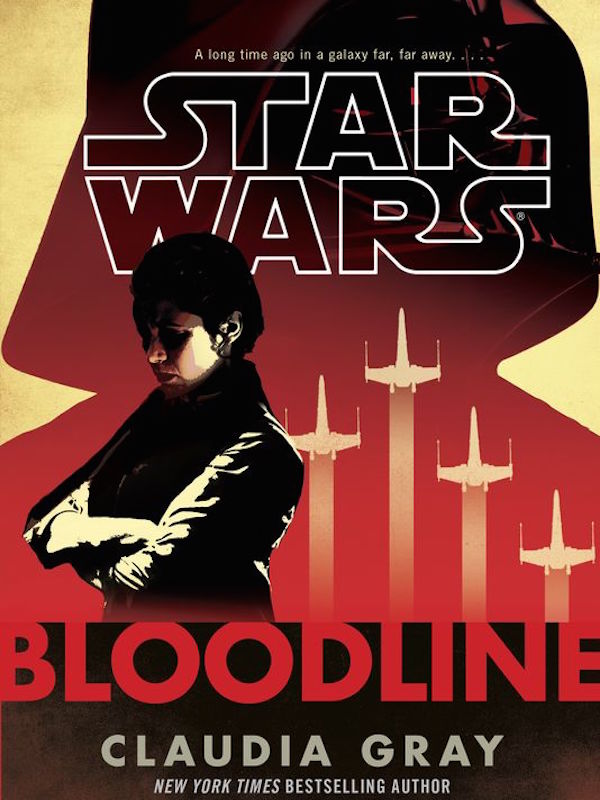 While we're on the subject of Star Wars books, StarWars.com has posted a brief interview with Bloodline author Claudia Gray, who revealed "7 things you don't know" about the book. For example, she explained how Bloodline required far more attention to established canon than her first Star Wars book, Lost Stars:
The biggest difference was that the canon was a lot stricter on Bloodline. Since the galaxy's timeline for the events in Episodes IV-VI is already well established, and Thane and Ciena were my creations, I could do almost anything that still allowed us to touch on the big battles of the war against the Empire. Bloodline had to slot much more tightly into canon!
Gray also revealed that she snuck a whole bunch of references to other science fiction stories into the book:
Pretty much every other alien or planet name in the book is, in some way, a tribute to Mad Max: Fury Road, because fandom is like that. Oh, and I sneaked in another Star Trek reference. Everyone needs a hobby.
If you don't have time to delve into the new Star Wars novels, the always useful Star Wars Minute has dedicated a new episode to Korr Sella, the Resistance Envoy to the New Republic Senate who is blown to smithereens by the First Order's initial attack with Starkiller Base.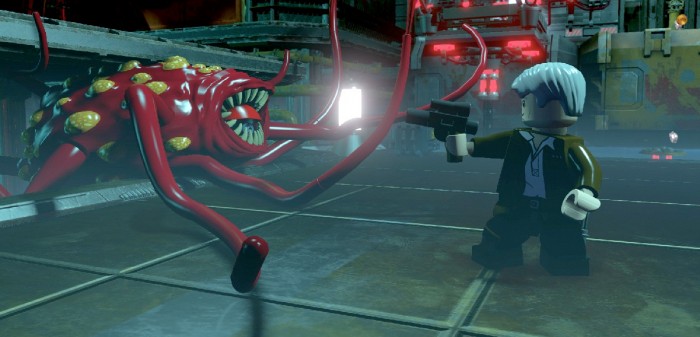 We've known that the upcoming LEGO Star Wars: The Force Awakens video game would feature story beats from beyond the scope of the original movie and thanks to Empire, we now know a few details. As part of an interview with game director Jamie Eden, they revealed that the game will allow you to control Han Solo and Chewbacca on an adventure prior to them meeting Finn and Rey:
One area in which the game will open up the Star Wars lore is the Rashtar Hunting level. The Rashtars, you'll remember, are the giant tentacled aliens that Han Solo is capturing for King Prana. In the game, you get to play as Han before his encounter with Finn and Rey. "[Prana] is a collector of exotic animals and wants Rathtars for his collection. Han and Chewie travel to a distant planet – Twon Ketee – with their crew to capture some of the beasts lurking in the gassy caverns, all whilst a rival crew descend upon their location to try and capture the beasts themselves."
Honestly, hunting Rashtar probably isn't what most fans were hoping for when they heard this game would feature additional backstory, but let's face it – a LEGO game was never going to drop major revelations.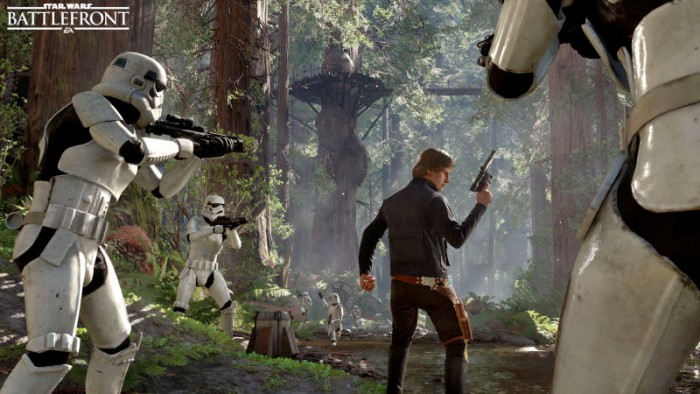 If you want another Star Wars game that doesn't simulate playing with tiny plastic bricks, Electronic Arts has got you covered. The company's official blog has announced that Respawn Entertainment, the company behind the futuristic first person shooter Titanfall, are now working on a new Star Wars video game. And they're hiring:
Today, I'm thrilled to be able to announce that EA and the talented team at Respawn Entertainment have expanded our relationship to include the development of an all-new 3rd person action adventure game set in the Star Wars universe. They join our other great studios – Visceral Games, DICE, Capital Games, BioWare, Motive and more – who are currently working on Star Wars projects. If you're interested in joining us on this adventure, you can visit our Careers page – we have openings at Visceral and Motive and will be sharing more on these experiences soon.
The official statement from Respawn's Stig Asmussen is far more emotional and personal, explaining how much Star Wars means to the people who work at the company:
For me, just typing these words is surreal. I have been playing Star Wars games my whole life, now I get to make a Star Wars game.  On top of that, I get to do it at Respawn, a studio comprised of the most talented collection of game makers, creators, visionaries, and (most importantly) advocates for the player, that I have had the good fortune to work with.  And we, like you all, have no shortage of Star Wars passion.
The entire company erupted in cheers when it was announced that this would be our next endeavor.
But it's not all fun and games — we promise to pay respect to the Star Wars legacy at all times, a fact that will be constantly reinforced and honored as a central game design tenet.  Fans should expect the exemplary level of quality first established at Respawn with Titanfall, a game that epitomizes our studio's dedication to slick, larger-than-life action and fun, groundbreaking mechanics.  Moving forward, we couldn't ask for a better universe in which to continue this journey, and although I would love to share all of the exciting places we are going, we have the following piece of information to divulge with you all today:
We'll be making a third-person action/adventure game set in the Star Wars universe.
As both statements make clear, the game will be a third-person action game. Any details beyond that, including characters and when in the Star Wars timeline the game will be set, remains under wraps.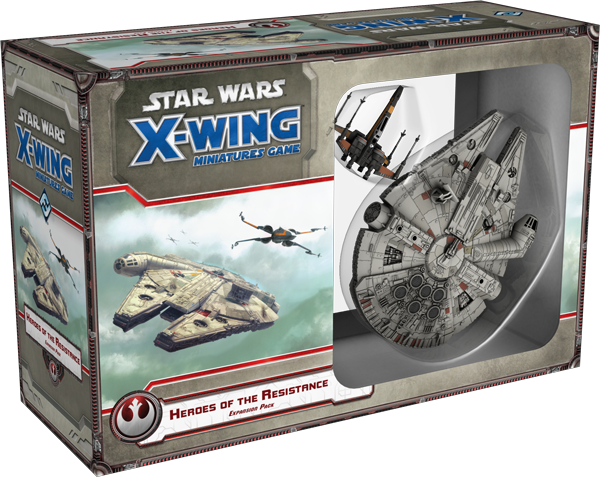 Fantasy Flight Games has announced a new expansion for their popular (and excellent) X-Wing Miniatures Game and it looks like a must-own for the obsessive collectors and casuals alike. Following last year's set that introduced TIE Fighters and X-Wings from The Force Awakens into the game, the "Heroes of the Resistance" box includes an older, wearier Millennium Falcon and Poe Dameron's black and orange X-Wing fighter. The set also includes a bunch of new pilot cards to further customize your squad. Here's how FFG describes the set:
With Heroes of the Resistance, Rey, Finn, Han Solo, and Poe Dameron all make the transition from the big screen to your tabletop. Rey and Han arrive as Resistance pilots for a new version of the Millennium Falcon with a sculpt and paint scheme that have been updated to reflect the ship's appearance in The Force Awakens. Finn supports the Resistance as a crew upgrade. And the galaxy's greatest pilot Poe Dameron can now fly to battle as Black One, sitting in the cockpit of his signature black T-70 X-wing.
In addition to its new starship miniatures, Heroes of the Resistance introduces ten ship cards and eighteen upgrades, plus all requisite maneuver dials and tokens. These include a Poe Dameron with a pilot skill value of "9," ship cards for both Han Solo and Chewbacca that feature new pilot abilities, three new unique Resistance X-wing pilots, new elite pilot talents, new Tech upgrades, and unique Title upgrades for both the Millennium Falcon and Black One.
Click the link above for additional details and pursue the gallery below to check out what comes in the set.
Ah, another day, another opinion on the "Han shot first" debate! This time, it's actor Paul Blake, who played Greedo in the original 1977 Star Wars chiming in. Speaking with the New York Daily News, he confirmed that yes, Han definitely shoots first in the original screenplay:
Of course, in it said it all in the original script, we played in the scene in English and at the end of the scene, it reads, 'Han shoots the alien.' It's all it says and that's what happened. It was very painful.
And as you'd expect, he prefers the original version, which gave Greedo some menace and dignity:
He was a bit inept wasn't he? He's a worse shot than a Stormtrooper. I don't think Jabba had him under a pension plan let's put it that way. It would be lovely to see them go back to the original version, I much preferred it, I must say. And it does give it Greedo a little more glory if he's just blown away.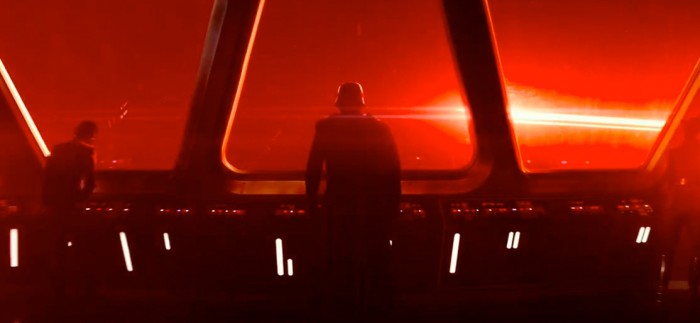 Marvel has revealed (via ComicBook.com) new preview images of their upcoming five-issue comic book adaptation of Star Wars: The Force Awakens, featuring art by Luke Ross. These pages haven't been finished yet (the coloring isn't done and the dialogue bubbles are nowhere to be seen), but they should give you an idea of what this series will look like and whether or not it's something you'll want to pick up. The first issue is due out on June 22, 2016.
ThinkGeek is current accepting pre-orders for a new series of Star Wars Tiki mugs modeled after a variety of Star Wars characters. Here's how they describe this set:
The Mos Eisley Kon-Tiki Bar is the only wretched hive of scum and villainy where you can count on every drink to come with a little umbrella. You're welcome to come in any time of day, but you'd better leave your blaster and lightsaber by the door. Serenaded by the soothing notes of Figrin D'an and his Modal Nodes' ukuleles, you can drape a flower lei around your neck and enjoy your Mai Tai in complete relaxation.
And what better tiki mug to drink from than one that looks like a character from the Star Wars? Choose to drink with Boba Fett, Chewbacca, Darth Vader, R2-D2, a Stormtrooper, or Yoda. Each holds about 14 oz. and has a contrasting interior, which will make you happy when you get to the bottom of the drink and have to ask, "But why is the rum gone?" Or at least, it'll entertain you a little. We think the lack of rum has something to do with moisture farming, but you didn't hear it from us.
A single mug will cost you $14.99, but you can get the whole set for $72.99. You can check out images of the mugs in the gallery below.