'Warcraft' Will Screen One Day Early On Select IMAX 3D Screens, Will Open Early In China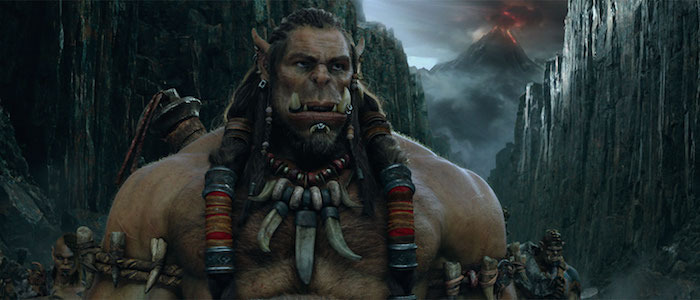 We're just over a month away from the theatrical bow of Warcraft and Duncan Jones' adaptation of the hugely popular video game series still looks like one of the summer's biggest risks. Despite the success of the Lord of the Rings trilogy and the Harry Potter series, fantasy is generally a tough sell with audiences...and Warcraft looks like a dungeon master's notebook brought to life and injected with as many bright colors as humanly possible. It looks goofy. Maybe in a good way. Maybe in a bad way. Who knows yet?
Risky or not, Universal and Legendary Pictures are finally starting to treat this film like a proper event. Although official screenings of the film are set to begin on the evening of Thursday, June 9, 2016, AMC and IMAX are teaming up to host early "Fan First Event" screenings on June 8. And naturally, attendance to one of these screenings comes with a few extra goodies and what-not. Meanwhile, Chinese Audiences will get to see the film earlier than anyone else.
Twelve AMC theaters in ten markets will offer these early IMAX 3D screenings, which are set to begin at 7:00 P.M. on June 8. You can pick up tickets from AMC's website or you can swing by a participating theater and pay for them the old-fashioned way. Each ticket will come with a special event lanyard and a poster. Each screening will be accompanied by behind-the-scenes footage and interviews from the film's premiere.
If you enjoy quotes where representatives from major companies give each other tongue baths, here is a quote from Elizabeth Frank, executive vice president and chief content at AMC Theatres:
Long-time fans have waited years to see this story on the big screen, and we're ecstatic to provide them with the opportunity to become immersed in the story through The IMAX Experience a day before it's available anywhere else.
And here is Greg Foster, CEO of IMAX Entertainment, returning the favor:
We are excited to work with our friends and partners at AMC in offering our most loyal fans this exclusive early release of Warcraft — a direct bullseye for our core fan-boy audience — in IMAX 3D.
However, if you happen to live in China, you won't have to purchase a special ticket or work with limited markets. Deadline has revealed that the film will open wide on June 8. This is definitely not the first time a major film has opened early in an international territory, but this move speaks the increased importance of Chinese box office to many studios' bottom lines. The film will now open before the Dragon Boat Festival holiday weekend, positioning it to make additional cash.
Meanwhile, back in the United States, I remain optimistic about Warcraft and if given the opportunity, IMAX 3D certainly sounds like the way to watch a sprawling fantasy epic.  You can find a complete list of participating AMC theaters below.
Boston
AMC Loews Boston Common 19
Chicago
AMC Showplace Village Crossing 18
Dallas
AMC North Park 15
Houston
AMC Gulf Point 30
Kansas City
AMC Town Center 20
Los Angeles
AMC Century City 15
AMC Universal Citywalk 19
New York
AMC Empire 25
San Francisco
AMC Metreon 16
Seattle
AMC Loews Alderwood Mall 16
Washington D.C.
AMC Tysons Corner 16