'Dear White People' TV Series Coming To Netflix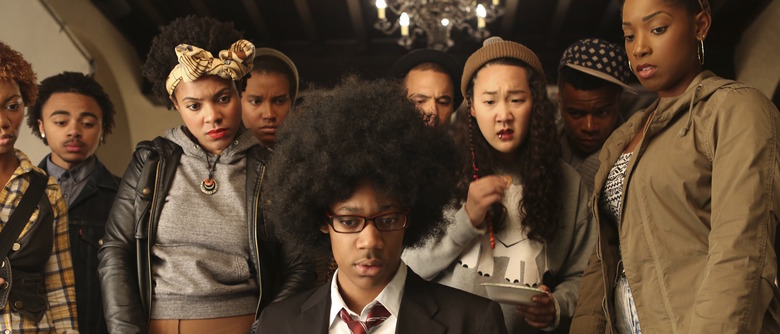 Justin Simien made a big splash with his feature directing debut Dear White People, and now he'll continue making waves over at Netflix. The streaming service has ordered a Dear White People TV series, which like the movie will center on students of color attending a mostly white Ivy League school. As of now, there's no word on whether any of the original cast members (which included Tessa Thompson, Teyonah Parris, and Tyler James Williams) will return. 
Netflix announced the Dear White People TV series today. It'll consist of 10 episodes of 30 minutes each, and production gets underway later this year for release on Netflix in 2017. Simien is writing the series and will direct the first episode. Stephanie Allain Bray and Julia Lebedev, who worked on the Dear White People movie, will serve as executive producers on the how along with Devon Shepard (House of Lies). It's unclear whether the show will bring back any of the characters or storylines from the movies, but the official synopsis suggests it revolves around the same basic premise:
Set among a diverse group of students of color as they navigate a predominantly white Ivy League college where racial tensions are often swept under the rug, Dear White People is a send up of "post-racial" America that also weaves a universal story about forging one's own unique path.
Said Simien in a statement:
During the film's release, I had the pleasure to speak with hundreds of students and faculty across a variety of college campuses dealing with these very issues in real time. I'm so grateful to have this platform – not only to give a voice to those too often unheard in our culture, but to also tell great stories from new points of views.  From day one, Lionsgate has been remarkably supportive of the vision for the show, and working with Netflix is every bit as harmonious as I'd imagined it would be. Bringing this show to such a vibrant platform is an honor I don't take lightly.
Simien's Dear White People premiered at the 2014 Sundance Film Festival to great buzz, winning Simen the U.S. Dramatic Special Jury Award for Breakthrough Talent. That wave of acclaim continued through the film's theatrical release that fall, earning high praise from critics, and all the way into awards season, when it picked up an Independent Spirit Award for Best First Screenplay and a nomination for Best First Feature.
There's a lot to love about Simien's film. It's sharp and funny and brutally honest, with complicated, richly drawn characters. But I remember walking out of the theater and wondering if it'd make an even better TV series than it did a film. The movie features four main characters in four intersecting storylines, and it sometimes strained under the pressure to serve them all. A 10-episode television show could give Simien more room to explore different characters and issues — all with his distinctive, razor-sharp sense of humor, of course.