'X-Men: Apocalypse' Clip: The First Rule Of Mutant Fight Club...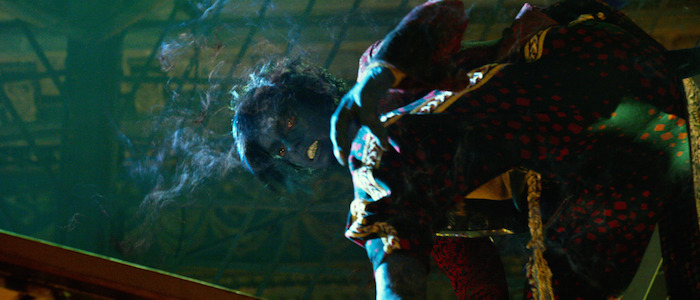 The last time we were presented with an X-Men: Apocalypse clip, we were given a scene where Rose Bryne dumps exposition all over James McAvoy's not-yet-bald head. This new clip (while seemingly cut down from the full version of the scene) is significantly more action packed, showcasing a fight sequence between Ben Hardy's Angel and Kodi Smit-McPhee's Nightcrawler.
However, this isn't some kind of grand superhero showdown. It's actually pretty sad stuff, with both mutant heroes stuck in a cage and forced to battle for the entertainment of a bloodthirsty crowd. Angel looks like a veteran of the arena, full of swagger and rage, while the young Nightcrawler looks justifiably terrified of this current predicament. Meanwhile, Jennifer Lawrence's Mystique watches from the sidelines and enacts what looks like a rescue plan.
Although Hardy and Smit-McPhee are the central focus of this footage, the clip debuted on Jennifer Lawrence's Facebook page and you can watch it below:
This is our third go-around with Lawrence's take on the shape-shifting Mystique, so we already have a pretty solid handle on what to expect from her. And while we have seen Angel and Nightcrawler in X-Men movies before, these two are arriving in a timeline that was recently wiped clean by the events of X-Men: Days of Future Past. This is director Bryan Singer's chance to right certain sins of the past and present these characters better than before. It's not too late to make Nightcrawler into the swashbuckling charmer of the comics and it's not too late to allow Angel to do...well, anything of interest at all. The fact that the former appears to align himself with the X-Men while the latter is Team Apocalypse is a nice touch. Maybe these two will get a proper rematch before the credits roll?
X-Men: Apocalypse is set to open on May 27, 2016. Here's the official synopsis:
Since the dawn of civilization, he was worshipped as a god. Apocalypse, the first and most powerful mutant from Marvel's X-Men universe, amassed the powers of many other mutants, becoming immortal and invincible. Upon awakening after thousands of years, he is disillusioned with the world as he finds it and recruits a team of powerful mutants, including a disheartened Magneto (Michael Fassbender), to cleanse mankind and create a new world order, over which he will reign. As the fate of the Earth hangs in the balance, Raven (Jennifer Lawrence) with the help of Professor X (James McAvoy) must lead a team of young X-Men to stop their greatest nemesis and save mankind from complete destruction.