Seth MacFarlane Sets Up New Hour-Long Series At Fox, Set 300 Years In The Future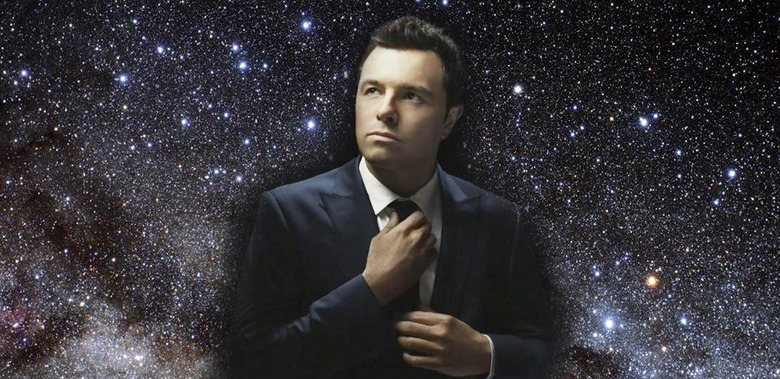 Seth MacFarlane has made quite a name for himself by being the go-to creator of new animated series on the FOX network. He started off with Family Guy, a show that was canceled and then revived along with MacFarlane's career. Since then he's created American Dad, The Cleveland Show and Bordertown. Now he's heading into live-action television territory at his comfy network home with a new hour-long comedic drama series that will be set 300 years in the future.
Find out more details on the Seth MacFarlane live-action show after the jump.
FOX announced in a press release that they've ordered 13 episodes of the currently untitled series from creator and executive producer Seth MacFarlane, who will also write the pilot. Just like A Million Ways to Die in the West, the animation mastermind will also star in the series that is being eyed for a debut in the 2017-2018 television season. So what's the show about?
Set 300 years in the future, the untitled dramedy series will follow the adventures of the Orville, a not-so-top-of-the-line exploratory ship in Earth's interstellar fleet. Facing cosmic challenges from without and within, this motley crew of space explorers will boldly go where no comedic drama has gone before.
Basically, this sounds like Star Trek but without the varsity squad, almost like the ship was full of Starfleet Academy's worst students. Considering how big of a sci-fi nerd MacFarlane is, this could be something really fun. Here's what he had to say about the new project:
I've wanted to do something like this show ever since I was a kid, and the timing finally feels right. 20th and FOX have been good to me for many years, and of course, Dana and Gary have been fantastic bosses and true pals, so it was a no-brainer to come to them with the project. I think this is gonna be something special.
For some fans, Family Guy has started to take a turn for the worse, but I think there's still plenty of solid humor found in each episode. Plus, I'm one of the few who actually enjoyed the hell out of A Million Ways to Die in the West, so I'm on board with pretty much anything MacFarlane has planned. Plus, when you look at something like the Family Guy Star Wars specials, it's clear he knows what he's doing when it comes to meshing comedy with sci-fi.
Beyond MacFarlane, no other cast members have been announced, but since this series won't debut until next year, there's plenty of time to figure that out. Stay tuned.