Olivia Munn Chose To Bust Skulls As Psylocke Instead Of Playing Deadpool's Girlfriend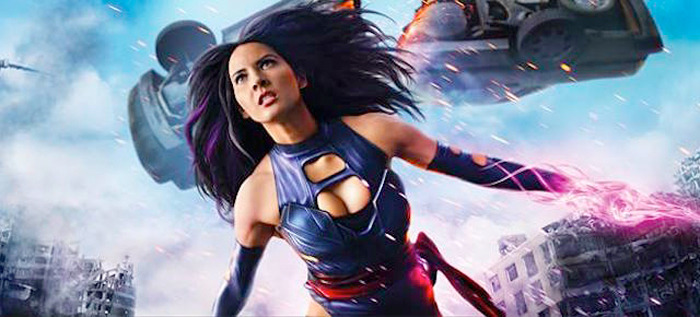 The biggest surprise hit of the year so far has to be Deadpool. For about a decade the character chilled on the shelf at 20th Century Fox, with fans demanding that the studio give them an R-rated version of the character after he was mistreated so badly in X-Men Origins: Wolverine. Ryan Reynolds kept pushing for the movie to get made along with writers Rhett Reese and Paul Wernick, and thankfully, this was the year all our dreams came true. Sounds like the kind of movie any actor would want to be part of, right?
But Olivia Munn thought that heading to a different part of Fox's Marvel universe might suit her better. The Newsroom star sat down for a recent interview while promoting this month's release of X-Men: Apocalypse, and she had an interesting detail to reveal. Olivia Munn was originally going to play Wade Wilson's girlfriend Vanessa in Deadpool, but she opted to go kick some as as Psylocke in the X-Men sequel instead. Find out the motivation behind the Olivia Munn Psylocke casting decision after the jump.
Speaking with American Way Magazine (via io9), that periodical you read on an American Airlines flight when you forget your book or your iPad dies, Munn revealed that she turned down the Deadpool role. The article doesn't have an exact quote on this matter, but it explains, "Munn says she didn't want to be the girlfriend. Not again. She wanted to fight. To make noise. To kick butt."
Since there are plenty of love interest roles out there for females to take in superhero movies, it's understandable that Munn wouldn't just want to be the girlfriend. After all, the role of Vanessa, played by Monica Baccarin, pretty much just entails having sex with Wade Wilson, being sad about his cancer, and then being a feisty damsel in distress. So taking on the role of a powerful female mutant in the X-Men universe instead was clearly much more enticing.
When it came to taking the role of Psylocke, Munn was mostly concerned with the amount of action she was going to get. The article explains with some quotes from the actress this time:
I said, 'Is there a fight scene?' " Munn says of her early meetings with the X-Men: Apocalypse people. Once again, the filmmakers were full of assurances. Yet Munn couldn't shake the feeling that there might be too much talking and not enough action. "The fight scene," she says with a wry smile, "could be her monologue."
For Munn, the brute strength of her character was an important issue, a make-or-break thing, and the discussions dragged on. "I thought Psylocke was always one of the most lethal characters, and I said, 'Yes, as long as you're not using her to be the eye candy. She has really powerful abilities.' And they said, 'Yes, that's an important part.'
Of course, now that we've seen Psylocke's costume, it's clear that they wanted to her to be a sexy character as well. Even though the wardrobe is more true to the comic book character than any of the other X-Men wardrobe designs, it's still a bit impractical of a design, if only because of how revealing it is. But it doesn't appear to be something that bugged Munn as long as she also got to kick some ass. We'll see if she made the right decision when X-Men: Apocalypse arrives on May 27.