'Sharknado: The 4th Awakens' Celebrates Star Wars Day With A 'Force Awakens'-Inspired Poster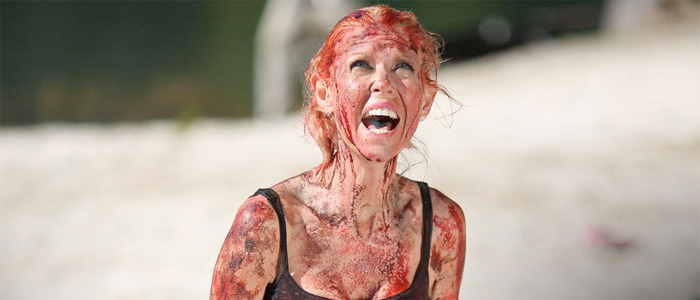 As you've surely noticed by now, today is May the 4th, a.k.a. Star Wars Day. Normally, this would have absolutely nothing to do with the upcoming premiere of a made-for-TV B-movie about improbable weather events. But the geniuses at Syfy and The Asylum snuck onto the Star Wars bandwagon last month by revealing the title of their sharks-in-tornadoes sequel to be Sharknado: The 4th Awakens. And so they're celebrating today with the first Sharknado 4 poster, which is an endearing homage (or a infuriating ripoff, depending on how you feel about this series) of that now-iconic Star Wars: The Force Awakens poster.
See the first Sharknado: The 4th Awakens poster, and get the full Sharknado: The 4th Awakens cameo list, after the jump.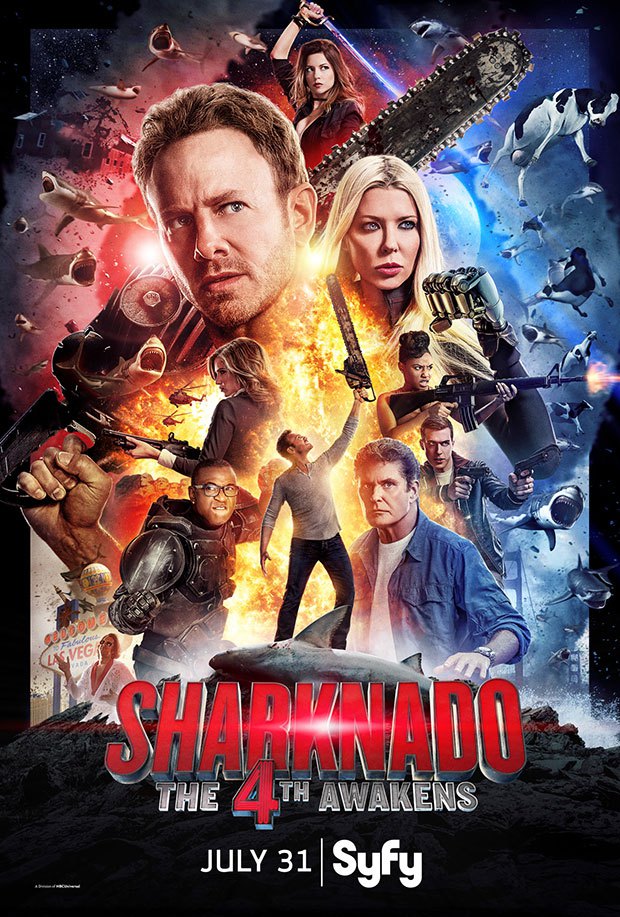 And here's that other poster, just for comparison: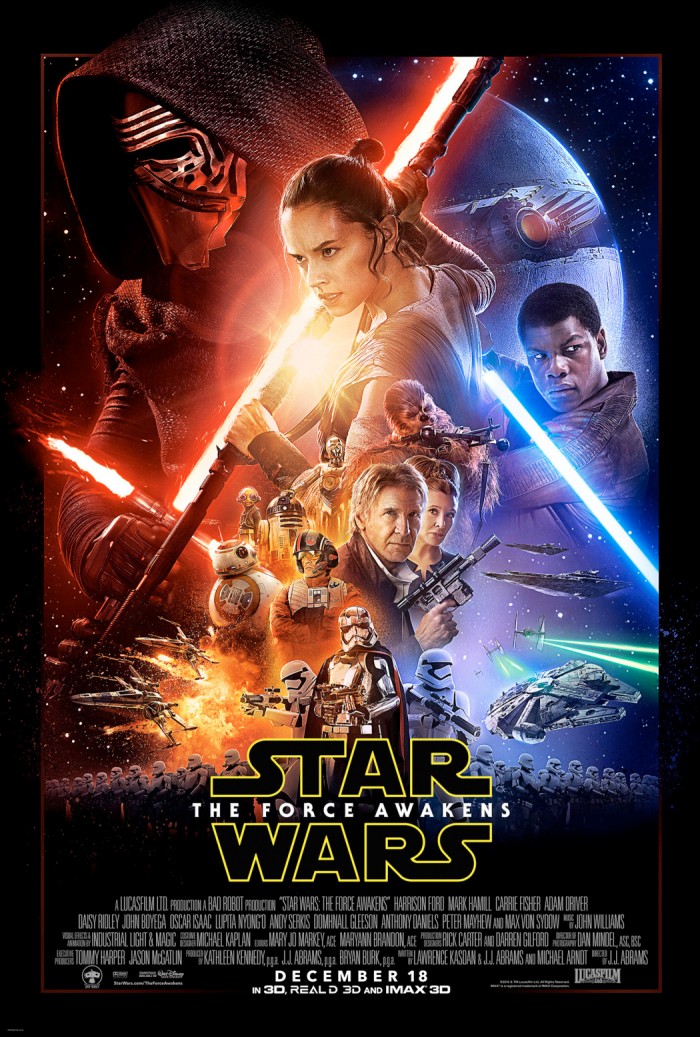 It's a cheap, shameless ploy for attention on Syfy's part, and it is totally freaking working. Because "cheap" and "shameless" is exactly what the surprisingly successful Sharknado franchise is built on. It might not be to everyone's taste, but you can't fault Syfy and The Asylum for failing to understand their brand. Honestly, we'd be more disappointed in them if they didn't seize Star Wars Day as an opportunity to double down on that spectacularly terrible Sharknado: The 4th Awakens title.
Oh, and speaking of cheap and shameless ploys for attention, TV Line has the full list of Sharknado 4 cameos. Highlights include Stacey Dash as the mayor of Chicago, Dog the Bounty Hunter as as a chainsaw dealer, and Dr. Drew as a pastor, because we're talking about a universe that's already featured Mark Cuban as the President of the United States and Ann Coulter as his Vice President.
Cynthia Bailey (The Real Housewives of Atlanta), Robert Herjavec (Shark Tank), Kym Johnson (Dancing With the Stars), TV host Carrie Keagan, T'Keyah Crystal Keymah (That's So Raven), Gena Lee Nolin (Sheena) and Alexandra Paul (Baywatch) will play various Astro-X rocket scientists and astrophysicists.
Benjy Bronk (The Howard Stern Show) will play a morning show host.
Duane Chapman (Dog the Bounty Hunter) will play a chainsaw dealer.
Stacey Dash (Clueless, Fox News correspondent) will play the Mayor of Chicago.
Jay DeMarcus of Rascal Flatts will play the manager of the Shark World hotel.
David Faustino (Married with Children) will play a Las Vegas gambler.
Lori Greiner (Shark Tank) will play a home-shopping guru.
MMA fighter Frank Mir will play the head of security for the Shark World hotel.
Dr. Drew Pinsky (Loveline) will play a pastor.
Patti Stanger (Millionaire Matchmaker) will play a reporter.
Slipknot's Corey Taylor will play a Shark World hotel security guard.
Lastly, the following individuals will appear as themselves: Vince Neil of Motley Crue and Wayne Newton, along with Todd, Savannah and Grayson Chrisley (Chrisley Knows Best).
Sharknado: The 4th Awakens picks up five years after the events of Sharknado 3: Oh Hell No!, in which shark-infested tornadoes destroyed the "Feast Coast" (that is, the East Coast). Fin (Ian Ziering) and his family have been enjoying a blissful sharknado-free existence, but all of a sudden these freakish weather events start popping up in unexpected places. This sharknado could be the last for Tara Reid's April, as Syfy is inviting fans to vote whether #AprilLives or #AprilDies.
The two-hour original movie airs July 31 at 8/7c.