'Wayward Pines' Season Two Teaser Trailer: Who Wants To Return To Paradise?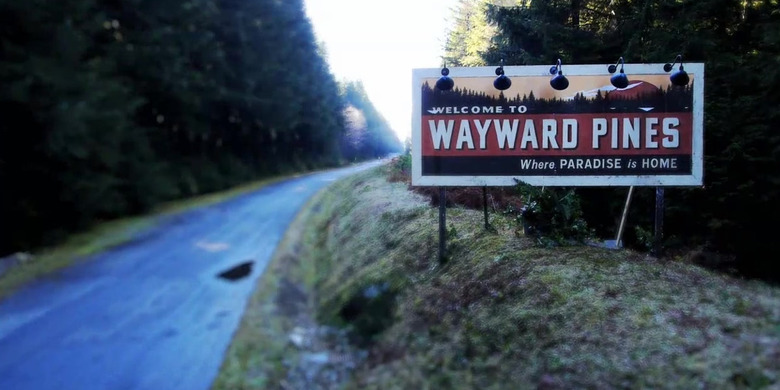 In season two of Wayward Pines, another man (Jason Patric) finds himself just wanting to go back home. The set up is quite similar to season one's, but the current situation in the small town and the new cast should add some distinction to the upcoming season of Wayward Pines. Executive produced by M. Night Shyamalan (The Visit), the thriller returns this month to Fox.
Watch the Wayward Pines season two teaser trailer below.
It was reported Wayward Pines would feature a whole new cast, but Carla Gugino (Roadies), Melissa Leo (The Fighter), Terrence Howard (Empire), and possibly more are returning. The new additions to the cast are Jason Patric (Narc), Djimon Hounsou (Guardians of the Galaxy), and Hope Davis (Disconnect). Like season one, it's an impressive ensemble, and possibly reason enough to watch Wayward Pines season two.
I only got about halfway through season one, but according to M. Night Shyamalan, season two will make sense to viewers that missed season one, since the show is, again, from the point-of-view of a newbie to Wayward Pines.
Here's the Wayward Pines season two teaser trailer:
Season one of Wayward Pines was designed to have a beginning, middle, and end, but Shyamalan and showrunner Chad Hodge decided there was more to this story. Season two is now the second chapter in a potential three-part story. Shyamalan is hoping, if they all get another chance, to make the third season the show's last. We'll see if season two is successful enough to make that happen, but whatever the outcome, at least Shyamalan and Hodge aren't planning eight more seasons of this show. Too many hit television shows outstay their welcome, so if Wayward Pines continues to connect with audiences, it would be refreshing to see Shyamalan and Hodge's truly end the series after season three.
Here's the official synopsis:
The 10-episode psychological thriller picks up after the shocking events of the season 1 finale, with the residents of Wayward Pines battling against the iron-fisted rule of the First Generation. Dr. Theo Yedlin (Jason Patric) — a new resident of Wayward Pines — awakens from suspended animation and finds himself in the middle of this rebellion, as he tries to understand what Wayward Pines really is and help preserve the endangered human race. CJ Mitchum (Djimon Hounsou), an original resident of Wayward Pines and a historian for the town with extensive knowledge of its complex origins, is the only one who can provide a unique bridge between the current world of Wayward Pines and the previous world that humans inhabited. Megan Fisher (Hope Davis), is in charge of the scientific research being conducted on the Abbies, and remains deeply involved in the development of the hearts and minds of the future of humanity — Wayward Pines' "First Generation".
Wayward Pines returns May 25th.