Watch Lin-Manuel Miranda & JJ Abrams Perform "Jabba Flow," Maz's Castle Song From 'Force Awakens'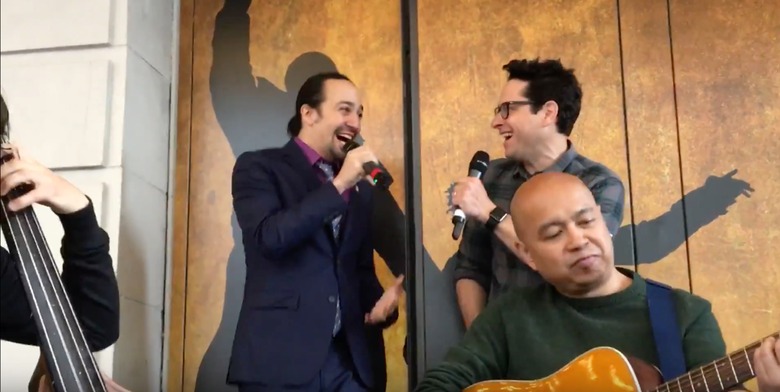 When the Star Wars: The Force Awakens soundtrack was released, many fans were angry that it didn't include the song from Maz's castle. The soundtrack only collected John Williams' score and not that awesome new cantina song which was created by Hamilton's Lin-Manuel Miranda in collaboration with filmmaker JJ Abrams.
And now that its Star Wars Day (May the Fourth Be With You), they have finally decided to release the song, titled "Jabba Flow", on iTunes. JJ Abrams and Lin-Manuel Miranda made the announcement today, and even performed the single live. Hit the jump to find out how you can download the new single "Jabba Flow," watch Abrams and Miranda perform the song live and also learn a bit about what the song means.
The song came about when JJ Abrams and his family were in New York to see Hamilton and Lin-Manuel Miranda volunteered that if the filmmaker needed music for a cantina-like environment, he was interested. Miranda reveals before the above live performance that the song is actually written in Huttese, the language spoken by Jabba the Hutts and the other Hutts in the Star Wars universe. Miranda revealed the meaning of the lyrics:
I went to a website that had all of the Huttese grocery of terms and it translates as 'No lover lover, it wasn't me!' It's literally a shaggy intergalactic remix!
Watch the performance above and below find out how you can download the full song, which unfortunately is only a minute and a half long. Can Disney please pay Miranda to put together a full album of Star Wars alien cantina music? Yeah, probably not likely to happen as that guy is very busy these days.
The scoop of today's #Ham4ham show: you can get our Star Wars tune today! Thanks JJ! #MayTheFourthBeWithYou pic.twitter.com/U0T5wdJs3N

— Lin-Manuel Miranda (@Lin_Manuel) May 4, 2016
As we mentioned earlier today in Star Wars Bits, the piece of music he created for Maz Kanata's cantina in The Force Awakens is officially available for purchase on iTunes. As Jacob noted, it "may not have the instantly catchy hook of the original cantina song from 1977, but it's still a fun and weird piece of music."