Star Wars Bits: Han Solo's Blaster, A Special Message From Daisy Ridley, And Tons Of Star Wars Day Art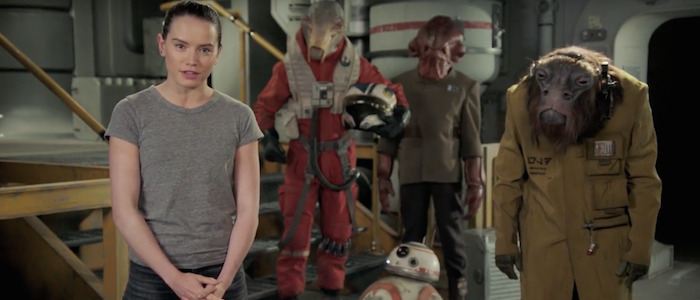 It's Star Wars Day, so you know what that means...an especially large edition of Star Wars Bits! In today's edition:
Director Chris Miller shares a photo of a very familiar weapon.
Daisy Ridley wishes you a happy Star Wars Day (and asks you to donate some cash).
Star Wars: Battlefront offers some Star Wars Day specials.
Lin-Manuel Miranda's Star Wars: The Force Awakens track is now available.
The time and location of next year's Star Wars Celebration has been revealed.
How to start making your own personal BB-8.
New The Force Awakens posters from Tim Doyle.
New Star Wars art from Joshua Budich.
A BB-8 poster created by Andy Fairhurst for Bottleneck Gallery.
A fanmade Star Wars art show.
Marvel reveals a must-have Han Solo comic book cover.
A relaxing and ambient trip to Dagobah.
Eight minutes of gameplay from LEGO Star Wars: The Force Awakens.
The plot of The Force Awakens told through Emoji.
Can't wait to get "shooting"!#MayThe4thBeWithYou pic.twitter.com/HlteYut6m0

— Christopher Miller (@chrizmillr) May 4, 2016
Yep, that's one of the directors of the Han Solo spin-off movie sharing a picture of a certain iconic blaster. May the 4th be with you, indeed.
Daisy Ridley has filmed a video from the set of Star Wars: Episode 8 to wish everyone a happy Star Wars Day...and to remind you to donate a few bucks to the Star Wars: Force For Change campaign. The latest awesome prize up for grabs is a trip to Ireland to visit Skellig Michael, the incredible location where the climax of Star Wars: The Force Awakens was filmed. All you have to do to have your name entered for that contest is donate a measly $10. Besides the call for charity, this video also feature a pretty funny John Boyega joke and some fantastic practical aliens chilling out in the background.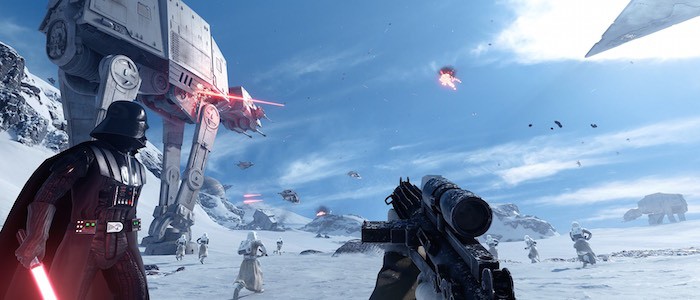 Ms. Ridley isn't the only one celebrating Star Wars Day in style. EA has announced that anyone can play Star Wars: Battlefront today for a four hour free trial if they swing by Origin.com and download the game. The full package is also on sale for $23.99, if you happen to like what you see. Veteran players are also encouraged to jump into the game today, as anyone who does so will receive 4,444 in-game credits for free.
The scoop of today's #Ham4ham show: you can get our Star Wars tune today! Thanks JJ! #MayTheFourthBeWithYou pic.twitter.com/U0T5wdJs3N

— Lin-Manuel Miranda (@Lin_Manuel) May 4, 2016
Meanwhile, legitimate genius Lin-Manuel Miranda (whose brilliant Hamilton was just nominated for a record-breaking 16 Tony Awards) has given us the coolest Star Wars Day gift of them all. The piece of music he created for Maz Kanata's cantina in The Force Awakens is officially available for purchase on iTunes. It may not have the instantly catchy hook of the original cantina song from 1977, but it's still a fun and weird piece of music.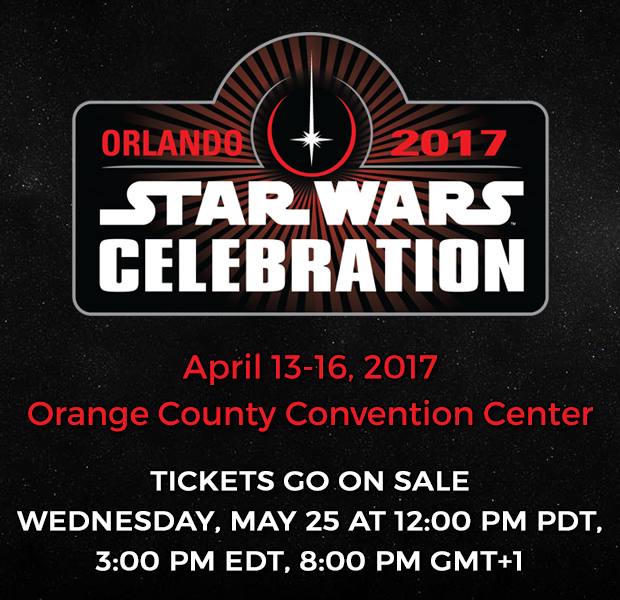 Star Wars Celebration Europe 2016 hasn't even happened yet and Lucasfilm has already revealed some key details about next year's event. Star Wars Celebration 2017 will be held in Orlando, Florida from April 13-16 at the Orange County Convention Center. Tickets will go on sale on May 25, so make sure you set a reminder. Since this edition of Celebration will be a short drive from Walt Disney World, where the new Star Wars land is being build at the Hollywood Studios theme park, we can probably look forward to some updates on that particular endeavor.
If you want to spend this Star Wars Day embarking on a crazy and time-consuming project, the video above is the first in a series following a very, very dedicated gentleman who has decided to construct a life-size BB-8 using a 3D printer. He doesn't make too much progress in part one, but he does offer plenty of advice for anyone who wants to embark on a similar mission.
Of course Star Wars Day would be accompanied by a bunch of cool new art that you can purchase as long as your fingers move like the wind! This is the internet – someone will make cool art without any provocation, so an entire day dedicated to a beloved movie series is a license to print posters. First up are these two posters by Tim Doyle. Both are titled "I'm No One," but you can pick up the day edition or the night edition, both of which depict Rey's lonely existence on Jakku. i09 debuted the posters,  but they'll be available on Spoke Art today. They cost $50 each, but you can snag them together for $80. There are only 350 of them, so be speedy.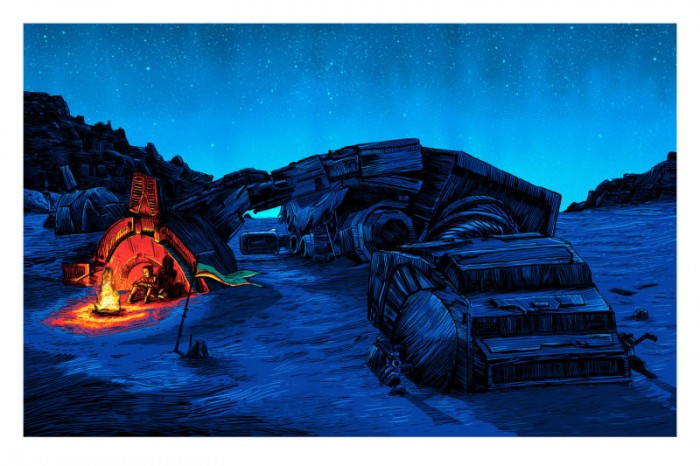 Spoke Art will also be releasing this piece by Joshua Budich. Titled "Kylo Ren" for obvious reasons, this piece is printed on aluminum and costs $85. There are only 100 of these, so act now if you want to get one.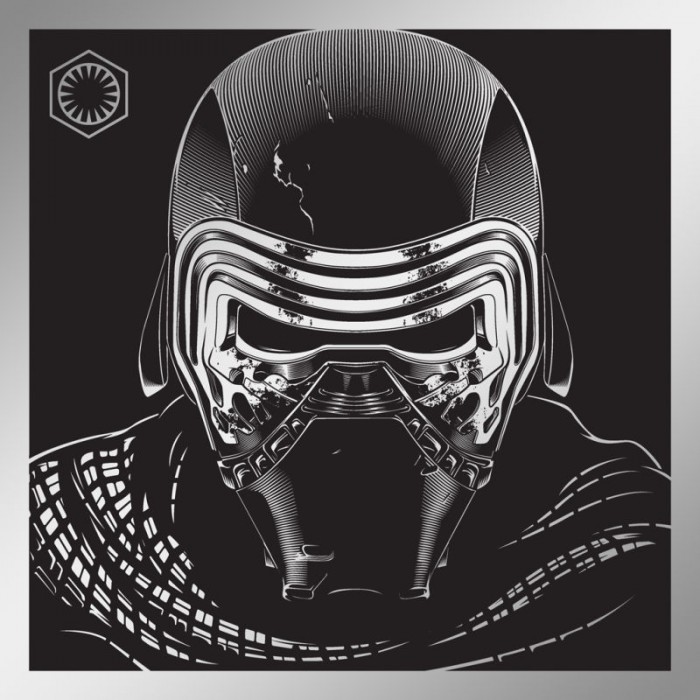 Budich is selling additional Star Wars aluminum engravings on his own site, including portraits of Darth Vader, Boba Fett, and an Imperial TIE Fighter pilot.
Meanwhile, the Bottleneck Gallery has teamed up with artist Andy Fairhurst for this new BB-8 poster, titled "Where Do you Come From?" Oh My Disney originally debuted the poster and spoke with Fairhurst, who spoke about the pressure of making a Star Wars print like this:
It's always pressure when I have something released through Bottleneck Gallery as they work with so many brilliant artists. As a lifelong fan of Star Wars though I feel a massive sense of pride and honor being able to work on anything to do with Star Wars, more than pressure. The only pressure I have is that I hope people will like it.
And here's the poster: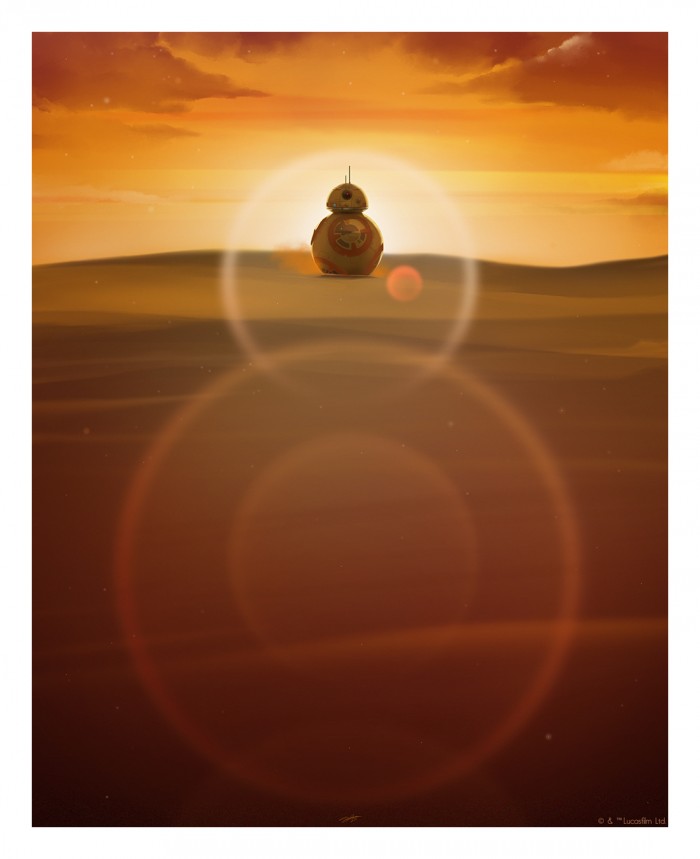 If you want to check out more art and happen to be near North Hollywood, California, you can always check out the "Almost There" art show. Admission is free and it opens tonight, so check out the poster below for any other relevant information.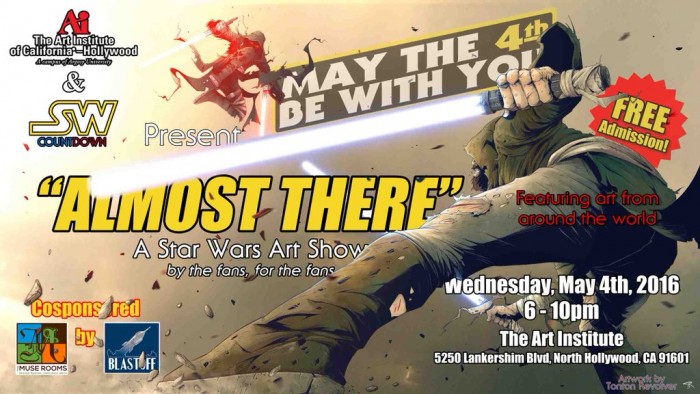 And before we leave the subject of cool art in the dust, here is John Tyler Christopher's variant cover for Marvel's Han Solo #1. Expect this one to be in high demand: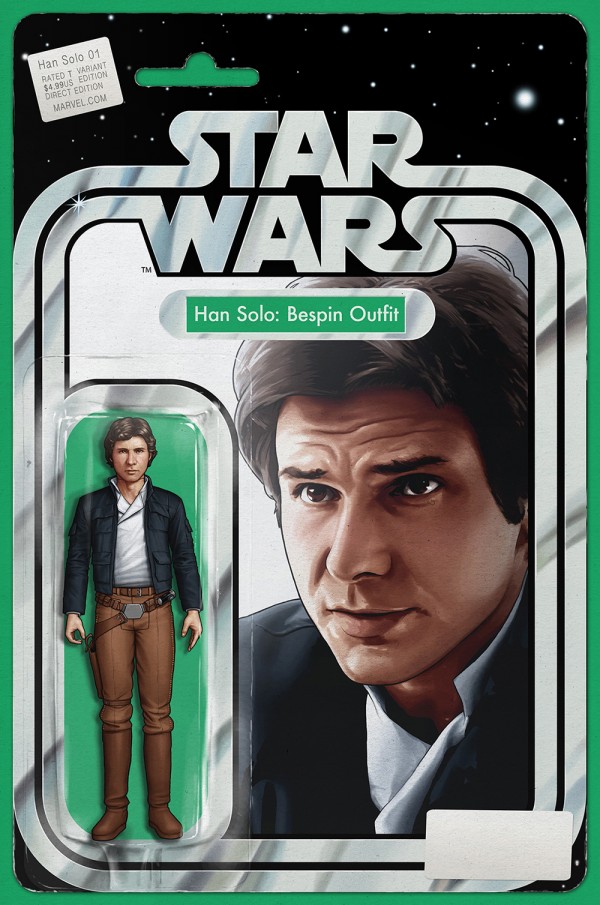 Speaking as the kind of person who occasionally requires ambient music or nature sounds to help sleep at night, this 94-minute video that essentially simulates you chilling out on Dagobah is a real treat. The entire video is a single static shot of Yoda's hut and the surrounding swamp, complete with all manner of strange animal noises. The whole thing is surprisingly peaceful. Here's how the video's creator, Maurcs, describes it:
Away put your weapon. Clear your mind of questions. Enjoy 94 minutes relaxing on Dagobah while listening to the sounds of the jubba bird, vine snakes, swamp slugs, nharpina and the spade-headed smooka. You never know when other guests may appear.
I won't spoil of the "other guests" who show up, but if you watch long enough, you will realize that you are definitely not alone.
Eight minutes of gameplay footage from LEGO Star Wars: The Force Awakens have arrived online, offering an extended look at how this game differs from others in the LEGO video game series. They've actually added cover-based-shooting, of all things. The footage shows off the opening level, where gamers control Poe Dameron as be battles Stormtroopers on Jakku, and the mission where Poe and Finn escape the First Order in a stolen TIE Fighter.
Depending on your particular tastes, this new video (originally posted by the official Disney Facebook page) retelling the entirety of Star Wars: The Force Awakens through emojis is either a glorious achievement or a work of utter stupidity. In either case, it is impressively made and if you enjoy cute internet-y things, this will be straight up your alley.
If CinemaSins is your cup of tea, they have assembled an "Everything Wrong With The Force Awakens" video. This isn't my particular cup of tea, but hey, to each his own.