'The Shallows' Trailer #2: Blake Lively Tries To Outwit A Shark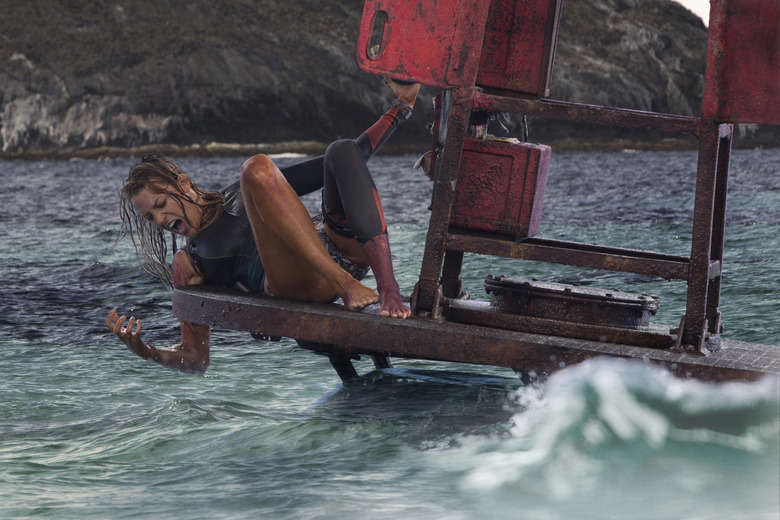 When it comes to underwater adventures this June, you've got two choices. You can cuddle up to the friendly fish of Pixar's Finding Dory, and go home thinking about how enchanting the world under the sea is... or you can scare the crap out of yourself with The Shallows. Directed by Jaume Collet-Serra, the latter stars Blake Lively as a surfer who finds herself stranded off the coast of a secluded cove when a great white shark decides she'd make for a tasty snack. Watch The Shallows trailer after the jump. 
The new trailer really doubles down on the shark drama. I'm not equipped to say whether that shot of the shark leaping out of the water to eat that guy alive is remotely realistic, but in the context of the trailer it looks like some Syfy-level ridiculousness. Which may be good or bad, depending on how you feel about Syfy's shark movies. But even less believable is the idea that Nancy, who is currently in a "paradise" in the middle of nowhere, would still have a strong enough 4G signal to Skype with her loved ones back home.
Peter caught some footage from The Shallows at CinemaCon last month, and came away sounding pretty optimistic. "I love these kind of contained kind of [thrillers]," he said at the time. "I love that kind of creativity." At a time when every studio release seems determined to cram in more superheroes than the last, maybe there's something to be said for scaling back to a simple story of a girl battling a sea monster.
The Shallows dives into theaters on June 29.
In the taut thriller The Shallows, when Nancy (Blake Lively) is surfing on a secluded beach, she finds herself on the feeding ground of a great white shark. Though she is stranded only 200 yards from shore, survival proves to be the ultimate test of wills, requiring all of Nancy's ingenuity, resourcefulness, and fortitude.