'Captain America: Civil War' Featurette Breaks Down The Avenger-On-Avenger Conflict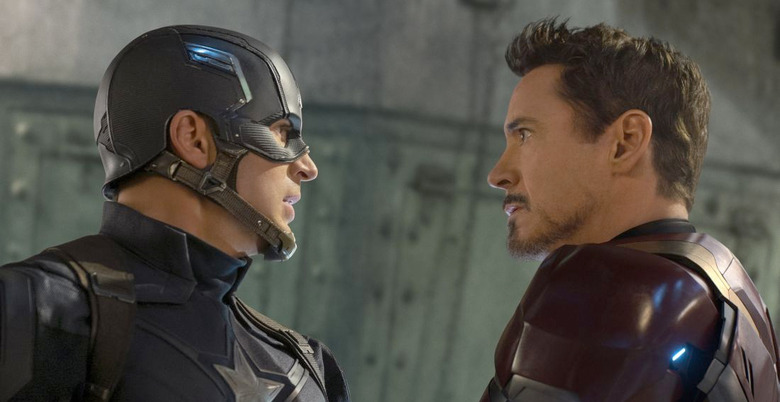 The Avengers have never been without internal conflict. The first Avengers had the superheroes sizing each other up and getting testy with one another; the second one saw everyone getting (justifiably) pissed off at Tony for inventing a megalomaniacal killer robot. But in the end, these guys always manage to work it out. Because someone's gotta save the world at the end of the day, after all. And if all goes well, sometimes they even muster up the energy to celebrate with shawarma afterward.
Not so in Captain America: Civil War. This time around, the rift between Captain America and Iron Man is far bigger, with Bucky Barnes and the Sokovia Accords pulling the former teammates further and further apart. A new Captain America: Civil War featurette, breaks down the Avenger-on-Avenger conflict, and teases a big third-act showdown that promises to break from the usual Marvel formula. Star Chris Evans, producer Kevin Feige, executive producer Nate Moore, and directors Joe and Anthony Russo all weigh in.
BAM! Your exclusive look at #CaptainAmericaCivilWar from our friends at @PopSecret.https://t.co/RA0XYebBmw

— Marvel Entertainment (@Marvel) May 3, 2016
Captain America: Civil War is in theaters this weekend. You've surely seen enough of the marketing by now to know what it's all about, but just in case you need a refresher here's the official synopsis.
Marvel's "Captain America: Civil War" finds Steve Rogers leading the newly formed team of Avengers in their continued efforts to safeguard humanity. But after another incident involving the Avengers results in collateral damage, political pressure mounts to install a system of accountability, headed by a governing body to oversee and direct the team. The new status quo fractures the Avengers, resulting in twocamps—one led by Steve Rogers and his desire for the Avengers to remain free to defend humanity without government interference, and the other following Tony Stark's surprising decision to support government oversight and accountability. Get ready to pick a side and join the nonstop action playing out on two fronts when Marvel's "Captain America: Civil War" opens in U.S. theaters on May 6, 2016.