'Paterson' Clips: Adam Driver Just Wants To Drive His Bus And Drink His Beer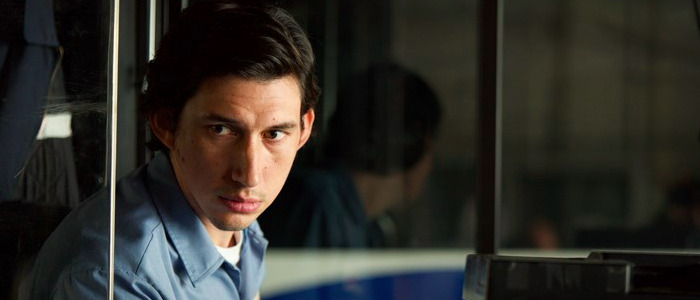 Filmmaker Jim Jarmusch has two films premiering at the Cannes Film Festival. Jarmusch's documentary on The Stooges, Gimme Danger, and his Adam Driver-led film, Paterson, will both make their debuts later this month. The latter project (which was co-financed by Amazon) was shooting a little under-the-radar later last year. Driver stars in the "wry comedy," and you can now see some footage from the film.
Watch the first Paterson clips below.
The director responsible for Only Lovers Left Alive, Ghost Dog: The Way of the Samurai, and Dead Man didn't exactly classify as Paterson as a "comedy" when he very briefly discussed the film, but he said there's definitely "some funny stuff in it." Some underplayed comedy is almost always expected from the filmmaker, whose sense of humor is definitely in the first of these two Paterson clips. The Girls and Star Wars: The Force Awakens star plays Paterson, a bus driver that lives in, yes, Paterson, New Jersey, which, according to the titular character, is nothing more than a coincidence.
Here are two Paterson clips (via ThePlaylist and Le Pacte):
Almost nothing but a focus on mood and character in these clips, which sounds about right for clips from a Jim Jarmusch film. The plot synopsis gives a little more insight into the plot than footage above does. The film's "simple structure" is set over the course of one week, as Jarmusch shows the bus driver/poet's "quiet triumphs and defeats of daily life." Paterson's wife (played by Golshifteh Farahani) sounds like a major part in the film, and hopefully, we'll see more of her work in the film soon. A 2016 release date is expected.
Here's the full synopsis:
Paterson (played by Driver) is a bus driver in the city of Paterson, New Jersey — they share the name. Every day, Paterson adheres to a simple routine: he drives his daily route, observing the city as it drifts across his windshield and overhearing fragments of conversation swirling around him; he writes poetry into a notebook; he walks his dog; he stops in a bar and drinks exactly one beer. He goes home to his wife, Laura (played by Farahani). By contrast, Laura's world is ever changing. New dreams come to her almost daily, each a different and inspired project. Paterson loves Laura and she loves him. He supports her newfound ambitions; she champions his secret gift for poetry. The history and energy of the City of Paterson is a felt presence in the film and its simple structure unfolds over the course of a single week. The quiet triumphs and defeats of daily life are observed, along with the poetry evident in its smallest details.