Marvel Announces 'Captain America' Movie Marathon For This Thursday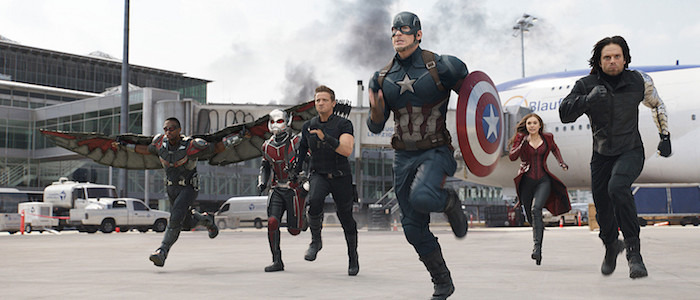 Last year, Marvel Studios tested the mettle of comic book movie fans with "The Ultimate Marvel Marathon," a 28-hour marathon consisting of 11 movies, climaxing with the brand new Avengers: Age of Ultron. I didn't attend this event, but I know people who did. They have war stories. Their posteriors (and their sanity) never returned to full working order.
Marvel isn't doing anything as extreme as that this year, but they are still offering fans the chance to numb their butts in the name of superhero fandom. They have just announced the "Ultimate Captain America Marathon," which will screen in select theaters this Thursday and will, of course, conclude with a screening of Captain America: Civil War.
The marathon will take place this Thursday, May 5, 2016. If you want to see if a theater near you is hosting this monstrous test of your devotion to all things comic book movie, you can head over to Fandango to find out. Tickets will cost you $47.99, which is a little less than ten bucks per movie. Starting times vary from theater to theater, but 7:00 and 8:00 in the morning seem to be the most common at a cursory glance.
As the name of the event implies, this marathon will feature the five movie set in the Marvel Cinematic Universe that have featured Chris Evans' Captain America. Things will get kicked off with 2011's Captain America: The First Avenger, continue with 2012's The Avengers, keep on trucking with 2014's Captain America: The Winter Soldier, test your mental durability with 2015's Avengers: Age of Ultron, and finally break out the brand new goods with Captain America: Civil War, which technically opens in the United States this Friday but is holding its first screenings on Thursday.
If you mange to get through all 691 minutes (which is about eleven and a half hours) of Captain America movies, you will be rewarded an "exclusive medallion" to commemorate your service.
Unlike last year's marathon, this one sounds manageable enough. Also unlike last year's marathon, you'll be mostly dealing with some of the best movies in the MCU and won't have to endure Thor or Iron Man 2 or The Incredible Hulk. All of the movies featuring Captain America are very good or great (yes, I'll even go to bat for the ever-divisive Age of Ultron), so this sounds like a far easier sit. Plus, each of these films lead into one another in fairly direct ways. There should be a sense of narrative propulsion that makes this marathon flow.
In the meantime, make sure you check out our review of the film and read about how the film's biggest action scene was designed.