How The Marvel Team Constructed That Massive 'Captain America: Civil War' Airport Set Piece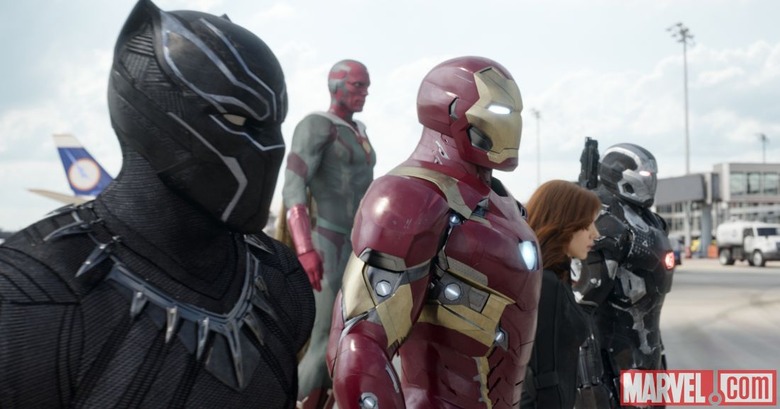 Thankfully, the trailers and TV spots for Captain America: Civil War haven't highlighted too much from the film's grandest and most intricate set piece. The airport fight sequence is stuffed to the brim with characters and conflicts — but it somehow never manages to feel overstuffed. What could've been total superhero chaos is instead a gracefully shot, character and plot-driven showdown.
Directors Joe & Anthony Russo have said the "splash panel" sequence was by far the toughest scene to pull off. Below, learn how screenwriters Christopher Markus and Stephen McFeely, the Russo brothers, and Marvel's Kevin Feige went about constructing the Captain America: Civil War airport set piece.
The 15-minute fight scene, which was shot entirely with a new IMAX camera, features Team Cap going up against Team Iron Man. What's refreshing about this particular set piece is that every character moment and laugh is just as satisfying, if not more so, than seeing these heroes throw punches at each other. The Russo brothers and all involved deliver on the spectacle that's expected with such a brawl, but it's really the character moments — especially the ones involving Ant-Man, Spider-Man, and Black Widow — that makes the set piece stand out.
From writing the script to principal photography to post-production, the sequence was always a challenge. When we spoke with Markus and McFeely about Captain America: Civil War, they discussed the initial development of the set piece:
McFeely: Yeah, it was [a challenge]. That's a really fluid scene. [spoiler alert] So we wrote the first draft and Giant-Man is in it [laughs], and Rhodey gets shot down by Vision [spoilers over]. A lot of the big tentpole [stuff] happened [in the first draft], and then we turn it over and a lot of other people were going to weigh in—stunts, visual effects, location. There were so many things. It's got to be the most complicated action set piece, certainly in comic book movies. It's really daunting.
Then it keeps going through version after version. Visual effects would come in and say, "Hey, here are some interesting things we could do." We'd go, "Great." Or stunts will do a section and say, "Hey, what if this fight goes in this way?" And we'll say, "Great."
Our job as it gets further along the line is to make sure that it all stays on character, is well-structured, and that it grows so that it goes from "We're trying not to hurt each other," to, "Damnit. You just pissed me off!" to, "We're not all getting out of here." So now our strategy changes. And then, of course, we're rewriting lines all the time.
Markus added:
It was very important for that scene to have an objective beyond it; perceived to be wanting to get somewhere else to do another thing. It's not just, "We came together to beat each other down and the only way this ends is if somebody is dead or unconscious." It's a giant fight, but it's an obstacle to the plot, in a way, so that the machinery that we constructed for the plot didn't grind to a halt because this fight happens. We needed it to be the end of act two and not the end of the movie.
The choice to end act two with this sequence is a bit of a narrative gamble. How can Captain America: Civil War possibly top such a massive fight? The solution: Instead of showing a city get flattened to pieces, the screenwriters go with a more intimate, more dangerous final confrontation.
As for directing and editing the sequence, the filmmakers took their time getting it right. Not until the week before last month's junket was the set piece completed. That isn't exactly odd for a film of this scale — waiting for finished effects, etc. — but Joe Russo stressed at the Captain America: Civil War press conference that a lot of time, thought, and care went into keeping the fight focused on the characters:
Action is very important to us. These movies are about action. The characters express themselves through action. Action has to have storytelling to enforce, or else it's vacuous and superficial. You know, you'll get tired of an action sequence if it's not defining a character or moving the story forward in some way. It takes an incredible amount of effort. Thank God we have such an incredible team of collaborators, including Kevin, Marcus and McFeely, and [Marvel producer] Nate Moore, who can work with us and keep us honest, in terms of storytelling. There's also this cast, who are the caretakers of these characters in a way that we could never be. It's by far and away the hardest thing to do on a film. The easiest thing on a film is when you have a Soderbergh-level of cast like this, to put down the dramatic scenes on-camera, especially with actors of this caliber playing these parts for so long. Some of the hardest things we do is executing the action. I think the toughest sequence by far in this film — which we literally finished a week or two ago — was the airport sequence. It's filled with a lot of moving parts, a lot of different characters, you want to move each character forward, and you want to make sure you don't leave a character behind. We went well into the post-production process still reshaping, and rethinking, and reconfiguring that sequence, to make sure it had its maximum storytelling thrust to it.
Another hurdle the sequence faced? Creating a palpable sense of danger. Most of these Marvel characters are friends and now share a history together, so how hard can they really hit each other? And how do you still have some superhero fun while watching these characters turn against each other? When we interviewed Kevin Feige, he told us it was a fine line to walk:
It was pretty amazing [seeing it come together]. We kept saying, "Very good will not be good enough for this sequence. This sequence has to be great." The visual-effects of the sequence were challenging but really coming together. There was a lot of work with the dialogue and continuing to ride that balance between a fun, crowd-pleasing sequence, but, at the same time, these people you care about, all of them, are fighting each other. It was always riding that: making sure it was brutal enough you realize there are real stakes — and people aren't pulling their punches — but, at the same time, we were having the geeking out the way we wanted to, as the full experience.
In his review of Captain America: Civil War, Ethan claimed: "To say that the first battle between all of our superheroes in Captain America: Civil War is the best action sequence Marvel Studios has ever created is not hyperbole or grandstanding." We'll see if audiences and Marvel fans agree with that statement this weekend, but in terms of what Marvel has done up until this point, the airport sequence easily ranks amongst their finest action. It's full of conflict, laughs, and absolute clarity. You always know who's fighting who, and why they are fighting in Captain America: Civil War.
Captain America: Civil War opens in theaters May 4th.