Jon Favreau Doesn't Rule Out Returning To Marvel Studios As A Director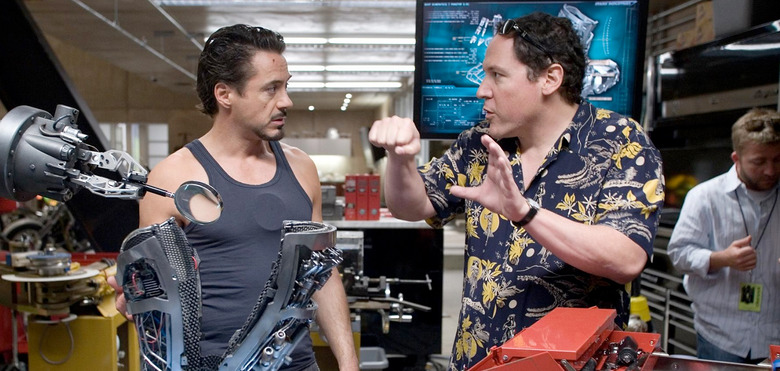 Back in 2008, director Jon Favreau kicked off the first movie in what would become the Marvel cinematic universe with Iron Man. It was the first film to reveal to audiences that Marvel Studios was intending to assemble The Avengers on the big screen for the first time ever, and the rest is history.
It was Jon Favreau's direction of Iron Man that really got audiences interested in a more obscure superhero and started to drum up even more interest in the forthcoming roster of Marvel superheroes. Favreau would go on to direct the less than stellar Iron Man 2, and he also executive produced Iron Man 3 (in which he also appeared as Happy Hogan) and both of The Avengers movies. Now he's slated to executive produce both parts of The Avengers: Infinity War. But will Marvel ever get him behind the camera for another comic book flick again? It sounds like there's a good chance we'll see a Jon Favreau Marvel movie sometime in the future.
While promoting The Jungle Book, Favreau recently talked to IGN and he was asked what it would take to get him directing a movie for Marvel Studios again. The director said:
"A great story. I know the people over there. I like them. I still executive produce the Avengers series and I like what they're doing a lot now, I do. By the same token I feel like I've made my mark; whatever we did in those early days has continued and is in good hands with new filmmakers with fresh voices."
However, that doesn't mean there isn't mutual interest from Favreau to direct for Marvel again. But because so much has happened since he was in the know on the Marvel cinematic universe, he's not sure that he fits in very well anymore:
"I just think how I fit in now might be different. It's 10 years later, and now I'm more of an elder statesman. But we talk a lot about how I could be involved there and I exist both in front of and behind the camera in the Marvel universe, which puts me in a unique position which I enjoy.
We're always trying to figure out if there's a way for me to contribute beyond just being an executive producer there. I wouldn't be surprised if something pops up soon, but there's no one property that we're identifying that I'd want to helm up and shoulder. Because now that the universe has gotten so big over there, I don't know that I understand how it all fits together anymore. I was there in the early days when the universe was very small. Now the universe is very big there and they seem to have it well in hand."
That's a fair point. But Marvel is bringing new filmmakers into the fray all the time, most of them who haven't been involved in the overall universe growth that's been happening as each new phase of the MCU continues. Scott Derrickson (Doctor Strange) and Ryan Coogler (Black Panther) are both newcomers at Marvel, so it shouldn't be too hard for Favreau to come back into the fray, despite his concerns.
Perhaps it's fortuitous that Robert Downey Jr. recently said that he's probably got one more solo Iron Man adventure left in him. Maybe it's time for Jon Favreau to come back and finish the Iron Man story that he started back in 2008. That would be a pretty fantastic way for him to return to Marvel.
Do you want Jon Favreau to come back to the Marvel cinematic universe as a director?