'Maze Runner: The Death Cure' Production Postponed Indefinitely Due To Dylan O'Brien's Injuries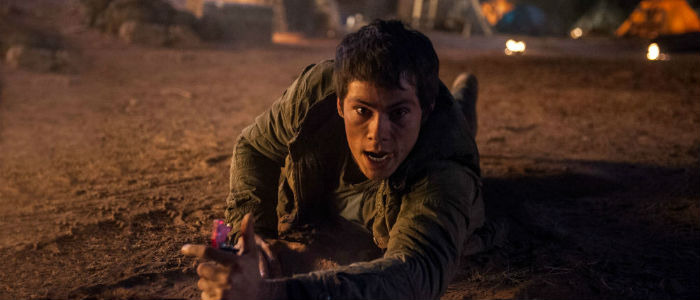 Just last month, some bad news came from the set of The Maze Runner: The Death Cure. Leading actor Dylan O'Brien was injured during production when a stunt went wrong. There were conflicting reports on the severity of his injury, with one report saying he had several broken bones, either fracturing his cheek bone or orbital socket.
The Maze Runner: The Death Cure will now shutdown production indefinitely. Dylan O'Brien's injuries are reportedly more severe than initially expected, and he needs more time to recover before returning to work. Get more details on The Maze Runner The Death Cure delay after the jump.THR reveals that while 20th Century Fox thought O'Brien would be recovered quickly enough to restart production on May 9, they've now learned that O'Brien needs an unknown amount of time to heal. The actor's publicist says, "His injuries are very serious, and he needs more time to recover," and therefore, the studio has sent cast and crew home.
Since the accident took place, O'Brien's injuries have been clarified with a report from WorkSafeBC saying that he suffered a "concussion, facial fracture and lacerations." That sounds pretty bad. But obviously it could have been much worse.
The Maze Runner: The Death Cure was originally set for release on February 17, 2017, but with this delay being drawn out even more, there's a very good chance it won't meet that date. The question is whether or not Fox will release it during the summer or maybe give it a fall release, which is when the original film opened back in 2014.
As for when production will resume, it all depends on O'Brien. In the meantime, the studios says, "We wish Dylan a speedy recovery and look forward to restarting production as soon as possible."
WICKED has taken everything from Thomas: his life, his memories, and now his only friends—the Gladers. But it's finally over. The trials are complete, after one final test. What WICKED doesn't know is that Thomas remembers far more than they think. And it's enough to prove that he can't believe a word of what they say. Thomas beat the Maze. He survived the Scorch. He'll risk anything to save his friends. But the truth might be what ends it all.
The Maze Runner: The Death Cure is the last sequel story in the series, though there is a fourth book published called The Kill Order that's actually a prequel. We'll see if Fox decides to keep the franchise going after The Death Cure of or this movie will be the last in the franchise. It likely depends on the box office. Stay tuned to find out when The Maze Runner: The Death Cure resumes production.