Rogue One Bits: Mads Mikkelsen Sheds More Light On His Character, Alexandre Desplat Talks, Disneyland Releases First Merch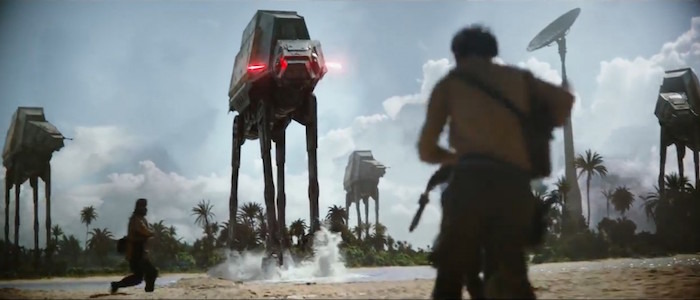 In today's edition of Rogue One Bits:
Mads Mikkelsen sheds more light on his mysterious character.
Pablo Hidalgo makes it clear who isn't in Rogue One: A Star Wars Story.
The complete story of Mon Mothma.
Composer Alexandre Desplat confirms that he's still working on Rogue One.
Listen to a very cool Rogue One-infused Star Wars music remix.
ILM visual effects geniuses watch Rogue One trailer reaction videos.
A Rogue One VHS box that you'll wish actually exists.
LEGO teases a Rogue One...something.
More information of Rogue One Force Friday toy releases.
Disney theme parks are set to sell the first Rogue One merchandise...for good cause!
Potential spoilers lurk in this first bit. Scroll down if you want to know as little as possible about the character Mads Mikkelsen is playing in Rogue One.
Last week, we learned a major detail about Mads Mikkelsen's character in Rogue One – he's playing the father of Felicity Jones' Jyn Erso. This has been rumored for some time now, but the brilliant Hannibal star has officially confirmed it. It's fact. It's canon. Now, we just need him to confirm that he's playing the scientist who designs the Death Star for the Empire, which has also been rumored. And while he doesn't confirm that in a new chat with the Evening Standard, he does tease "iconic characters" popping up in Rogue One:
Some of them – but I would reveal too much. There are iconic characters in our film and also characters you have never heard of. It's a mix.
We already know that the bulk of the Rogue One cast will consist of new characters, but we also know that Darth Vader will play a significant role in the film and there have also been rumors of Grand Moff Tarkin showing up in some capacity. Heck, it's easy to imagine a cameo by Princess Leia, since she's active during this time period as well. Anyway, Mikkelsen also elaborated on his role as Jyn's father, explaining that there will flashbacks to her younger days, where he will also show up as a dear ol' dad:
I spend a lot of time with [Jones] and she's a wonderful actress. I play her dad at the time of Felicity and I play her dad when she's younger, so we jump back and forth in time.
The question now is why Mikkelsen's character abandons his daughter or why she's taken from him or why he is taken from her. After all, the first trailer certainly implies that Jyn has been on her own for some time.
While Darth Vader and Grand Moff Tarkin may very well show up in Rogue One, Lucasfilm Story Group creative executive (and extremely entertaining/informative Twitter presence) Pablo Hidalgo confirmed that another villain will not be showing up. At all. No, Supreme Leader Snoke will not play a role in Rogue One and Hidalgo's tweet above certainly makes it sound like there won't be any connections to The Force Awakens at all. That's actually pretty refreshing. Let the central films form connections and explore complex mysteries. Let the spin-offs just operate on their own and tell simple, one-and-done tales set in this amazing universe.
Although she only appears briefly in the original films, Mon Mothma looms over the larger Star Wars narrative as one of the most important movers and shakers behind-the-scenes of the Rebellion. The former senator worked under the nose of Emperor Palpatine, helping to build and support the Rebel alliance in its earliest and darkest days. Everyone remembers her briefing scene in Return of the Jedi, but she is a major presence in various other stories, playing major roles in novels set after the original trilogy and in the Star Wars: The Clone Wars series. Anyway, with the character set to return for Rogue One, the always valuable Star Wars Minute has dedicated a new episode to her career, much of which has likely survived the Disney canon purge.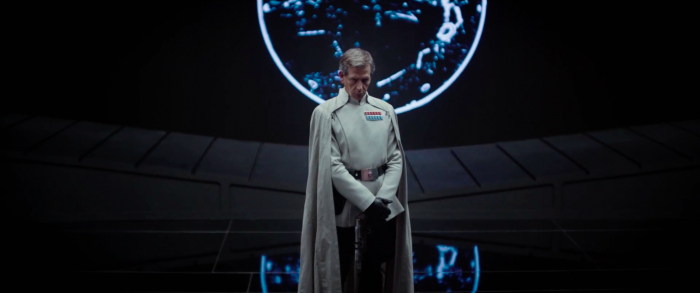 A few weeks ago, rumors started spreading across the internet suggesting that Academy Award-winning composer Alexandre Desplat may be departing Rogue One, which is the worst kind of news. Desplat is brilliant and one of the few modern composers worthy of working in John Williams' universe.
However, Hey U Guys caught up with Desplat and asked him about the status of the project and if he's started working yet. His response should end those rumors:
No, that will come in a few weeks ... I've seen the trailer. It's very exiting. Gareth [Edwards] is a fantastic director and he can do a beautiful film, I'm sure.
A week or so later, Cinefilos spoke with Desplat about his work on the film:
What can I say? I'm looking forward to working on Rogue One with Gareth. We had a great partnership on Godzilla and I can't wait to be starting with him. It will be in a few weeks from now and it is very exciting and frightening at the same time because it's such a legendary project. To be called to come after John Williams...it's a great challenge for me.
While we haven't heard any of Alexandre Desplat's Rogue One score, GeekRemixed has put together a pretty fantastic remix of various Star Wars themes, including a few samples from the Rogue One trailer, specifically that unique alarm sound and those isolated piano notes. The result is something that you could easily and happily add to any of your Star Wars remixes:
Pretty cool, huh?
Here's the thing about most of the people you'll find working in the visual effects industry: they're bonafide, genuine nerds. If they weren't breaking their backs to make movies happen, they'd probably be recording themselves watching movie trailers and having enthusiastic reactions like the rest of us. So that brings us to this truly delightful video, where members of the ILM visual effects team gather to watch fan reaction videos to the Rogue One trailer they busted their butts finish. It's funny and it's sweet and it may unleash a cloud of dust into your eyes when you realize just how happy these folks are to watch fans go nuts over their hard work.
"I rebel..." What did you guys think of the Rogue One trailer?
A photo posted by offtrackoutlet (@offtrackoutlet) on
It's always weird what sets off your nostalgia alarms. For me, seeing a fan-made VHS box depicting the Rogue One characters in the style see on the "special edition" home video releases brings back memories of wandering through my local video rental establishment, picking through the available films, avoiding the "scary" box art that unsettled my younger self, and always pausing in the science fiction section to look at the Star Wars boxes despite already having them at home. Damn you, Rogue One fan art. You've got me feeling wistful.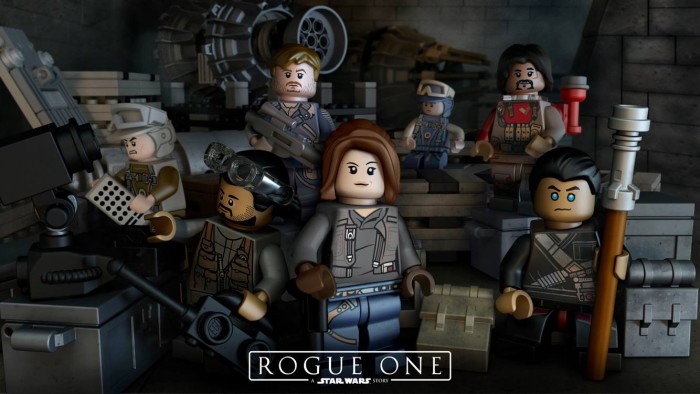 Rogue One LEGO sets are inevitable. There's no way Lucasfilm turns down that license to print money. A LEGO video game adaptation of the film also can't help but feel inevitable – every major franchise gets a LEGO video game these days. Anyway, the fact that LEGO released this mini-fig version of the film's cast certainly suggests that they already had the proper assets just lying around. You know, for physical minifigs shaped like Felicity Jones and Diego Luna and so on. And for potential video game counterparts.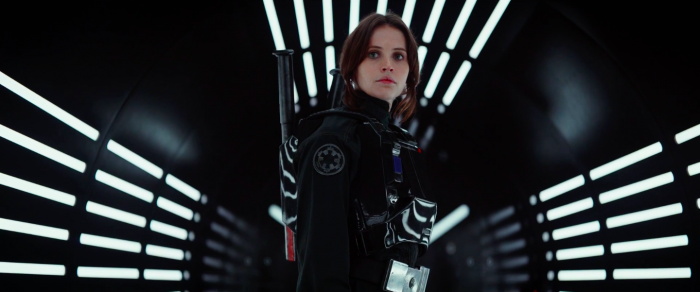 Speaking of potential merchandise, Jedi News claims to know which Rogue One characters will be available as 6" "Black Series" action figures during this year's Force Friday event. According to their post, fans will be able to pick up Jyn Erso, a Stormtrooper, a medical droid, and "Seal Team Male," which is the codename for Forest Whitaker's character in the film. However, other characters could still be announced, as last year's Force Friday introduced six 6" figures. New molds of Kylo Ren and Rey are also expected to debut and I'd bet that means a figure of Rey in the outfit she wears in the final scenes of The Force Awakens and a Kylo Ren without his mask.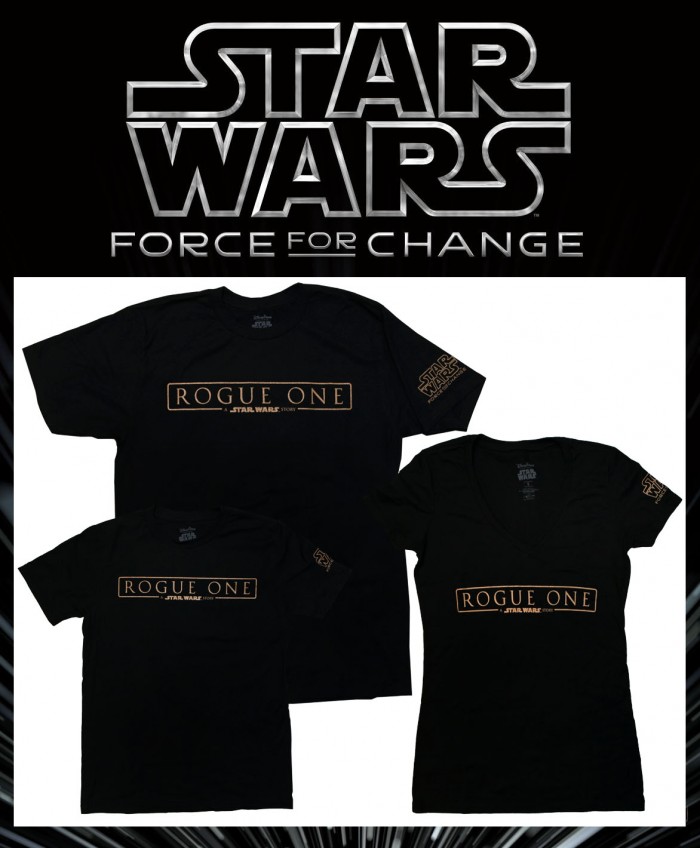 If you want to own some of the first Rogue One merchandise and benefit a great cause, you'll have to make a trip to the Disney resort of your choosing. StarWars.com has announced that Rogue One t-shirts will be available for purchase in Disney parks starting on May 4th, with a percentage of the proceeds benefitting UNICEF through the Star Wars: Force For Change program. Here are the relevant details:
This year, we will offer T-shirts for adults and youth that feature the logo for the upcoming film Rogue One: A Star Wars Story. These shirts are the first products for the new film created especially for Disney Parks. Twenty-five percent of the retail sale price of this product will be donated to U.S. Fund for UNICEF in support of UNICEF Kid Power. UNICEF Kid Power gives kids the power to save lives. By getting active with the UNICEF Kid Power Band, kids can go on missions, earn points and unlock therapeutic food packets for severely malnourished children around the world.
These shirts will not be available online, so you'll have to visit a Disney theme park if you want to snag one. You do have some options at both Disneyland and Walt Disney World:
Disneyland Resort • Disneyland park – The Star Trader and Star Wars Launch Bay • Downtown Disney District – D-Street and World of Disney
Walt Disney World Resort • Disney's Hollywood Studios – Tatooine Traders and Star Wars Launch Bay • Disney Springs – Star Wars Galactic Outpost and Once Upon A Toy •Magic Kingdom Park – Merchants of Venus