New 'Preacher' Teaser Trailer: Just What Kind Of Preacher Are You?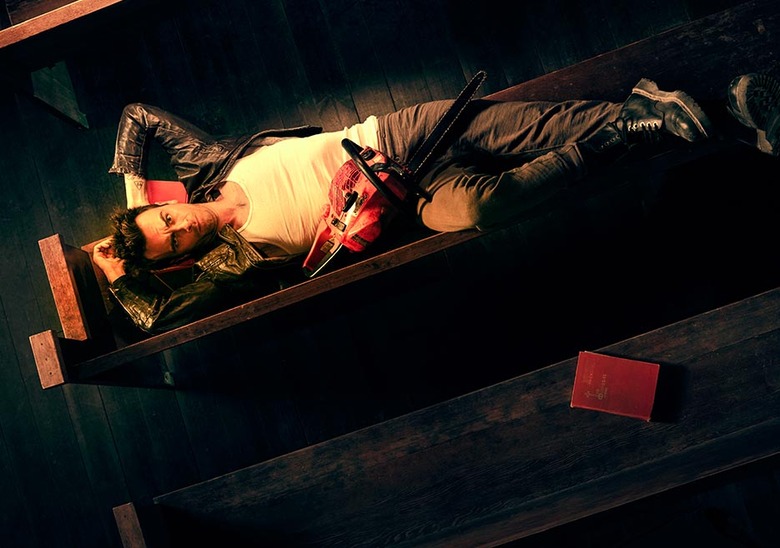 We're only a few short weeks away from seeing AMC's adaptation of Garth Ennis and Steve Dillon's Preacher. Any fan of the comic book series knows it's been a long journey for this property. When Preacher was being developed as a film it attracted plenty of talent, but even a director as capable as Sam Mendes couldn't crack the story. Mendes, however, predicted the story would play better as a television series and that "someone will come along that has a really good take on it and is able to do it." If the early reviews for the AMC series are any indication, the Road to Perdition director was correct.
Below, watch the latest Preacher teaser trailer.
Preacher follows Jesse Custer (Dominic Cooper), a minister who becomes possessed by an angel and a demon's powerful spawn. In need of answers, Custer goes on a wild journey to confront God, with the help of his gun-toting ex-girlfriend, Tulip (Ruth Negga), and the hard-drinking, foul-mouth Irish vampire, Cassidy (Joseph Gilgun).
Here's the latest Preacher teaser trailer:
This teaser hints a bit more at Preacher's sense of humor. With Tulip showing off a homemade bazooka and more glimpses at Cassidy, it's clear Seth Rogen, Evan Goldberg, and showrunner Sam Catlin aren't departing too much from Ennis' style of comedy. Obviously, there is no way some of Ennis' jokes will find their way into the television series, but Catlin told us a few months ago the show won't shy away from a little silliness:
That's Garth's creation. There's lots of violence and drama and all of that but there's always comedy. That's the opportunity he's given us. There's violence and also melodrama, but we're going to try to make people laugh. Characters will do horrible things one episode and then come back and do very silly things.
The past teasers have leaned more heavily on drama and violence, which worried some fans of the comic book series, but those teasers were probably made more for people unfamiliar with Preacher, the kind of folks that helped make The Walking Dead a big hit. We'll soon see if Rogen, Goldberg, and Catlin will be able to satisfy both fans and non-fans, but one thing is for sure, Joseph Gilgun looks fantastic as Cassidy. The more we see of Gilgun's Cassidy, the more fun this show looks.
Here's the official synopsis:
"Preacher" is a supernatural, twisted and darkly comedic drama that follows a West Texas preacher named Jesse Custer, who is inhabited by a mysterious entity that causes him to develop a highly unusual power. Jesse, his badass ex-girlfriend Tulip and an Irish vagabond named Cassidy come together and when they do, they are thrust into a crazy world populated by a cast of characters from Heaven, Hell and everywhere in between.
Preacher debuts on AMC at 10pm ET/PT on May 22nd.