'Captain America: Civil War' Clip: Black Panther Takes Some Swipes At The Winter Soldier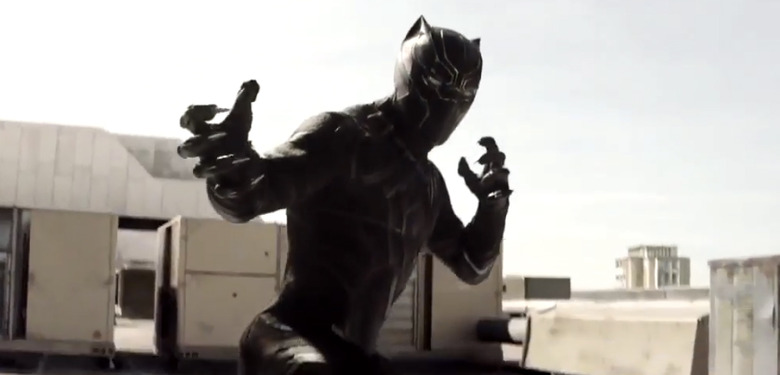 With just one week until Captain America: Civil War hits theaters in the United States (it's already playing overseas, with a second credits scene detailed from international screenings), fans are getting hungry to see the superhero conflict. Plenty of TV spots are arriving all the time, and now a new clip from the movie delivers something Marvel fans have been anxious to see: Black Panther in action.
In this Captain America Civil War clip, Chadwick Boseman is fully suited up as his superhero alter ego and taking on the Winter Soldier (Sebastian Stan). Meanwhile, Captain America (Chris Evans) is still playing catch-up and is more than curious to see who this new masked man may be. Watch the clip after the jump, but beware that after the video, we'll dive into minor spoilers about where this scene comes into play.
Here's the Captain America Civil War clip from JoBlo:
This is actually just the beginning of an action sequence that sees Black Panther chasing after Bucky Barnes, a.k.a. the Winter Soldier. The Wakandan hero believes Bucky is responsible for a terrorist attack that left his father dead, but he's unaware that the former Hydra operative has merely been framed. Steve Rogers is the only one who believes that Bucky had nothing to do with it, and he's forced to chase after them both to stop the Black Panther from killing Bucky. What follows this fight is an awesome tunnel chase, and you can see some more of that sequence in this quick featurette:
Black Panther is easily one of the best parts of Civil War. His regal demeanor offers something refreshing among the rest of the Avengers, and his character arc in the film meshes perfectly with the primary conflict. Boseman has a strong presence on screen, and the character's fighting style is something we haven't really seen in a Marvel movie before, making for a great introduction.
If you want more of my take on Captain America: Civil War, read my review right here.
Marvel's Captain America: Civil War finds Steve Rogers leading the newly formed team of Avengers in their continued efforts to safeguard humanity. But after another incident involving the Avengers results in collateral damage, political pressure mounts to install a system of accountability, headed by a governing body to oversee and direct the team. The new status quo fractures the Avengers, resulting in two camps—one led by Steve Rogers and his desire for the Avengers to remain free to defend humanity without government interference, and the other following Tony Stark's surprising decision to support government oversight and accountability.
Directed by Anthony and Joe Russo from a screenplay by Christopher Markus & Stephen McFeely, Captain America: Civil War will debut in theaters on May 6.