'The Nice Guys' Gets A Grainy, Retro 70s Trailer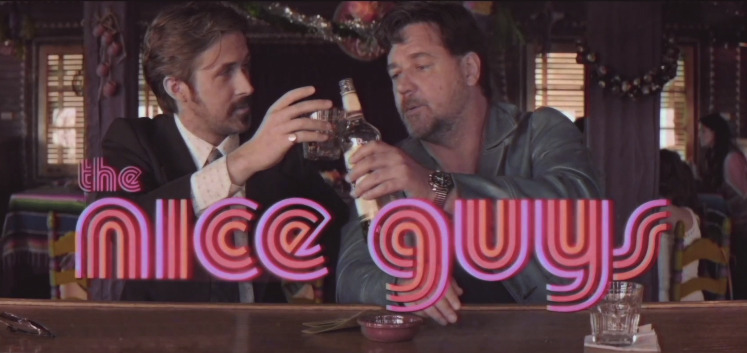 We're just a few days away from May, which means the release of Shane Black's dark comedy The Nice Guys starring Russell Crowe and Ryan Gosling is just around the corner. Not too long ago, a new promotional web series came online with Crowe and Gosling getting some therapy sessions in before they embarked on their publicity tour for The Nice Guys. Now Warner Bros. Pictures is keeping the viral videos coming by giving The Nice Guys a trailer straight out of the 1970s, the decade during which the story unfolds in Los Angeles.
Watch The Nice Guys retro trailer after the jump.
While creating a trailer that might be seen in theaters in the decade that the movie takes place is a fun little gag to promote the movie, I'm not entirely sure why it's made to look like a grainy old print while also having a few VHS-like warps here and there. Sure, the VCR arrived on the market in the late '70s, but it didn't really hit its stride until the 1980s, so it just seems like overkill when some film grain and a few choppy moments here and there would have had the desired effect.
The one touch that I enjoy the most is giving an "introducing" credit to Kim Basinger, since she started acting in the 1970s. However, the actress only appeared in TV shows and made-for-TV movies during that decade and wouldn't appear in a movie until Hardy Country in 1981.
Anyway, The Nice Guys is one of my most anticipated films of the summer. It feels like a nice break from all the blockbuster fare hitting the big screen this season, and the red band trailer packs some really big laughs. Hopefully the rest of the movie delivers on the promise of the marketing so far. If you haven't watched the red band trailer yet, do your self a favor and do that right here. Otherwise, you can also watch the most recent theatrical trailer over here.
In 1970s Los Angeles, down-on-his-luck private eye Holland March (Ryan Gosling) and hired enforcer Jackson Healy (Russell Crowe) must work together to solve the case of a missing girl and the seemingly unrelated death of a porn star. During their investigation, they uncover a shocking conspiracy that reaches up to the highest circles of power.
The Nice Guys arrives next month on May 20.