Paul Rudd Getting Serious With World War II Thriller 'The Catcher Was A Spy'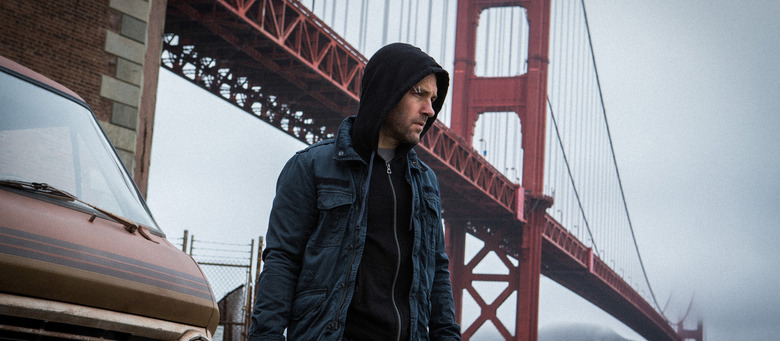 In just a few days we'll see Paul Rudd back in his superhero suit for Captain America: Civil War, but it looks like he's headed for a big change of pace beyond that. He's just signed on to star in The Catcher Was a Spy, based on the true story of a Major League Baseball player who became a spy for the OSS (a precursor for the CIA). Ben Lewin (The Sessions) will direct from a script by Saving Private Ryan writer Robert Rodat. 
The Catcher Was a Spy based on the 1995 book by Nicholas Dawidoff, which chronicles the incredible tale of Moe Berg. As a player, Berg was unremarkable, but he stood out during his 15-season career (during which he played for the Chicago White Sox, the Boston Red Sox, and others) for his unusually intellectual bent. He was a graduate of Princeton University and Columbia Law School, spoke several languages, and read several newspapers a day. But it was after his baseball career that his life took an even more remarkable turn, as he joined the OSS to serve as a spy during World War II.
Berg's story seems tailor made for movies, and it's honestly a little surprising that one doesn't exist already. Which isn't to say no one has tried. Deadline, which first reported on the Paul Rudd The Catcher Was a Spy movie, notes that Warner Bros. once tried to make a movie happen with George Clooney in the lead, and that HBO and Miramax have also attempted to crack the story.
Rudd has spent most of his career bouncing between comedies and dramedies. Even his big splashy superhero role falls on the lighter end of the spectrum; while Ant-Man isn't a comedy per se, the character is more of a goofball like Star-Lord than a dead-serious do-gooder like Captain America. The Catcher Was a Spy sounds like an unusually dramatic role for him, and it should be interesting to see how he handles a more serious role. Before we see that, though, Rudd has some more funny stuff lined up — his animated features Nerdland and Sausage Party and the dramedy The Fundamentals of Caring are all due out in the next year.