Ben Kingsley, James McAvoy, And John Boyega Will Star In BBC And Netflix's 'Watership Down' Animated Miniseries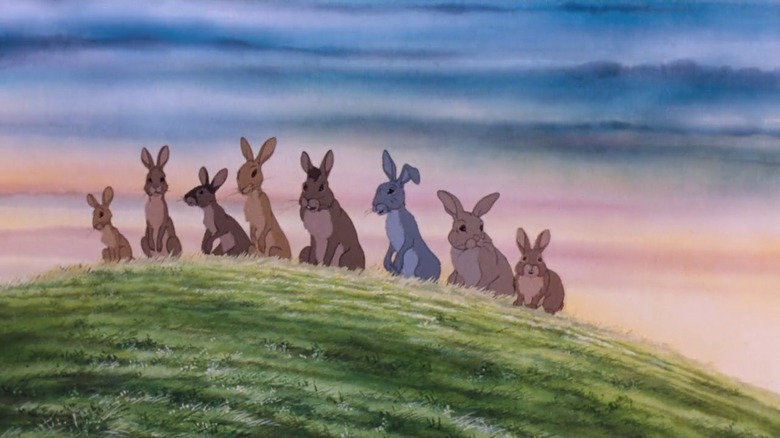 The beautiful and frightening 1978 adaptation of Watership Down holds up remarkably well, but that doesn't mean there isn't room for another interpretation of Richard Adams' novel. This won't be the first time Adams' story has been retold for television, but it's just been announced BBC and Netflix are teaming up to make a Watership Down animated miniseries. The series, which is set to premiere in 2017, will feature voice work from Ben Kingsley, James McAvoy, John Boyega, Nicholas Hoult, and more.
Learn more about the Watership Down animated miniseries below.
Noam Murro is co-directing the four-part miniseries, which is, on the surface, about a group of rabbits trying to find a new home and their way in the world. Murro has spent much of his career making commercials, but he's probably best known for directing 300: Rise of an Empire and the somewhat overlooked indie Smart People. The director's company, Biscuit Films, is also producing Watership Down. Adapted by Tom Tidwell (My Mad Fat Diary), the miniseries will star Kingsley as General Woundwort, McAvoy as Hazel, Hoult as Fiver, Boyega as Bigwig, Gemma Arterton (The Disappearance of Alice Creed) as Clover, Olivia Colman (The Lobster) as Strawberry, and more.
Murro's co-director is Peter Dodd, who worked as an animator on Fantastic Mr. Fox, Frankenweenie, and Corpse Bride. The Dublin-based animation studio, Brown Bag Films, and a team of artists led by of Dodd and producer Hugo Sands will work on the miniseries, which the BBC has been intent on making since 2014.
In a statement to Variety, BBC drama commissioning editor Matthew Read had this to say about the Watership Down miniseries:
Before there was 'Harry Potter' there was 'Watership Down,' Richard Adams' novel is one of the most successful books of all time and one of the biggest-selling books in history. It is fantastic to have the opportunity to bring a modern-classic to a mainstream BBC One audience with such an incredible roster of actors alongside the talented team overseeing the animation. This fantastic take on the novel will unite the whole family, and bring this classic story to a new generation.
There's nothing like a good old-fashioned story about tyranny, freedom, and survival to bring the whole family together. Kingsley should do a fine job scaring some kids as General Woundwort, the angry and unmerciful antagonist. The casting all around is spot-on, but Kingsley, in particular, is just a perfect choice for Woundwort. He's done some excellent voice work over the past few years, like in The Jungle Book and The Boxtrolls, but more than that, Kingsley's voice has the gravitas and power that suits General Woundwort.
Watership Down will air on BBC One next year. The series will be made available to stream outside of the U.K. on Netflix.