'Independence Day: Resurgence' Viral News Broadcast Celebrates War Of 1996 Victory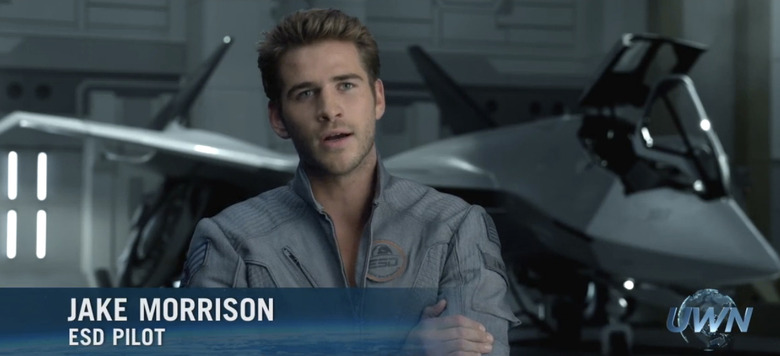 This summer marks 20 years since Independence Day hit theaters, making a blockbuster star out of Will Smith and delivering one of the most fun, exciting alien invasion movies of the decade, possibly ever. So obviously it's the perfect time for the sequel, Independence Day: Resurgence to arrive. But since 20 years has passed in the narrative timeline since the events of original film, there are a lot of gaps that need to be filled in.
We already know that by the time the sequel has begun, the world has established Earth Space Defense, a new program designed to use alien technology left behind to advance our own civilization and prepare a better defense in case they ever come back. Now a new Independence Day Resurgence viral video has a faux news broadcast that details what has happened since we defeated the aliens in what has been called the War of 1996. The video celebrates the heroes of the war, discusses the founding of ESD and more.
Watch the viral news broadcast after the jump.
Here's the special report on The War of 1996:
In the video we see Jeff Goldblum reprising his role as David Levinson, who is the head of Earth Space Defense, discussing how they'll be trying to protect the world in the future. This includes having a base on the moon, using alien technology to develop our military vehicles and weapons, and much more.
Other characters included in the video include Liam Hemsworth as Jake Morrison, a pilot who was orphaned when the aliens attacked in 1996; Jessie Usher as Captain Dylan Hiller, son of Will Smith's late Steven Hiller; Chin Han as Commander Jian Lao and Angelababy as Lieutenant Rain Lao.
There's no sign of Maika Monroe as the daughter of President Whitmore (Bill Pullman) but we know she has a significant role in the movie. The actress even told us that she'll be getting some action of her own, including a potential for an Aliens-esque "Get away from her, you bitch," moment for her character.
Watch the most recent trailer for Independence Day: Resurgence right here.
We always knew they were coming back. After INDEPENDENCE DAY redefined the event movie genre, the next epic chapter delivers global spectacle on an unimaginable scale. Using recovered alien technology, the nations of Earth have collaborated on an immense defense program to protect the planet. But nothing can prepare us for the aliens' advanced and unprecedented force. Only the ingenuity of a few brave men and women can bring our world back from the brink of extinction.
Independence Day: Resurgence opens June 24.