'Southside With You' Trailer: When Barack Met Michelle...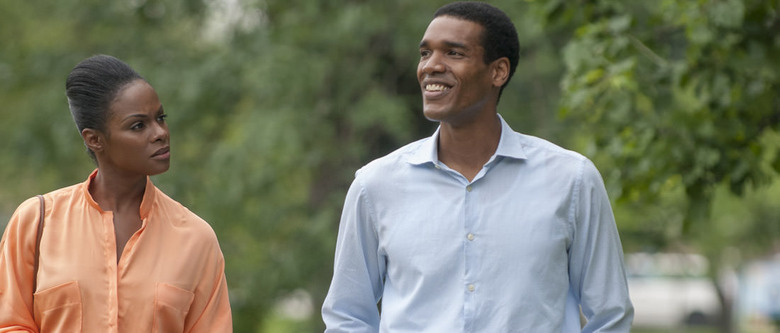 As Barack Obama's time in the White House draws to a close, a new indie drama looks back at an early turning point in his life. Set in 1989, Southside With You follows Barack (Parker Sawyers), a law firm associate, and his colleague Michelle (Tika Sumpter), on an afternoon out together — and though she insists it's not a date, we in the future know better. It plays sort of like a Before Sunrise for the political set, full of meandering walks and thoughtful conversations and loads of romantic chemistry. Only unlike with Before Sunrise, we know exactly what happens to these characters after the credits roll. Watch the Southside With You trailer after the jump. 
I caught Southside With You at Sundance this year, and was especially impressed by Sawyers' performance as Barack Obama. He finds that tricky balance between imitating a famous subject's tics and mannerisms and making the role his own. (Which we should all be especially appreciative of today, seeing as it was just yesterday we were subjected to Joseph Gordon-Levitt's bizarre Snowden voice.) The film itself is a little less successful at finding that sweet spot, as it sometimes gets caught up in its own sense of grand destiny, but I liked it quite a bit overall. As I wrote from the fest:
While Southside With You very much buys into that idealized notion of the Obamas' relationship, however, it's smart enough to keep Barack and Michelle grounded in a recognizable human reality. This Barack is smart and charming, yes, but also a bit arrogant, a bit pushy, a bit prone to sticking his nose in places where it doesn't belong. We know he's headed for great things, but in this moment he's just a guy occasionally making a mess of his first date with a girl he likes. Similarly, the Chicago around them feels vibrant and messy and true to life. An excellent soundtrack does much of the work of establishing the city around Barack and Michelle, and spot-on location scouting and set design does the rest. The world feels lived-in, and so does its characters.
Southside With You opens August 26.
Inspired by Barack and Michelle Obama's first date, SOUTHSIDE WITH YOU recounts the eventful summer day in 1989 when a young law firm associate named Barack Obama (Parker Sawyers) tried to woo lawyer Michelle Robinson (Tika Sumpter) during a daylong date that took them from the Art Institute of Chicago to a screening of Spike Lee's Do the Right Thing to the site of their first kiss outside of an ice cream parlor.