'Kubo And The Two Strings' Final Trailer: Giant Skeletons, Magic And A Sword-Fighting Monkey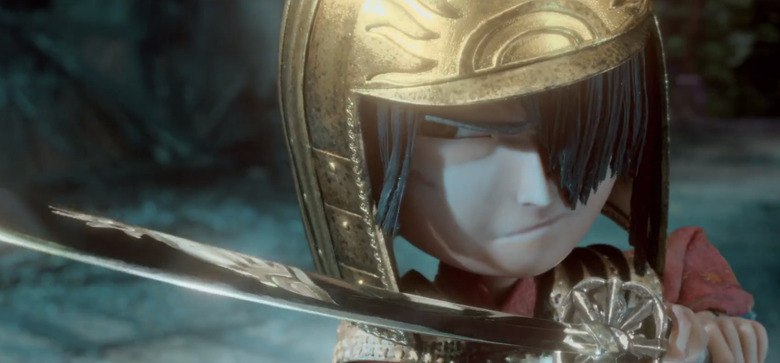 There's a good chance that I will always be stunned by how incredibly gorgeous stop-motion animation looks from Laika. The studio is host to dozens of animators who are masters of their craft, and when you see the new footage from the final Kubo and the Two Strings trailer, you'll certainly agree.
The fantasy adventure follows a young boy named Kubo (Art Parkinson) who gets caught up in the kind of fantasy adventures with which he usually entertains his village. With the help of a monkey (Charlize Theron) and a trusty, loyal warrior named Beetle (Matthew McConaughey), Kubo must face gods and monsters in order to learn the true history of his family and become a hero in the process.
Here's the new Kubo and the Two Strings trailer from Focus Features:
There's incredible sword fights, massive monsters, stunning visuals, and much more on display that promises a mesmerizing, magical fantasy adventure. And honestly, it's all because of Laika's style that this movie looks so cool. If this movie were being done in live-action with extensive visual effects, I can't imagine it being as appealing. But Laika really knows how to make a movie like this pop, and there are clear influences from anime and other Japanese art forms.
Laika animator Travis Knight, who produced The Boxtrolls and ParaNorman as well as serving as lead animator on Coraline, is making his directorial debut with Kubo and the Two Strings, and it looks like he's got a bright future ahead of him based on what we've seen so far. If you want to see more from the film, watch the previous trailer right here.
Here's a new batch of posters for the movie as well:
Clever, kindhearted Kubo (voiced by Art Parkinson of "Game of Thrones") ekes out a humble living, telling stories to the people of his seaside town including Hosato (George Takei), Akihiro (Cary-Hiroyuki Tagawa), and Kameyo (Brenda Vaccaro). But his relatively quiet existence is shattered when he accidentally summons a spirit from his past which storms down from the heavens to enforce an age-old vendetta. Now on the run, Kubo joins forces with Monkey (Charlize Theron) and Beetle (Matthew McConaughey), and sets out on a thrilling quest to save his family and solve the mystery of his fallen father, the greatest samurai warrior the world has ever known. With the help of his shamisen – a magical musical instrument – Kubo must battle gods and monsters, including the vengeful Moon King (Ralph Fiennes) and the evil twin Sisters (Rooney Mara), to unlock the secret of his legacy, reunite his family, and fulfill his heroic destiny.
Kubo and the Two Strings arrives on August 19.