Sylvester Stallone Will Play A Mafia Boss In TV Adaptation Of 'Omertà'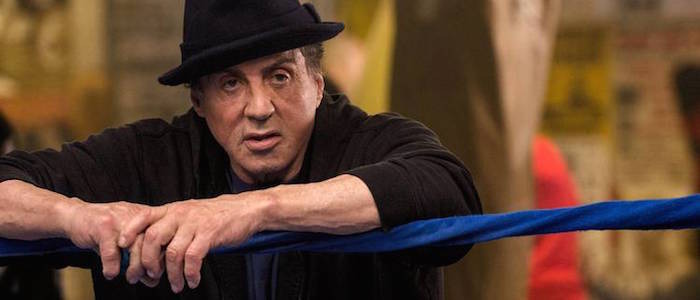 Sylvester Stallone was at the height of his powers when Paramount asked to write, direct and star in a third Godfather movie in 1983. The Rocky and First Blood star declined (reportedly saying "This is the worst idea since my conception") and Francis Ford Coppola would cap off the series he began with The Godfather Part III seven years later.
This piece of trivia is now prologue to a very interesting new development that will once again see Stallone brush shoulders with the work of author Mario Puzo. The beloved actor is set to star in a television adaptation of Omertà, which will bring Puzo's final novel, the climax of his "mafia trilogy," to the small screen.
Deadline has the scoop. Stallone will star as Raymonde Aprile, the "last great American Don," the Weinstein Company is producing, and The Magnificent Seven's Antoine Fuqua is on board to direct. Justin Herber and Adam Hoff have completed a pilot script and the hunt is currently on for a showrunner and the female lead. No network is attached to the series yet, but it's hard to imagine anyone saying no to a crime series starring Stallone and based on a novel from the man who created The Godfather. The landscape is ripe for a mafia epic with the scope and density of Game of Thrones or The Wire, especially since Boardwalk Empire is no longer on the air.
Although Omertà received mixed reviews upon its publication in 2000, it certainly sounds like a strong foundation for a television show. The story is too big for a single film (as evidenced by the number of failed attempts to bring it to the big screen over the years) and an ongoing series will allow audiences to truly get absorbed in Puzo's world, which is a labyrinth filled with traitors and rats and people who want to keep their friends close and their enemies closer. It's also an interesting choice for Stallone, who could have easily rested on his laurels following his Oscar nomination for Creed. The chance to watch an old school movie star like him headline a television series is an exciting prospect, especially since he's not involved in that Rambo TV series.
Deadline says that Omertà is coming together quickly and that more news is expected to follow sooner rather than later. The big question now is which networks will bite. After all, a crime epic with connections to the violent and merciless world of The Godfather deserves a network that won't put restrictions on content. It's easy to imagine Omertà interesting the likes of FX, AMC, Showtime or even Cinemax, but we shall see.