'Tulip Fever' Trailer: Alicia Vikander And Dane DeHaan Piss Off Christoph Waltz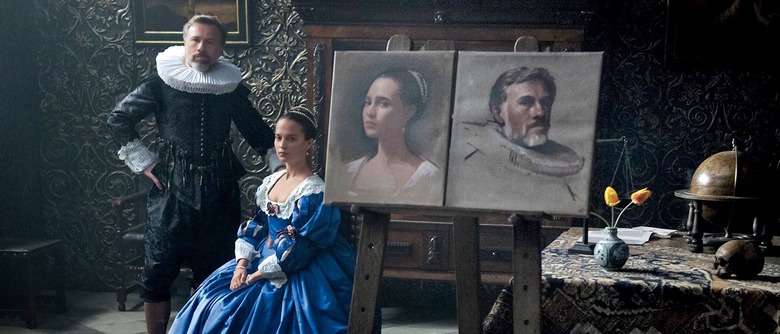 Alicia Vikander was downright inescapable in 2015. The Swedish actress had no fewer than seven films out in U.S. theaters last year — including The Danish Girl, which won her the Best Supporting Actress Oscar. She'll be a little less ubiquitous in 2016, but there'll still be plenty of her to go around. She's got Jason Bourne coming this summer and The Light Between Oceans due this fall. And before either of those hit cinemas, she'll be seen in Tulip Fever.
Directed by Justin Chadwick (Mandela: Long Walk to Freedom), the romantic drama follows Sophia (Vikander), a young woman in 17th century Amsterdam. She's married to a wealthy older man, Cornelis (Christoph Waltz), but risks everything when she falls into a passionate affair with Jan (Dane DeHaan), the artist hired to paint the couple. Tom Stoppard wrote the screenplay, and it's based on the book of the same title by Deborah Moggach. Watch the first Tulip Fever trailer after the jump. 
Entertainment Weekly premiered the Tulip Fever trailer.
A lot of Vikander's sudden omnipresence can be chalked up to quirky timing. Tulip Fever, for example, actually finished shooting all the way back in 2014, well before her career skyrocketed with the one-two punch of Ex Machina and The Danish Girl. But the Weinstein Co. let it languish on the shelf, and only recently got around to announcing a summer release date. The studio is notorious for dragging its feet on certain releases, and it seems Tulip Fever fell victim to those tendencies. But better late than never, right? Maybe Tulip Fever will even get a boost from the fact that Vikander is a much bigger star now than when she was first cast.
As for the trailer, it looks full of drama and intrigue — this isn't one of those period romances where everyone tamps down their passions and dies full of regret about words left unsaid. Actually, based on the trailer, it doesn't like Jan and Sophia are even trying that hard to hide their attraction from her husband, so it's probably inevitable that things are going to end horribly for everyone. But before we get to the (probably tragic) conclusion, we should have plenty of time to admire this fantastic cast, which also includes Judi Dench, Jack O'Connell, Cara Delevingne (who is reuniting with DeHaan for Luc Besson as we speak) and Zach Galifianakis.
Tulip Fever opens July 15.