Will Ferrell Not Starring In Presidential Comedy 'Reagan' After All [UPDATED]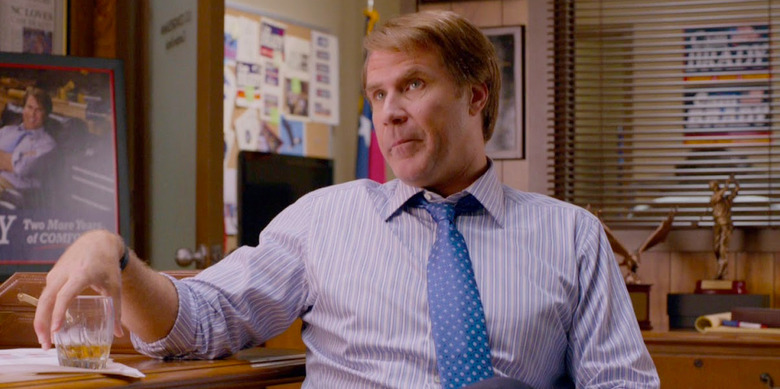 UPDATE: Page Six has learned that Reagan is no longer on Will Ferrell's docket, and there's a chance it may never have been. A representative told Page Six, "The 'Reagan' script is one of a number of scripts that had been submitted to Will Ferrell which he had considered. While it is by no means [an] 'Alzheimer's comedy' as has been suggested, Mr. Ferrell is not pursuing this project."
It's not clear if Ferrell was possibly involved and some outcry about the project changed his mind, but either way, he's not starring in the movie, nor is he producing it. So the project will have to find some other talent to bring it to life, if anyone else out there dares to make it happen. Our original story from yesterday follows below
Will Ferrell is no stranger to political satire. The comedian garnered a huge following while on Saturday Night Live for his iconic portrayal of President George W. Bush, which he eventually reprised for a one-man stage show. Plus, he also starred in the comedy feature The Campaign, not to mention skewering cable news in Anchorman 2: The Legend Continues. Now Ferrell will bring another Republican president to life, this time on the big screen.
The Black List comedy script Reagan has just landed Will Ferrell to star as President Ronald Reagan. However, at least one member of the president's family is already unhappy with the project. Find out why below.
The movie that will have Will Ferrell playing Ronald Reagan takes place at the start of the ex-president's second term, when the Commander in Chief started to develop Alzheimer's disease. In the film, an intern is tasked with convincing Ronald Reagan that he's an actor playing the president in the movie. That sounds like a hilarious concept, which is probably why the script from Mike Rosolio made the Black List last year. But Ronald Reagan's son Michael Reagan doesn't agree. He took to Twitter to gripe about the comedy:
Alzheimers is not a comedy!Will Ferrell to play dementia-stricken Ronald Reagan https://t.co/5wdo2PVvHt via the @FoxNews Android app

— Michael Reagan (@ReaganWorld) April 27, 2016
What an Outrag....Alzheimers is not joke...It kills..You should be ashamed all of you. https://t.co/GNzqR5vjrX

— Michael Reagan (@ReaganWorld) April 27, 2016
One can't really slight Michael Reagan for being mad about a satire that aims to make jokes out of a debilitating disease that his father had. It's a tough ailment to deal with both for the one who has the disease and for their family. There have been plenty of other people echoing Reagan's sentiments regarding both the disrespect for Ronald Reagan and for Alzheimer's patients in general.
But this is satire we're talking about, and sometimes comedy is the best way to deal with painful subject matter. Personally, I don't find this comedic concept to be disrespectful of Ronald Reagan or Alzheimer's patients. It's a fabricated story that uses real-life tragedy as a jumping off point for comedy, and it's no more disrespectful than anything that was done on Saturday Night Live to mock Ronald Reagan, or any other president for that matter.
Plus, when you consider how much time has passed, it doesn't seem like all that insensitive of a comedic concept. Tragedy plus time equals comedy. Plenty of people make jokes about Abraham Lincoln or John F. Kennedy being assassinated, and one could argue that getting shot in the head is probably much worse than Alzheimer's disease.
Satire is often meant to be provocative, so this kind of controversy is nothing new. But since Variety says the movie doesn't have a distributor just yet, any potential outrage or adversity may stop the film from getting off the ground. The film doesn't have a director yet, but with Ferrell also producing through his Gary Sanchez Productions banner, they shouldn't have a problem finding one.
What do you think of this Ronald Reagan comedy?