Jamie Foxx May Solve Crimes With A Puppet In The Jim Henson Company's 'The Happytime Murders'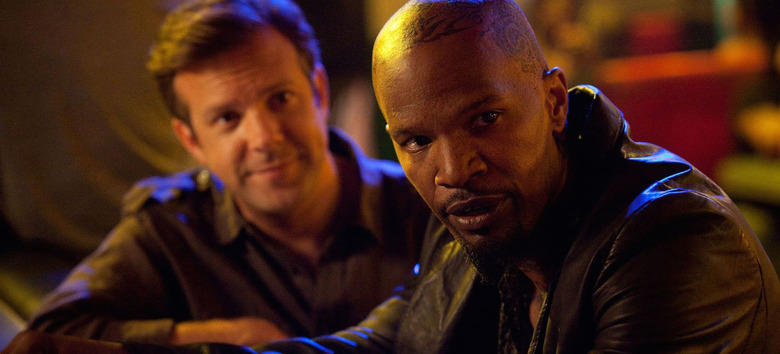 For years now we've been reporting on the on-again, off-again development of The Jim Henson Company's The Happytime Murders, a puppet noir described as "Avenue Q meets L.A. Confidential." The project got a shot in the arm last year when STX Entertainment scooped it up, and now it's taking another big step forward by casting its first human. Jamie Foxx is in early talks to play the human half of the detective duo investigating a streak of puppet murders. 
The Hollywood Reporter, which broke the Jamie Foxx Happytime Murders casting news. Brian Henson, son of Jim Henson and director of The Muppet Christmas Carol and Muppet Treasure Island, is on board to direct, as he has been since 2008. Erich and Jon Hoeber (Red, Battleship) wrote the latest version of the script, following earlier drafts by Todd Berger (It's a Disaster) and Dee Robertson.
The trade describes the project as a "dark, R-rated" action comedy and explains the plot as follows:
Happytime takes place in a world where humans and puppets coexist, with the puppets viewed as second-class citizens. When the puppet castmembers of 1980s children's TV show The Happytime Gang begin turning up dead, an alcoholic, disgraced LAPD detective-turned-private eye puppet takes the case with his former human partner.
Deadline has a little more to add, describing Foxx's character as a "type-A, take-no-prisoners human with a secret" and his partner as "a crass, hard-drinking puppet with a connection to one of the victims." The similarities to Avenue Q and L.A. Confidential are obvious, but The Happytime Murders also sounds a bit like Who Framed Roger Rabbit?, only with puppets instead of cartoons and an edgy R-rating instead of a family-friendly PG.
Foxx seems like a pretty great choice for the role. Not only is he the kind of big-name actor that could help a long-developing project like this pick up some steam, he's a versatile talent who can switch between serious and silly. He was last seen in Annie and Horrible Bosses 2 (and The Amazing Spider-Man 2, about which the less said the better), and is now shooting Edgar Wright's Baby Driver with Ansel Elgort and Kevin Spacey. Also on his to-do list is Robin Hood: Origins, a gritty retelling of the classic legend.