'Wolverine 3' Casts 'The Office' Co-Creator Stephen Merchant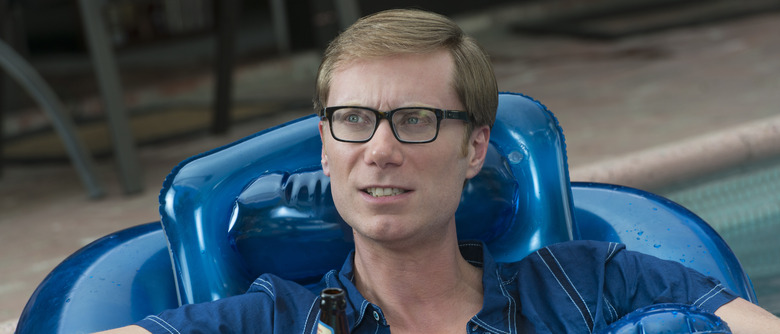 It's a given that Wolverine 3 will bring back Hugh Jackman as the eponymous superhero, and we heard long ago that Patrick Stewart would return as Professor X, too. But as the film nears the start of shooting, it's collecting quite an eclectic cast around the two familiar X-Men. First Boyd Holbrook and Richard E. Grant signed on as a pair of villains, and now Stephen Merchant — the gangly British comedian you might recognize from The Office – has been set to star as well. 
Deadline broke news of the Wolverine 3 Stephen Merchant casting. His role is being kept under wraps and we don't know yet whether he'll be a good guy or a bad guy. Either way, we're gonna go ahead and guess that he's serving as the comic relief (although if this turns out to be a rare dramatic role for the actor, that'd be pretty exciting too). As previously reported, Holbrook will play the main villain and Grant some sort of mad-scientist character.James Mangold is directing Wolverine 3 from a script by David James Kelly. The story is believed to be inspired by the "Old Man Logan" arc from the comics, which follows a now-retired Wolverine on a road trip across a dystopian future. We've heard rumors about which other characters from the comics might appear — maybe X-23? — but so far Wolverine and Professor X are the only names we know for sure.
Merchant is a frequent collaborator of Ricky Gervais', having worked with him on The Office, Extras, The Ricky Gervais Show, and Life's Too Short. In addition, Merchant recently created and starred in the HBO comedy series Hello Ladies. His feature film credits include Hot Fuzz, The Invention of Lying, Tooth Fairy, Hall Pass, and I Give It a Year.
Wolverine 3 will be Jackman's last outing as the mutant superhero, whom he's been playing since the original X-Men in 2000. To put things in perspective, that means he's stuck through while competing franchises cycled through two different Batmen, two different Supermen, and three different Spider-Men. By the time Jackman hangs up the claws for good next year, he'll have appeared in six X-Men movies (including next month's X-Men: Apocalypse) and three Wolverine spinoffs. To date, the only X-Men movie he hasn't been in is Deadpool.
20th Century Fox has Wolverine 3 scheduled to open March 3, 2017. Expect to hear many more casting updates in the coming weeks.