Interview: 'Keanu' Star Will Forte On 'SNL', His Influences And Being A Comedy Control Freak.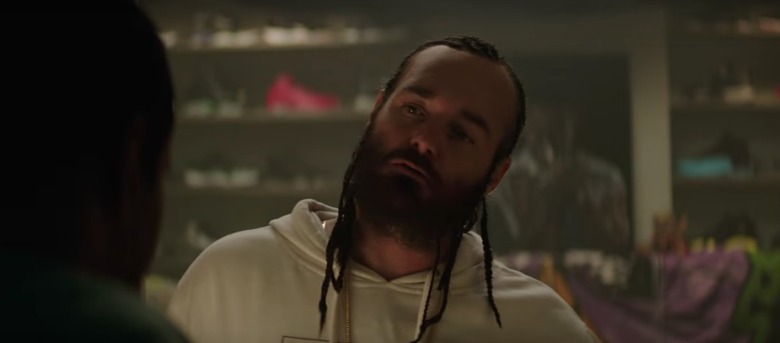 It's hard to believe Will Forte left Saturday Night Live six years ago. When Forte mentioned it's been that long since he was on the show, he, too, looked surprised by that fact. After spending a decade working on SNL, the actor has appeared in a variety of films, including Alexander Payne's Nebraska, Peter Bogdanovich's She's Funny That Way, and, of course, the actor's crowning achievement, Jorma Taccone's big screen adaptation of MacGruber.
Forte co-stars in Peter Atencio's Keanu, a comedy from the team behind Comedy Central's Key & Peele. The former SNL star's role as a drug dealer, Hulka, is brief but, thanks to some cornrows and an unforgettable voice, he leaves an impression with his performance.
Below, read our Will Forte interview.
I have to say, I've met quite a few people like Hulka.
I definitely have experiences with people kinda like him. Yeah, for sure.
Did any of those people influence your performance at all?
Not really. The main person that I did try to emulate was this guy Riff Raff, who those guys had said they had kind of patterned the character after. I studied him a little bit. But I'm not a very good impersonator. So that was what my aim was, but I don't know how close I hit the mark. But it was still so much fun to do the role, and those guys are such wonderful people that it was a very, very, very fun, good experience.
Was Hulka's voice also inspired by Riff Raff?
That was looking at this guy, Riff Raff, and me just trying to do his voice. But it ended up just being some kind of weird...whatever it was, was my attempt to do that, which was off the mark, but just turned into what you see. [Laughs.]
[Laughs.] You've always been someone that will go pretty far for a joke. Have there ever been times in your career where you've thought, "Should I go far that far for a laugh?"
There are definitely things I think are over...Every once in a while I'll fall into it, but I don't like being mean to people, putting down people. And certainly there are times I've done it. But I try to avoid that. I don't like ripping on people. So I would not be good at roasts. I have respect for people who are good at that kind of thing. That would be a hard thing to do. I think there are really fun versions of a roast, and then I think there are versions of a roast that are just mean. But I guess that's what a roast is.
They can often feel like easy jokes, too. Someone like Steve Martin, he's great because can just make fantastic jokes without really poking fun at anyone.
He's my hero. That's my guy.
Are there any comedic performers in particular that you looked up to growing up?
Steve Martin is my number one of all time, so it's him, Peter Sellers...SNL was a huge deal for me. I loved Monty Python. David Letterman was a big deal for me. And then I'm constantly collecting more and more comedy heroes. Certainly Will Ferrell is one of my favorites, and Jack Black. The list goes on and on. Obviously, I threw all these people under the SNL umbrella. But every phase of SNL had different people who I admire...Eddie Murphy was so amazing. You know, even going back and discovering Bob and Ray. Have you seen The Slow Talkers of America?
I have not.
It's so funny. You know, you watch older things and sometimes stuff doesn't translate and it's like, "These guys were just so funny." You've got to watch Slow Talkers of America. It might be just under STOA. It's really, really funny. But yeah, Steve Martin was my number one growing up. You know, right now, I'm in a very interesting job. I'm playing one of the guys that created the National Lampoon Magazine, Doug Kenney, and it's so fascinating. I mean, there are all these different things about his story. I had always heard about things, like, 'lemmings' and different phrases. 'Lemmings' is the group — John Belushi and all those guys — that would do these shows. I didn't know how everything fit together, though. I get to kind of study up on this era of comedy that sort of led the way for all the stuff that influenced me the most. It's been an interesting experience. I'm really excited to get this opportunity.
Have you read Judd Apatow's Sick in the Head?
Oh, no, I have not, but I have heard so many people referencing it.
It's great. There's a very good interview with Harold Ramis, where he discusses that time period and his friendship with Douglas Kenney.
That's awesome. You know, it's certainly a difficult thing to go into because it's a tragic story, on many levels, and a very interesting story. A lot of the characters in it are my comedy heroes, so I certainly go into this with the greatest amount of respect and appreciation of all these people that are telling this story. I don't want to offend anybody, but I also want to... it's just a really interesting story, so I don't want to pull any punches. It's just an interesting scenario to be in.
A lot of the jokes in Keanu, like in Key & Peele, are so well-structured. Was improvisation ever encouraged on the set or do they follow the script very closely? 
Well, I'm always in the...I have a great deal of respect for writers always. So I'll always start with doing the scripted version. If they want to improvise stuff, I'll let them be the ones to suggest that. Not that I'm not [open to improvising]. I'm fine with that, especially with these guys. They are the easiest people to work with. They are so nice and so funny. So it's so easy to bring up any issue you would have. But I mean they had the script in such good shape from the get-go that you didn't need to improvise. But we'd have a bunch of room to play around. They'd make sure we got kind of loose takes to have some fun. And they are so selfless.
Before SNL, I was writing for years. It'd drive me crazy when people were improvising off the bat, unless that's the stated goal, of course. But to me the writers are...well, there are so many important parts, but there's no movie without the writer.
Like you said, you were writing before SNL, but I imagine after you work in that environment, your respect for writers goes through the roof, considering what they go through on that show. 
Oh, yeah. That place is so stressful. What a wonderful experience it was. But it's the toughest job, but I miss it so much. It's this weird addiction. And it's been several years now. It's been like six years since I was there. I don't know that I could do that job at this age. It's just so tough. But, then again, I think, I probably could because Last Man on Earth has been probably double the amount of work of this job that I thought would be the hardest job I would ever do. I'm also admittedly a control freak.
There was something really wonderful about SNL. I think Lorne [Michaels] had a quote that I loved that was: "We don't do the show because it's ready. We do the show because it's 11:30 Saturday night." [Laughs.] That was such a nice thing to go, like, I could obsess as long as I could over a sketch, but then at 11:30 it's done, or at 1 o'clock it's done. With The Last Man on Earth, I can obsess for as long as I want to until the thing airs, so it just gives me much more time to tinker with stuff.
But, god, what an experience that was, the experience of a lifetime. SNL was always my number one goal, getting into comedy. So to get to the thing that you got into comedy to do, I realize how lucky I am to have gotten that experience.
When you were performing live on SNL the audience must've helped fuel your performance. 
Oh, yeah.
Can you get a similar feeling on a film set, like in the case of Keanu, or is it just a completely different form of acting?
It's always totally different. It's different because you are screwing up a take if you laugh on a movie set or on a single camera TV set. After a while you kinda figure out when you know you've kinda done what you should be doing versus...I don't know. Sometimes you don't know. It takes a while to learn how to kind of calibrate your judgments, your grading system of your performance. It took me a long time to figure that out.
The first couple of jobs I had were things without a live audience, and it was really tough because you'd go home and...I overthink everything, so I'd go home and go, "Oh, I blew it today! I bet the director is so upset that they cast me in this part!" I'd go in the next day and be sheepish. And then at some point, you do something that you feel really good about, and then you are like, "Oh, I'm on top of the world! Everything is great! OK, don't worry anymore!" And then, sure enough, next day you think you suck again. It takes a long time. I'm a little less hard on myself than I used to be, but it just takes a long time, at least it did for me.
It's funny you mention that because earlier today I was reading an interview with you, where you discussed the SNL sketch "Fart Face." You immediately knew it wasn't landing with the audience, but instead of looking at it as a failure, you just took it as a lesson. 
That's the crazy thing. I wouldn't have done "Fart Face" any differently than we did. To me, that's like, "Well, fuck you, audience! That was funny. I don't care what you think." Everyone hated it. But then the funniest thing happened. At the end of the year, I think it was New York Magazine came out with their top 10 sketches of the year and "Fart Face" was somehow on it [Laughs]. I could not believe it. That was very brave of whoever put "Fart Face" on that list.
Most of the time when you are proud of something, if you really like something, the audience will maybe be on board with it. But it doesn't always happen. So you've got to have your own internal system. I've gotten really used to doing things that I'm really proud of that the audience does not like at all. [Laughs.] I'm very used to that. Like, I could not be prouder of MacGruber. This is going to sound crazy, but I'm as proud of MacGruber as I am of Nebraska. And I could not be more proud of Nebraska. Nobody went and saw MacGruber, but I love that thing with all my heart. I just refuse to let any stupid box-office numbers screw with...I will always be proud of that movie and all those filthy dick jokes. [Laughs.]
[Laughs.] As you should be.
I feel bad! [Laughs.] Don't tell Alexander Payne that I said that. Hopefully, he understands that quote. I'm sure he would understand what I'm talking about. They're just such different things. But the fact that I somehow was able to get to do two things that are so different that you are proud of in different ways, that's a real blessing.
***
Keanu opens in theaters April 29th.