Spoilers: What's In The 'Captain America: Civil War' After Credits Scene?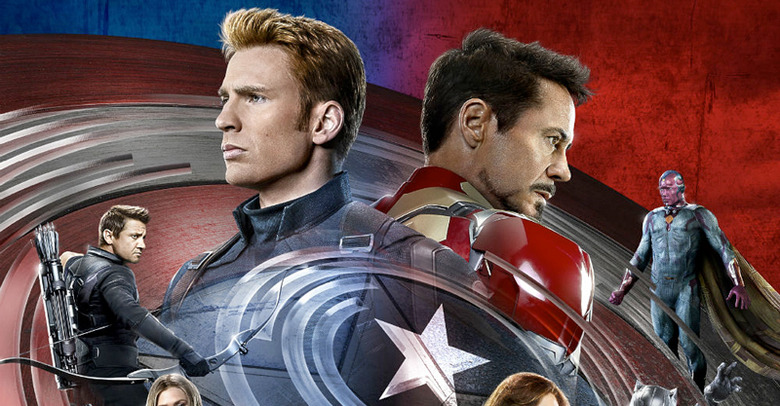 Just to cover our bases, we want you to know there are spoilers for Captain America: Civil War credits scenes after the jump.
As any fan of Marvel Studios movies knows, it's become customary for their comic book movies to have two credits scenes. One usually happens after a stylish end credits sequence, and another happens after all the rest of the credits have rolled. That hasn't always been the case (Avengers: Age of Ultron and Incredible Hulk both lacked a second credits scene), but fans are certainly expecting it, and they usually don't take any chances, sticking around until the credits are truly over.
In the case of Captain America: Civil War, critics and audiences lucky enough to catch advance screenings earlier this month have already seen one of the credits scenes, specifically the one that happens in the middle of the credits. Those screenings did not have a second sequence after the credits though. In the past, Marvel has held it back for the actual theatrical release of the movie. However, Captain America: Civil War is already playing overseas, and a second credits sequence is playing with those screenings, which means details have made their way online.
If you want to know about the second Captain America Civil War after credits scene, keep reading, but again beware of spoilers.
Without diving into any specific details just yet, the mid-credits sequence that audiences in the United States have already seen involves Captain America (Chris Evans), The Winter Soldier (Sebastian Stan) and Black Panther (Chadwick Boseman). It's more of a tease of the forthcoming solo Black Panther movie than anything, but it's also a scene that raises some questions about the future of Bucky in the Marvel cinematic universe. We'll talk more about that scene after general audiences start seeing Captain America: Civil War next week.
As for the second credits scene that international audiences are seeing, Birth.Death.Movies has learned that it gives us a little more Spider-Man. It's a quick scene that has Peter Parker (Tom Holland) messing with the new suit that was designed by Tony Stark (Robert Downey Jr.). It's the same suit that you've seen in the trailer already, and it's much more high-tech than the suit he was swinging around in previously (you get a glimpse of that in the movie too). The scene offers a little more close-up look at the suit this time, specifically a digital readout on his web shooters, hinting at a much more high-tech webslinger coming in his first solo movie in the Marvel cinematic universe. And in case there's any doubt of that, we get the text that says "Spider-Man will return" to confirm what we already know.
That doesn't sound like anything groundbreaking, but once you see how cool Spider-Man is in Civil War, you'll be glad to spend just a little more time with him. But keep in mind that there's a chance these won't be the only two credits scenes we'll see. After all, when The Avengers played overseas before it hit the US, international screenings didn't get the shawarma scene at the end.
Don't forget that Anthony & Joe Russo previously said there could be as many as three credits scenes this time, so maybe they're holding something else back to surprise us. It could be a tease for Doctor Strange, Guardians of the Galaxy Vol. 2, Thor: Ragnarok, Captain Marvel or even Avengers: Infinity War. Stay tuned to see if there are more Captain America Civil War credits scenes in our future.