'Wet Hot American Summer' Sequel Series Is Coming To Netflix In 2017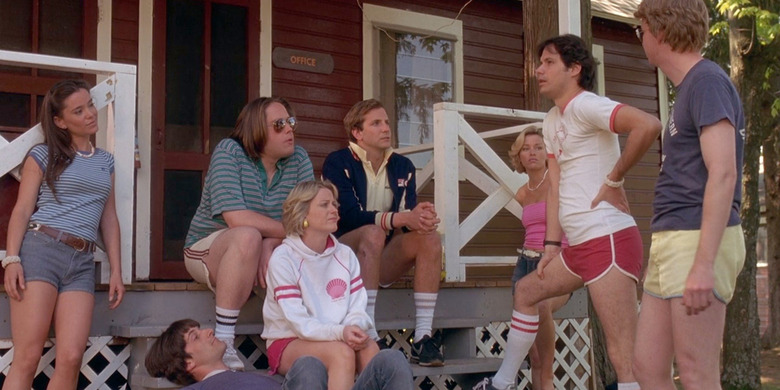 Netflix already gave us comedy gold with a Wet Hot America Summer prequel series that brought back every single cast member from David Wain's summer camp spoof comedy for the first day at camp. Now they're going to return to Camp Firewood for a Wet Hot American Summer sequel series.
Today Netflix announced a new original series called Wet Hot America Summer: Ten Years Later, which will make good on the promise all of the campers made to return to Firewood ten years after the last day of camp to see what kind of people they had become. Find out more after the jump.
Here's the Netflix announcement for the Wet Hot American Summer sequel series:
Again, it was already hilarious that all these teenage campers were played by actors and actresses in their late 20s or early 30s, and now even as we flash forward 10 years later, we'll have a crew of campers in their 20s being played by actors in their 40s. The age factor was already used as an amusing tidbit in the prequel series with all the actors still playing the teenage versions of their characters.
Wet Hot American Summer debuted in 2001, and while it bombed hard at the box office (earning only just over $295,000), despite pleasing crowds at Sundance, it has become a cult classic comedy. And that's why Netflix finally gave it the prequel series that David Wain and Michael Showalter wanted to make for years. But I don't think any of us were expecting a Wet Hot American Summer sequel to come out of it too.
The cast for the original Wet Hot American Summer movie included Janeane Garofalo, David Hyde Pierce, Molly Shannon, Paul Rudd, Christopher Meloni, Michael Showalter, Joe LoTruglio, Ken Marino, Elizabeth Banks, Michael Ian Black, Bradley Cooper, Amy Poehler, Zak Orth and A. D. Miles. Since they all came back for the First Day at Camp prequel series, we can safely assume that they'll all be back for the sequel series. However, I wouldn't put it past Wain and Showalter, who will co-direct and write again, to kill off one of the characters.
But just like Wet Hot American Summer: First Day at Camp, I think we can expect Ten Years Later to recruit a bunch of new faces to get in on the comedy shenanigans as well. Surely many of the original characters will have new significant others and children, so that will offer the opportunity for plenty of new faces to emerge.