'Blade Runner 2' Adds Sylvia Hoeks In Leading Role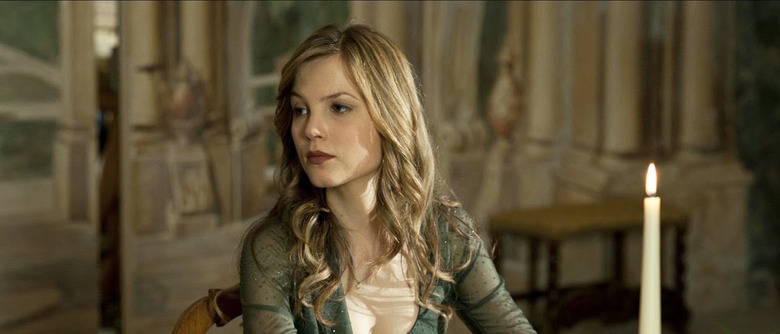 The idea of a Blade Runner sequel is bound to make any fan feel nervous — and considering it's one of the most revered sci-fi films of all time, that's a lot of anxious fans. But hiring Denis Villeneuve as director did a lot to turn that concern into curiosity, and smart casting choices have only added to the excitement. The lineup currently includes Ryan Gosling, Harrison Ford, and Robin Wright, and now the newest addition to that roster is Dutch actress Sylvia Hoeks. 
Alcon Entertainment made the Blade Runner 2 Sylvia Hoeks casting announcement today. The official statement doesn't reveal whom she's playing, only that it will be "a leading role." "Sylvia is a radiant talent, a tremendous actress with great appeal in a wide variety of roles," gushed Alcon co-founders Andrew Kosove and Broderick Johnson. "Her addition to this vastly accomplished international cast is a perfect fit." Hoeks joins a cast that also includes Dave Bautista and Ana de Armas.
Precious few details have been revealed so far about the script of Blade Runner 2, written by Hampton Fancher and Michael Green, other than that it'll be "set several decades after the original, with Harrison Ford reprising his iconic role as Rick Deckard." Fancher wrote Ridley Scott's 1982 Blade Runner with David Peoples based on the novel Do Androids Dream of Electric Sheep? by Philip K. Dick.
Hoeks is not very well known in the U.S., but has racked up an impressive resume in Europe. She won a Golden Calf (the Dutch equivalent of the Oscar) in 2007 for her breakthrough role in Duska, and starred in the Netherlands' 2011 submission for the Best Foreign Language Film, Tirza. Her other credits include the films Het Meisje en de Dood (The Girl and Death), The Storm, and The Best Offer, and the TV series Overspel and Bloedverwanten.
Shooting on Blade Runner 2 will begin this summer for release on October 6, 2017. Roger Deakins serves as cinematographer.