First Look At Neil Patrick Harris As Count Olaf In 'Lemony Snicket's A Series Of Unfortunate Events'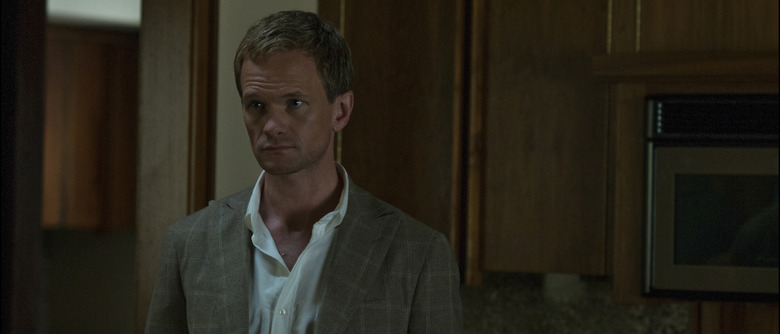 Principal photography is underway on Netflix's adaptation of "Lemony Snicket's A Series of Unfortunate Events." Based on the bestselling children's series by Daniel Handler (a.k.a. Lemony Snicket), this is the second attempt to adapt the author's 13-part series. Director Brad Silberling's 2004 film performed only modestly at the box-office, failing to start a franchise. Jim Carrey, despite making for a pretty good Count Olaf, never got a second chance to play the villain.
Taking over the role in the Netflix series is Neil Patrick Harris, who, based on our first look at Count Olaf, has completely disappeared as the character.
See Harris' makeup-heavy transformation below.
Harris was cast three months ago as Count Olaf, the "master" of disguise who attempts to steal the Baudelaire orphans' inheritance after their parents pass away in a mysterious accident. Olaf is either the children's third cousin four times removed or their fourth cousin three times removed, but he certainly doesn't treat the three children like family. The character and his gang/theater troupe do all that they can throughout the series to hunt down the Baudelaire children.
Harris was recently filming a scene in downtown Vancouver. Some folks, including Vancouver's Van City Buzz, snapped a few photos as Olaf exited a car to go acquire a new disguise for himself. Harris is almost unrecognizable, with the character's signature hairstyle and thick eyebrows, raggedy clothes, and the notable lack of socks.
Here's Neil Patrick Harris as Count Olaf (source: Twitter):
Barely even recognized Neil Patrick Harris as Count Olaf on set today! Photo by @pursuit23 #yvrshoots pic.twitter.com/mmN0R2uDYY

— Lindsay B (@lemon_buzz) April 25, 2016
At least they got the look of Count Olaf down, but will Harris capture the detestable spirit of the villain? The film adaptation sometimes shied away from the darker aspects of Handler's character and story. Carrey was funny and often ferocious as Count Olaf, but that performance, when it was at its broadest, was at odds with the rest of the film and the tone of the novels. Handler's stories aren't without a sense of humor, as bleak as they sometimes are, but I hope this take on Olaf is slightly more dramatic and sinister than Carrey's performance.
The Netflix series also stars Louis Hynes (Klaus Baudelaire), Malina Weissman (Violet Baudelaire), Patrick Warburton (author and narrator Lemony Snicket), Aasif Mandvi (Uncle Monty), and K. Todd Freeman (the banker, Mr. Poe). Director Barry Sonnenfeld (Men in Black) will establish the new tone and vision for Netflix's A Series of Unfortunate Events. Sonnenfeld is directing the pilot, and he'll remain involved as an executive producer.