'Adventures In Babysitting' Trailer: These Two Ain't Quitters, They're Babysitters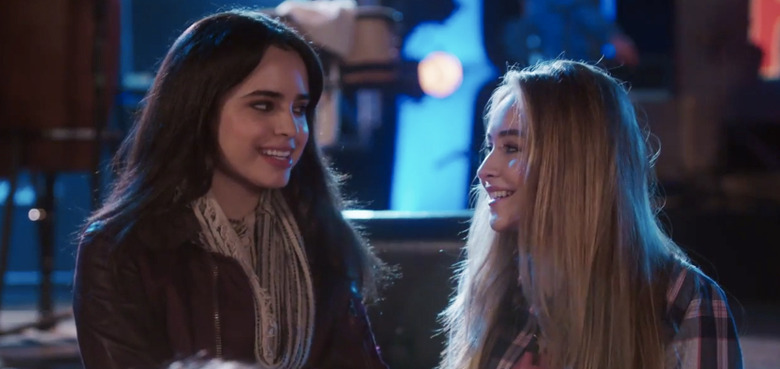 For anyone who still has love for the 1987 comedy favorite Adventures in Babysitting, prepare yourself for a lot of eye-rolling as you watch the new trailer for the remake heading to Disney Channel this summer. This time there are two babysitters, played by Sabrina Carpenter (Girl Meets World) and Sofia Carson (Disney's Descendants), traipsing around the city looking for one of the kids they're supposed to be babysitting, who somehow gets lost.
The new Adventures in Babysitting trailer shows us more of the rap battle, in place of the blues club scene from the original movie, where the two babysitters perform an impromptu rap about how their night has gone awry. It's not quite as endearing as the original for obvious reasons, but if you have any tweens in your household, they'll probably love it.
Here's the new Adventures in Babysitting trailer straight from Disney Channel:
While I completely understand why a movie like this is being updated for contemporary audiences, any good parents out there would do well to have their kids watch the original Adventures in Babysitting before watching this one. However, those same good parents also probably realize that the original movie is a little more edgy and mature than this Disney Channel version that has clearly been made to be a little more goofy, as evidenced by the first trailer that arrived earlier this year.
Adventures in Babysitting will be the Disney Channel's 100th original movie, which is pretty cool. It's just a shame that it doesn't look a little better. But at the same time, someone like me clearly isn't the target audience for this flick anyway, so as long as it works for tweens, that's all that matters.
In addition to Sabrina Carpenter and Sofia Carson, the young cast is rounded out by Nikki Hahn, Mallory James Mahoney, Madison Horcher and Jet Jurgensmeyer playing the kids our two leads are supposed to be watching.
In Adventures in Babysitting, a dull evening for two competing babysitters, Jenny (Sabrina Carpenter) and Lola (Sofia Carson), turns into an adventure in the big city as they hunt for one of the kids who somehow snuck away. Written by Tiffany Paulsen ("Nancy Drew), it will be directed by John Schultz (Judy Moody and the Not Bummer Summer, Like Mike) and executive-produced by Michelle Manning (Teen Beach 2, The Breakfast Club).
Adventures in Babysitting premieres on Friday, June 24 at 8pm ET. In addition, it will also be available for advance viewing via the Disney Channel app and VOD beginning June 17.