'Ghostbusters' Featurette Shines A Bright Light On A Dim Bulb Played By Chris Hemsworth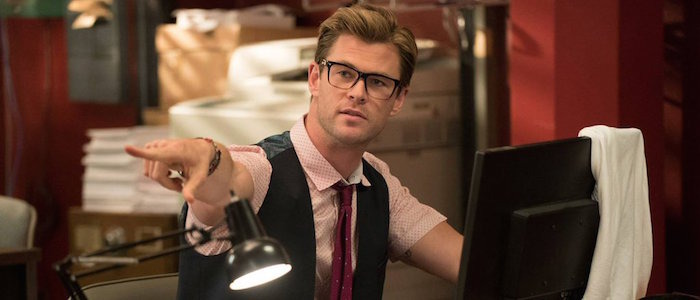 Tomorrow is Administrative Professionals Day, or so the internet tells me. And as a gift to all the administrative professionals out there, Sony has dropped a Ghostbusters featurette spotlighting the team's new administrative professional. Kevin is as dumb as he is handsome — and he's played by Chris Hemsworth, so he is very, very handsome indeed. Which makes Kevin, as Kate McKinnon puts it, basically "a Ken Doll with the inside scooped out." Watch the Ghostbusters Chris Hemsworth featurette below. 
Besides his ongoing role as Thor in the Marvel Cinematic Universe, Hemsworth is mostly known for straight-faced dramas like Rush, Blackhat, and In the Heart of the Sea. But he's really never better than when he gets to be funny and charming. Even in the Marvel movies, he's better at playing Thor as a laid-back surfer bro than he is at playing Thor as an earnest and serious hero. He seems a bit like the male Rose Byrne circa Get Him to the Greek — a decent dramatic actor just waiting to reveal himself as a fantastic comedic talent. Maybe Ghostbusters will be the start of his transition into lighter material. And if not, well, we'll always have that delightful shot of Hemsworth showing off two photos of himself shirtless and playing the saxophone.
Paul Feig directed Ghostbusters, which also stars Kate McKinnon, Leslie Jones, Kristen Wiig, and Melissa McCarthy. The film opens July 15.
Ghostbusters makes its long-awaited return, rebooted with a cast of hilarious new characters. Thirty years after the beloved original franchise took the world by storm, director Paul Feig brings his fresh take to the supernatural comedy, joined by some of the funniest actors working today – Melissa McCarthy, Kristen Wiig, Kate McKinnon, Leslie Jones, and Chris Hemsworth. This summer, they're here to save the world! The film is produced by Ivan Reitman and Amy Pascal, and written by Katie Dippold & Paul Feig, based on the 1984 film "Ghostbusters," written by Dan Aykroyd and Harold Ramis and directed by Ivan Reitman. Ghostbusters will be released in theaters nationwide on July 15, 2016.