'Weiner' Trailer: Hey, Remember Carlos Danger?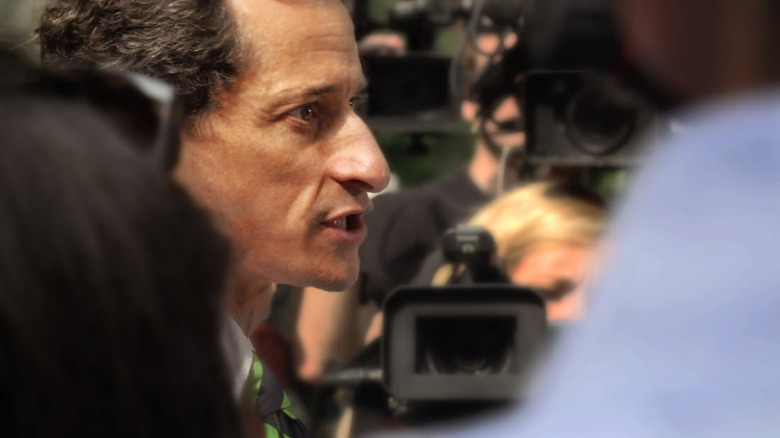 There's plenty of insanity to go around on all sides of this year's presidential race, but it's not like high-profile elections have ever been scandal- and drama-free. Case in point: remember the 2013 mayoral race? You know, the one that ended with Carlos Danger showing up and ruining everything for then-frontrunner Anthony Weiner? A new documentary, Weiner, looks at the politician's dramatic and very public decline, offering a juicy inside look at a campaign in crisis. 
What I'd forgotten until I saw this trailer was that Weiner suffered not one but two separate sexting scandals. The first, in 2011, began with a picture of his junk in boxer-briefs and ended with Weiner resigning from the U.S. House of Representatives. Less than two years later, he tried to wage a comeback, entering the New York City mayoral race, and against all odds became the frontrunner... only to be felled by the second scandal, which gave us the gift of Carlos Danger.
Directors Josh Kriegman and Elyse Steinberg started out filming the story of Weiner's return to the top, and wound up with a documentary about his precipitous fall back down to the bottom. The film premiered at Sundance this year and while none of us at /Film had the opportunity to catch it ourselves, we all heard great things about it. The Guardian's five-star review likened it to "a political tragedy that a comedy writer like [Veep creator] Armando Iannucci would construct," while Indiewire gushed that it was "the best documentary about a political campaign ever made."
Weiner hits theaters May 20 and VOD May 26.
Sexts, lies, and Carlos Danger: watch the wildest political meltdown in recent history as it unfolds. It's 2013 and Anthony Weiner—still reeling from the sex scandal that ended his political career two years earlier—is back in the spotlight as he mounts an audacious comeback campaign for New York City mayor. But it's not long before history repeats itself and new sexting allegations leave Weiner and his aides scrambling to contain the damage. Granted unfettered access to the candidate and his campaign, filmmakers Josh Kriegman and Elyse Steinberg capture a jaw-dropping, behind-the-scenes look at the political machine as it breaks down. Winner of the 2015 Sundance Grand Jury Prize.