Star Wars Bits: 'Bloodline' Details, New Elite Stormtroopers, And A 'Star Wars' Pop-Up Restaurant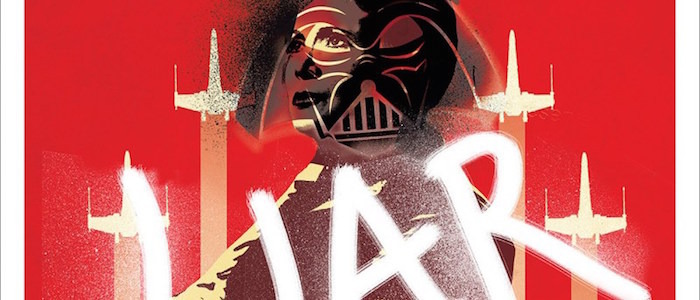 Welcome to Star Wars Bits, your home to anything and everything Star Wars news-related. And also: home to all anything and everything related to Star Wars: The Force Awakens. Yep, The Force Awakens Bits has faded away, but its essence has been absorbed by its parent series. It has become more powerful than you could possibly imagine. In today's edition:
The crazy numbers pulled by the Force Awakens Blu-ray.
A Star Wars pop-up restaurant is coming to London.
Check out an extremely detailed fan-made Poe Dameron helmet.
New details from the Star Wars: Bloodline novel have been revealed.
A new Star Wars short story tied to Star Wars: Bloodlines will be revealed in Star Wars Insider.
Marvel Comics will debut a new breed of Stormtrooper.
Gaze upon all kinds of cool Star Wars art.
Warwick Davis will host Star Wars Celebration Europe 2016.
And more!
First, let's start with some numbers. Blu-ray.com reports that Star Wars: The Force Awakens set a new record for the Blu-ray format, with 83% of the film's sales coming from that platform. In other words, physical media isn't dead quite yet, especially since The Force Awakens outsold the other 19 releases in the top 20 charts five-to-one.
If you're going to be in and around London this summer, know that Barrel and Forks is bringing a pop-up Star Wars restaurant to the city on June 23. The restaurant will only be open for six days, will require admission, and the location will only be revealed two days before the doors are set to open. Here's the official description of this limited event:
A long time ago in a galaxy far far away...
It is a period of culinary abundance: rebel spies have managed to steal secret recipes to the empire's canteen and Aunt Beru, and take them to the Death star, an armored space station with enough power to destroy an entire planet.
Set in Darth Vader's kingdom, the fork awakens will take Foodtroopers into an immersive journey through time and space, with many familiar encounters and interactive adventures along the way.
Get your jedi lightsaber drink in the canteen, tuck in some pretty amazing hutt dogs and special spacefood, meet galactic explorers and interact with the rebels. Beware that the canteen has "strong drinks, hot tunes, and occasional outbreaks of shocking violence."
Register online, and you will be given a unique id as member of the fork alliance. You will then receive the ID home one month before the event so this will give you access to the galaxy culinary adventure. Address to the venue will be disclosed only 48 hours before the event takes place: you will get an email with directions.
May the food force be with you.
Ticket includes: welcome cocktail, 4 course interactive meal, set design and entertainment
Tickets will cost £55 (roughly $80). If you want to buy tickets or learn more, you can follow this link.
If you've ever wanted to see a gentleman enthusiastically model a stunning fan-made recreation of Poe Dameron's helmet, this is your chance. I could make a joke about how excited this guy is to own Poe's helmet, but then I realized that I've never been this happy about anything in my life. Maybe this guy can bottle his enthusiasm and sell it to the rest of us?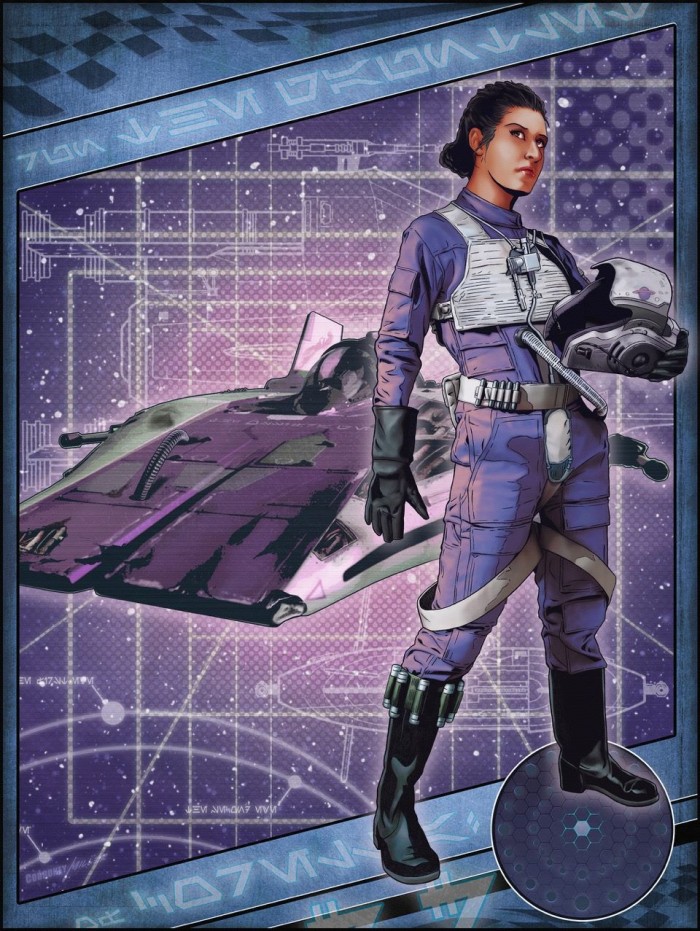 Disney may have wiped the expanded universe out of existence, but to their credit, they're starting to refill those empty gaps with a speed and efficiency that's genuinely impressive. And like any geeky universe, they're starting to making keeping up with the new universe a little tricky. Even if you're already reading the books and comics, you now have to track down the latest issue of Star Wars Insider to read a short story that will directly tie into the upcoming novel Star Wars: Bloodline. And Star Wars: Bloodline is already a must-read since it will take place between Return of the Jedi and The Force Awakens and supposedly shed light on the relationship between General Leia and Snoke. Which means that this short story, Scorched, just became vital reading. Here are the details from the Star Wars Books Facebook page:
We know everyone is eagerly awaiting Star Wars: Bloodline on May 3rd, but before we get there our next Star Wars Insider short story will appear in issue #165, due out on April 27th. Written by the awesome Delilah S. Dawson, SCORCHED is a short story starring Greer Sonnel, a rising star preparing to take part in The Gauntlet, a challenging and dangerous starfighter race.
Greer Sonnel is a key character – and close ally of Senator Leia Organa – who will be featured in Claudia Gray's upcoming STAR WARS: BLOODLINE. SCORCHED takes place before the events of the novel and provides insight into Greer's background and character.
Accompanying Delilah's story will be art from Joe Corroney. We have a sample from Joe's art featuring Greer in her racing outfit standing next to her A-Wing the Ossifrage.
Star Wars Insider is available on April 27th, in both physical and digital formats. Star Wars: Bloodline will be on-sale May 3rd.
That art above is our first depiction of Greer Sonnel, by the way.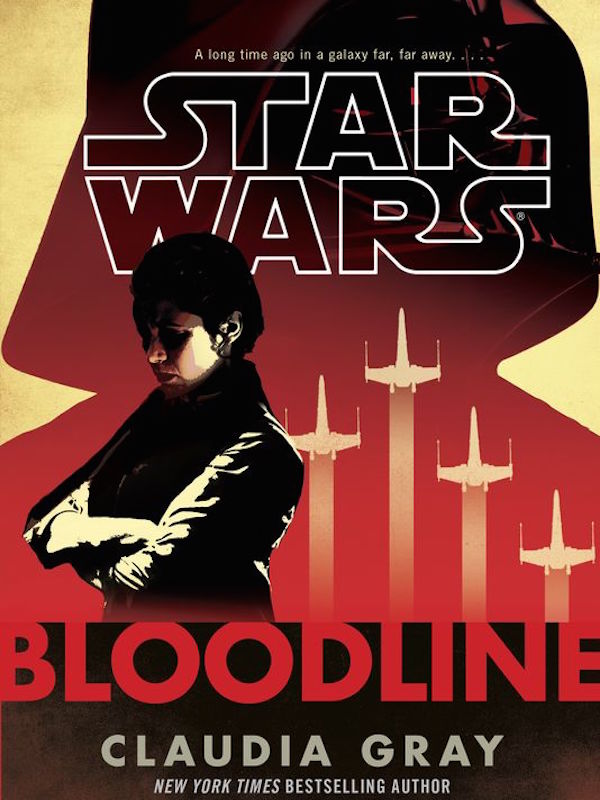 Although Star Wars: Bloodline is set for release on May 3, advance copies have already begun circulating, which means that details have already begun to appear around the internet. If you want to know nothing, just skim past this next section. If you want to know some of the basic details of the novel and when it takes place and who is involved, Star Wars Underworld revealed these details:
Star Wars: Bloodline is set 6 years prior to The Force Awakens
The novel will be written entirely from Leia's perspective
Han and Leia are still a couple
There will be flashbacks to earlier points in Han and Leia's relationship
Han owns a shipping company
Leia is on the cusp of retiring from her political career and becoming a full time crewmember on the Falcon
Ben Solo is 23 years old in the novel
Ben is still training with Luke at this time
If you want to take this even further, click the link above to read a small excerpt from the novel. It's nothing too spoilery, but we'll keep it a click away. You know, just in case.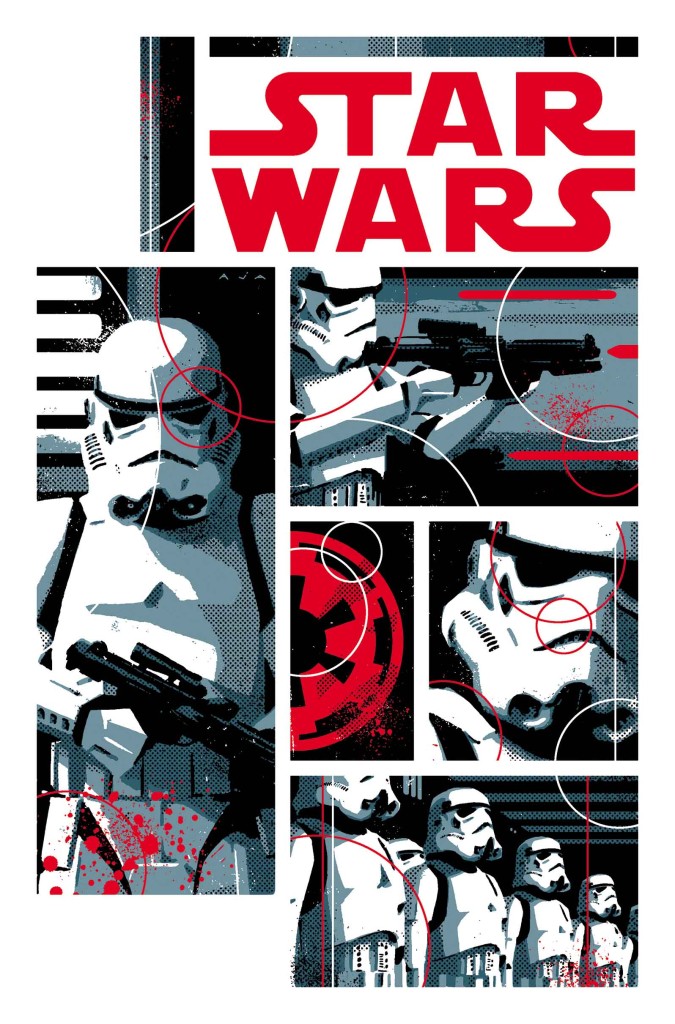 Speaking of staying caught up with canon, an upcoming issue of Marvel's (very, very good) Star Wars comic series will introduce a team of elite Stormtroopers to battle with our heroes. They will be central to the next arc and the bulk of the action in Star Wars #21 will center on this new crew, showcasing what an elite Imperial unit like this can do before sending them after our heroes. This arc will be drawn by artist Jorge Molina and scripted by the usual series writer, Jason Aaron, who explained to StarWars.com why he wanted to create a group of characters like this:
The main thing I wanted to do was give more of a face to some of the stormtroopers. We've seen lots of them in the series, but they've all been pretty interchangeable, faceless bad guys. We haven't gotten to know them. That was one of my favorite parts of The Force Awakens, getting to see and getting to know a real character who was a stormtrooper and somebody who, of course, has a conscience and changed his ways and joined up with the good guys. This is the opposite of that. It's us peering inside the heads of somebody who is very gung-ho for the Empire and then the question, of course, is 'Why? Why would you sign up to fight for the Empire?' That's something we'll answer over the course of the story. We wanted to put a face on those enemies and also create a formidable group of bad guys because they're up against our heroes.
The squad will be led by Sergeant Kreel, a tough Imperial agent who was previously introduced in another issue. You can check out the designs for these new Stormtroopers below.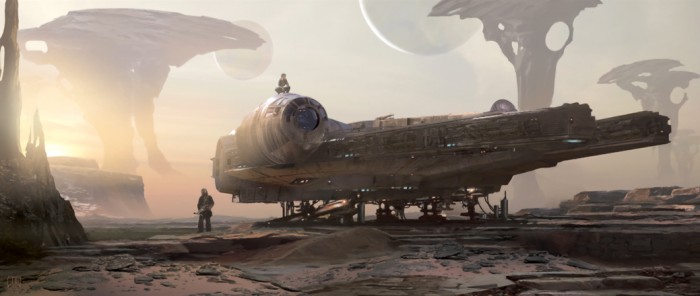 Acme Limited has revealed a new batch of incredible Star Wars art and if you have some disposable income to blow, you're in for a treat. That piece above is Smugglers Rendezvous by Stephan Martiniere and it will set you back a cool $395. The pieces below are Infiltrator and Dark Descent (both from artist Greg Lipton) and FN-2187, by Kevin Graham. Follow those links for the various pricing options, but make sure you bring some bandages. Your wallet will bleed when you're done. But it's worth it, right? Maybe? Yeah. Of course.
And since you blew all of your money on Star Wars art, you hopefully won't be too upset to learn that the BB-8 Great Auction 2016 has come to an end. Funds from this auction went to benefit the Great Ormond Street Children's Hospital Charity in London, which means that it was completely and totally okay for a bunch of fans to spend thousands of pounds on BB-8 replicas redesigned by members of the Star Wars cast, esteemed artist, and various other celebrities. You can check out the entire auction line-up right here, but the gallery below includes entries designed by John Boyega, Daisy Ridley, Warwick Davis, Simon Pegg, Anthony Daniels, and Mark Hamill.
StarWars.com has announced that Warwick Davis, who played Wicket the Ewok in Return of the Jedi, several roles in The Phantom Menace, and Wollivan in The Force Awakens, will host Star Wars Celebration Europe 2016 in London, England. Davis had previously hosted Star Wars Celebration Europe in 2013, when the event was held in Essen, Germany. Davis, who has also starred in the Harry Potter and Leprechaun franchises, also revealed the news on his YouTube channel with the video above, which is so endearingly cheesy that it somehow loops around and becomes kind of great.
This video has been floating around for a few weeks now, but it was recently brought to your attention and it's worth your time. While many fans have taken the lightsaber-induced flashback scene from The Force Awakens and broken it down into tiny details, this video is one of the more entertaining, thoughtful, and better produced versions, allowing the two hosts to have a proper dialogue about the sequence and its implications.
Disney recently broke ground on the Star Wars lands for Disneyland in California and Disney's Hollywood Studios theme park in Florida and even though both still look like bit dirt pits, there was plenty of fanfare. Take the interactive 360 degree image above. Although there's not much to see right now beyond a few ditches and some concrete shards leftover from demolition, they've gone ahead and added all kinds of droids and vehicles and spaceships to the scene. Because you know, Disney magic and some-such. It'll be interesting to see how open Disney is about this project moving forward, especially since they were so secretive for so long about the Avatar expansion at their Animal Kingdom park. All eyes will be on Star Wars land for the foreseeable future.