'Warcraft' Featurette: Go Behind The Scenes Of The Lion's Pride Inn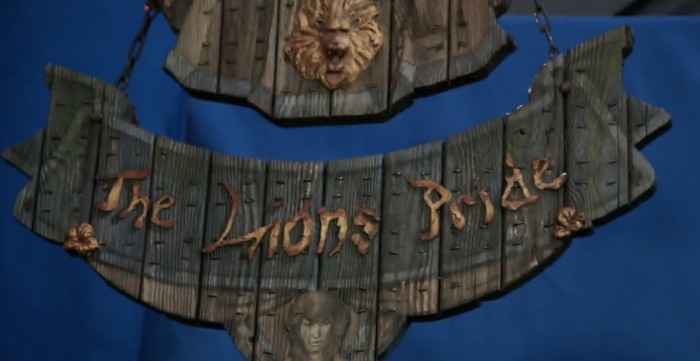 Following a new trailer for the video game adaptation Warcraft last week, a new featurette from the film has surfaced online, and it offers a glimpse at a set that will be very familiar to those who have played the game. The Lion's Pride Inn is in the town of Goldshire, located in Elwynn Forest, and it's like a lot of taverns and bars we've seen in fantasy and western movies. There's rough clientele, fights break out, and it's a good place to get a drink. In the game, it's where you gain classes and find quests.
Now The Lion's Pride Inn has been built for the movie, and a new Warcraft featurette has actor Rob Kazinsky, who was an avid player of the game himself, talks about just how details the set is, including plenty of design elements and easter eggs lifted straight from the game. Check out the video touring the set after the jump.
Here's the Warcraft featurette posted to Twitter by Rob Kazinsky:
Check out my exclusive behind-the-scenes tour of The Lion's Pride Inn set from #WarcraftMovie. https://t.co/Pkhebswutr

For The Horde!

— Robert Kazinsky (@RobertKazinsky) April 23, 2016
Kazinsky (who plays Orgrim Doomhammer) seems to be the best person to talk about the game for any of the players out there who are worried that it won't translate to the big screen well. The precedent of bad video game movies doesn't instill much faith. Since Warcraft is such an expansive, open-world game, adapting it for a film that doesn't feel derivative and offers what people love about the game is pretty difficult, but hopefully director Duncan Jones (Moon, Source Code) is up to the task.
Warcraft also stars Travis Fimmel, Paula Patton, Ben Foster, Dominic Cooper, Toby Kebbell, Ben Schnetzer, Rob Kazinsky and Daniel Wu, and if you want to see more of them in action, watch the most recent trailer right here.
Warcraft is an epic adventure of world-colliding conflict based on Blizzard Entertainment's global phenomenon. The peaceful realm of Azeroth stands on the brink of war as its civilization faces a fearsome race of invaders: Orc warriors fleeing their dying home to colonize another. As a portal opens to connect the two worlds, one army faces destruction and the other faces extinction. From opposing sides, two heroes are set on a collision course that will decide the fate of their family, their people and their home. So begins a spectacular saga of power and sacrifice in which war has many faces, and everyone fights for something.
Warcraft arrives on June 10.