Prince's 'Purple Rain' Returning To Select AMC Theatres And Carmike Cinemas Locations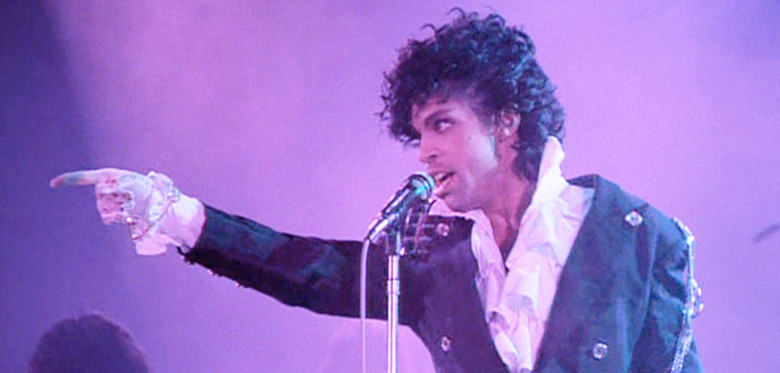 Fans around the world are still reeling from the sudden passing of international music icon Prince. The 57 year old musician was found dead in his Minnesota studio on Thursday, and plenty of tributes and memories have been hitting the web in honor of the incredible musician. Now several networks and a couple movie theater are chains are helping people mourn and celebrate Prince.
Prince's feature film Purple Rain will be returning to select theaters in the AMC Theatres and Carmike Cinemas chains while NBC, VH1, OWN, AXS TV will be airing special tributes as well. Get all the details on where you can see Purple Rain in theaters and catch other Prince tributes after the jump.
First up, NBC will be airing a special retrospective episode of Saturday Night Live titled "SNL Goodnight Sweet Prince." The tribute will be a clip show comprised of memorable performances from his SNL appearances in 1981, 2006 and 2014. His final appearance on the show included an eight-minute jam session in the middle of the episode rather than the traditional two separate performances. It's truly incredible. Off the top of my head, I can't remember if he appeared in any sketches, but if he did, hopefully they'll play those as well. That episode will air at 11:30pm ET/PT.
Next, Oprah Winfrey's network OWN will be re-airing an interview with Prince from the talk show personality's own program back in 1996. That will air Saturday night at 8pm ET.
Also on Saturday, AXS TV will have a whole tribute block of programming that will include an episode of Rock Legends focusing on Prince at 1pm ET along with the TV premiere of a special documentary called Slave Trade: How Prince Re-Made The Music Business.
In addition, this Tuesday, Fox will re-air an episode of New Girl which featured Prince appearing as himself. The episode aired in 2014 and will be replayed on Fox on Tuesday, April 26 at 9:30pm ET/8:30pm ET.
Finally, VH1 will be playing Purple Rain throughout the weekend. The network will play the 1984 film twice a day throughout the weekend, so check out local listings to see when it's on TV.
Speaking of Purple Rain, if you'd rather catch it in theaters, AMC Theatres and Carmike Cinemas locations will be playing the film on the big screen starting today and running through Thursday, April 27. This feels a tad exploitative to me, but surely there are plenty of fans who would like to see the movie on the big screen again, especially since it's not one of those movies that has been redistributed in theaters abundantly since its release.
Here's the entire list of theaters where you can catch Purple Rain, thanks to Variety.
AMC Theatres
AMC North Dekalb Mall 16
AMC Phipps Plaza 14
AMC Sugarloaf Mills 18
AMC White Marsh 16
AMC Baton Rouge 16
AMC Loews Boston Common 19
AMC Liberty Tree Mall 20
AMC Methuen 20
AMC Carolina Pavilion 22
AMC 600 North Michigan 9
AMC Naperville 16
AMC South Barrington 30
AMC Schererville 16
AMC Newport on the Levee 20
AMC Easton Town Center 30
AMC Lennox 24
AMC Grapevine Mills 30
AMC Mesquite 30
AMC Stonebriar Mall 24
AMC Parks @ Arlington 18
AMC Highlands Ranch 24
AMC Westminster Promenade 24
AMC Forum 30
AMC Great Lakes 25
AMC Plainville 20
AMC Gulf Pointe 30
AMC Studio 30
AMC Willowbrook 24
AMC Indianapolis 17
AMC Regency 24
AMC Barrywoods 24
AMC Town Center 20
AMC Atlantic Times Square 14
AMC Broadway 4
AMC Covina 17
AMC Norwalk 20
AMC Ontario Mills 30
AMC Orange 30 W/IMAX
AMC Promenade 16
AMC Rolling Hills 20
AMC Aventura Mall 24
AMC Arbor Lakes 16
AMC Coon Rapids 16
AMC Eden Prairie Mall 18
AMC Inver Grove 16
AMC Rosedale 14
AMC Southdale Center 16
AMC Festival Plaza 16
AMC Elmwood Palace 20
AMC 19th St East 6
AMC Empire 25
AMC Jersey Gardens 20
AMC Kips Bay 15
AMC New Brunswick 18
AMC Palisades 21 And Imax
AMC Stony Brook 17
AMC Hampton 24
AMC Quail Springs Mall 24
AMC Oak View 24
AMC Disney Springs 24
AMC Universal Cineplex 20
AMC Cherry Hill 24
AMC Hamilton 24
AMC Neshaminy 24
AMC Ahwatukee 24
AMC Arizona Center 24
AMC Westgate 20
AMC Waterfront 22
AMC Southpoint 17
AMC West Jordan 12
AMC Mission Valley 20
AMC Mercado 20
AMC Metreon 16
AMC Alderwood 16
AMC Oak Tree 6
Southcenter 16
AMC Pacific Place 11
AMC River Park Square 20
AMC Chesterfield 14
AMC West Olive 16
AMC Tallahassee Mall 20
AMC Veterans Expressway 24
AMC Woodlands Square 20
AMC Southroads 20
AMC Hoffman 22
AMC MJ Capital Center 12
AMC Indian River 24
Carmike Cinemas
Wynnsong 14 – Auburn AL
Jubilee Square 12 – Daphne AL
Carmike 12 – Dothan AL
Patton Creek 15 – Hoover AL
Valley Bend 18 – Huntsville, AL
Wynnsong 16 – Mobile, AL
Chantilly 13 – Montgomery, AL
Wharf 15 – Orange Beach, AL
Carmike 14 – Fort Smith, AR
Central City 10 – Hot Springs, AR
Carmike 7 – Grand Junction, CO
Carmike 14 – Dover, DE
Royal Palm 20 – Bradenton, FL
Hialeah 12 – Hialeah, FL
Avenue 16 – Melbourne, FL
Carmike 10 – Panama City, FL
Bayou 15 – Pensacola, FL
Broward 18 – Pompano Beach, FL
Lakeshore 8 – Sebring, FL
Sundial 19 + IMAX – St Petersburg, FL
Starlight 20 – Tampa, FL
Parisian 20 – West Palm Beach, FL
Wynnsong 16 – Albany, GA
Ovation 12 – Athens, GA
Movies ATL – Atlanta, GA
Riverstone 15 – Canton, GA
Carmike 12 – Cartersville, GA
Carmike 15 – Columbus, GA
Crossroads 16 – Conyers, GA
Movies 400 – Cumming, GA
Movie 278 – Hiram, GA
Carmike 10 – Newnan, GA
Wynnsong 11 – Savannah, GA
Carmike 12 – Snellville, GA
Wynnsong 12 – Cedar Rapids, IA
Wynnsong 16 – Des Moines, IA
Southern Hills 12 – Sioux City, IA
Carmike 13 – Champaign, IL
Grand Prairie 18 – Peoria, IL
Rosemont 18 – Rosemont, IL
Encore Park 14 – Elkhart IN
Jefferson Pointe 18 – Fort Wayne, IN
Carmike 18 – Plainfield, IN
Stonybrook 20 – Louisville, KY
Fashion Square 10 – Saginaw, MI
Cherry Blossom 14 IMAX – Traverse City, MI
Carmike 15 – Apple Valley, MN
Cinema 6 – Mankato, MN
Wynnsong 15 – Mounds View, MN
Oakdale 20 – Oakdale, MN
Shiloh 14 – Billings, MT
Carmike 10 – Asheville, NC
Wynnsong 15 – Durham, NC
Marketfair 15 – Fayetteville NC
Carmike 18 – Greensboro, NC
Carmike 15 – Hickory, NC
Carmike 16 – Jacksonville, NC
Park Place 16 – Morrisville, NC
Carmike 15 – Raleigh, NC
Ritz Center 16 – Voorhees, NJ
Carmike 12 – Findlay, OH
Solon 16 – Solon, OH
Carmike 12 – Corvallis, OR
Carmike 16 – Allentown, PA
Carmike 15 – Greensburg, PA
Carmike 10 – Pittsburgh, PA
James Island 8 – Charleston, SC
Carmike 14 – Columbia, SC
Broadway 16 – Myrtle Beach, SC
East Ridge 18 – Chattanooga, TN
Bradley Sq. 12 – Cleveland, TN
Thoroughbred 20 – Franklin, TN
Carmike 14 – Johnson City, TN
Wynnsong 16 – Knoxville, TN
Wynnsong 16 – Murfreesboro, TN
Lufkin Mall 9 – Lufkin, TX
Carmike 14 – Tyler, TX
Sikes 10 – Wichita Falls, TX
Apple Blossom 12 – Winchester, VA
Carmike 12 – Kennewick, WA
Oakwood Mall 12 – Eau Clair, WI