'Princess Diaries 3': Garry Marshall Has Met With Anne Hathaway And Julie Andrews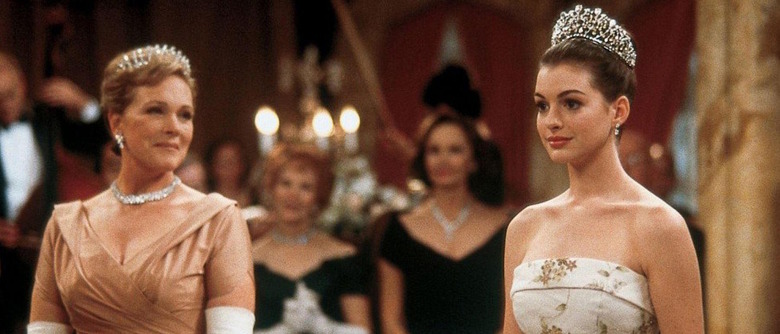 Rumors of a Princess Diaries 3 have been floating around for some time now, but in recent weeks they've grown ever-so-slightly more concrete. Garry Marshall, who directed both The Princess Diaries and The Princess Diaries 2: Royal Engagement, confirms he's actually had a meeting with stars Anne Hathaway and Julie Andrews — though he stops short of announcing the project outright, maybe because, according to him, Disney likes to do that stuff itself. 
Larry King recently sat down with Marshall for his Ora show, and asked the director for an update on Princess Diaries 3. You can watch the exchange below or scroll down further for a transcript of Marshall's comments.
Well, they talk about it. Disney always likes to announce things, so they tell [me], 'Shut up, we'll announce it.' No, I work for Disney, I love working for them. This is the modern world, Larry. [Anne Hathaway] came to my office, she was quite pregnant – now she's had the kid, but she comes in pregnant — she puts her computer on the table, pushes three buttons, it's Julie Andrews on Skype in Long Island. And we have a meeting. This is how we work. So I hope they do it.
Last month, Marshall told press he'd spoken with Hathaway about a Princess Diaries 3, and that they both wanted to do the sequel. At the time, he also seemed hopeful that Chris Pine would return. As Marshall himself acknowledges, Disney hasn't officially announced Princess Diaries 3, and we should probably take all this sequel talk with a grain of salt until they do. But it does sound like Marshall, Hathaway, and Andrews are getting more serious about making the sequel happen. Hathaway just had her kid a few weeks ago, so once she's back to work maybe we'll get some more solid updates on Princess Diaries 3.
Released in 2001, The Princess Diaries was based on the bestselling novel by Meg Cabot. In her first-ever feature role, Hathaway played Mia, an ordinary teenager whose life is forever changed when she discovers she is the rightful heir to the throne of a small European country. The sequel, which opened in 2004, had her facing the prospect of marriage as a prerequisite for ascending to the throne. Both films were modestly budgeted hits for Disney, grossing a combined $300 million worldwide.
Marshall has spent most of the past few years turning every holiday into a middling ensemble romcom. (His latest, Mother's Day, opens next weekend.) The Princess Diaries 3 sounds like a good next step for him, if only because it'll keep him from turning his attention to Christmas and Thanksgiving. As for Hathaway, she's a much, much bigger deal now than she was when she made the earlier Princess Diaries movies, but it could be fun to see her circle back to her beginnings as a Disney princess.