'Daddy's Home' Sequel In The Works; Will Ferrell And Mark Wahlberg To Return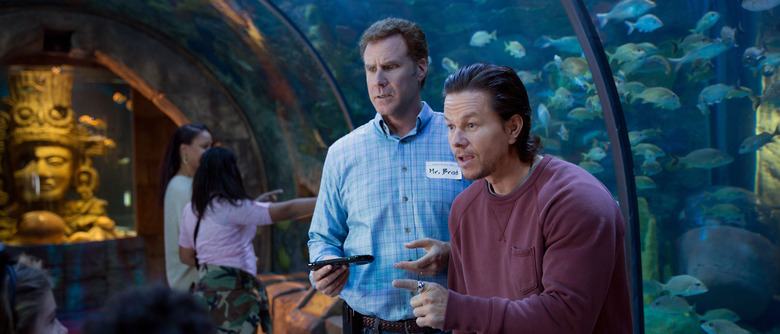 In terms of box office news, all anyone could talk about last winter was the complete and utter domination of Star Wars: The Force Awakens, and with good reason — it smashed nearly every record in its path, becoming the third-highest grossing movie of all time. But a few films managed to flourish even in the shadow of Starkiller Base, and one of those was Daddy's Home. Opening the weekend after Star Wars, the comedy quietly racked up an impressive $240 million worldwide over the course of its run. So you can probably guess what I'm about to tell you next.
Yup, Paramount is moving forward with a sequel to Daddy's Home, with Mark Wahlberg and Will Ferrell set to return as the rival dads. No director has been announced, but Sean Anders (who also directed the last film) and John Morris are returning to write the script. 
Deadline broke the news on the Daddy's Home sequel. The first film starred Ferrell as Brad, the doting stepfather of two children. His position in the family is threatened when the kids' biological dad, Dusty (Wahlberg), returns to the family. The premise of the sequel is being kept under wraps for now, though the original did set up one possible avenue for a follow-up. There's no word yet on whether other members of the original cast, which included Linda Cardellini, Thomas Haden Church, Hannibal Buress, and Bobby Cannavale, will return.Daddy's Home opened December 25, 2015, easily nabbing second place behind the second weekend of Star Wars: The Force Awakens. The reviews weren't great, but as a relatively family-friendly options for households uninterested in sitting through Star Wars again, it was a solid counter-programming option. Daddy's Home ultimately took $150 million at home and another $90 million abroad (making it Ferrell's highest international grosser), all on a budget of around $50 million. Daddy's Home also far outgrossed Ferrell and Wahlberg's last team-up, The Other Guys.