Francis Ford Coppola's 'Distant Vision' Will Take Five Years To Complete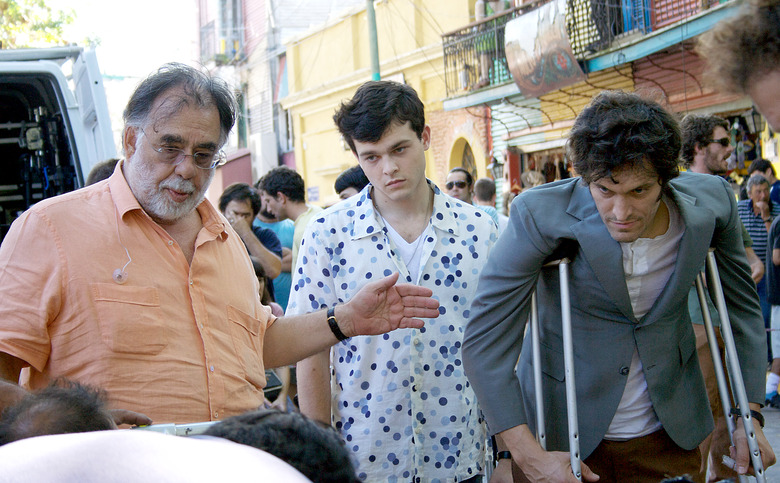 It's now been over five years since Francis Ford Coppola has directed and released a feature film. Coppola's last picture, Twixt, was an experimental horror movie of sorts, and his ambitious plans for that film never came to fruition, as it sat on the shelf before quietly getting released. Coppola had wanted to tour the states with Twixt, playing different cuts of the movie, depending on the audience and when and where the movie was playing. The director's intention was to create a more engaging cinematic experience, which he's once again hoping to do with Distant Vision, his latest and wildly ambitious project.
Learn more about Francis Ford Coppola's Distant Vision below.
In December, the filmmaker behind The Godfather, The Conversation, and Apocalypse Now discussed Distant Vision with The Hollywood Reporter, telling the outlet about his "live-cinema" concept — an experiment that would combine live performance and traditional filmmaking, which could either be viewed in a theater or on a television.
Coppola tried this idea out last summer at the Oklahoma City Community College, where a 52-minute live-performance of Distant Vision was held and screened in select theaters. For three weeks, Coppola and OCCC's students performed short versions of Distant Vision, a sprawling script he wrote himself. The director has frequently said it's a difficult project to explain, that people just have to see it to fully understand it.
After a recent discussion with the director at the Tribeca Film Festival, more facts about the project have come to light. For starters, Coppola expects Distant Vision to take a total of five years to make. Indiewire says he hasn't worked out all the logistics yet, like how to make a live performance with the visual appearance of a film. Because Coppola is testing new waters, this project is going to take time. Over the next few years, he'll continue to experiment by performing several shorter productions, as he did at the Oklahoma City Community College.
The story is both epic and personal to Coppola. At Tribeca, he said the script is around 500 pages long. Distant Vision follows four generations of a fictional Italian family, hence the notably long script, and Coppola wants to present their sprawling story through, what he refers to as, "one aspect of what I think will be the future of cinema." The director is aware of how massive of an undertaking Distant Vision is, but even this late in his career, he's still a firm believer in pushing himself and trying new things:
The truth is I had no idea how I was going to do what I was saying I was going to do. If you don't get too experiment and do outrageous things like that, how can you move forward?