The "Hasbro Cinematic Universe" Adds Brian K. Vaughn, Michael Chabon And More To Its Writers Room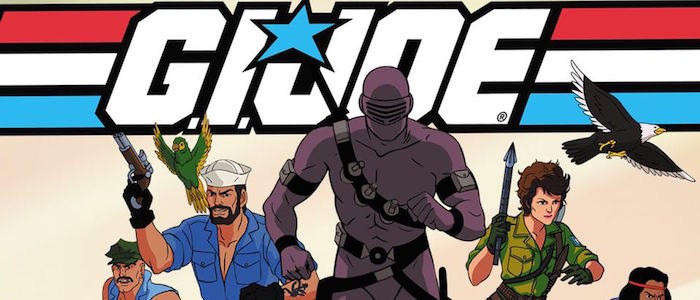 Late last year, we first learned about plans for a "Hasbro Cinematic Universe" that would unite the G.I. Joe, M.A.S.K., Micronauts, and ROM characters in a shared on-screen world. At the time, this news filled me with dread. Not because I bear any ill will toward these characters, but because it sounded like a desperate attempt to ape the Marvel studios model. A Hasbro Cinematic Universe? Really?
And while I will keep an eyebrow raised in skeptical protest for the time being, the people who have been recruited into this project's "writers room" only inspire confidence. If you're going to do something as batty as this, you might as well hire a collection some of the most interesting writers working today. Seriously: there's a Pulitzer Prize winner now attached to the Hasbro Cinematic Universe.
The Hollywood Reporter has revealed the current line-up and it's a doozy. Let's run down these names:
Michael Chabon, the Pulitzer Prize-winning author of The Amazing Adventures of Kavalier and Clay, Wonder Boys, and The Yiddish Policemen's Union, as well as a draft of Sam Raimi's Spider-Man 2.
Brian K. Vaughn, the Eisner Award-winning writer of comics like Y: The Last Man, Ex Machina, and Saga, who also wrote for Lost and acted as showrunner on Under the Dome.
Nicole Perlman, who wrote the earliest drafts of Guardians of the Galaxy and is currently working on the screenplay for Captain Marvel.
Lindsey Beer, who is writing an upcoming adaptation of The Kingkiller Chronicle.
Cheo Coker, the showrunner on Marvel and Netflix's upcoming Luke Cage series and a former writer for Ray Donovan and Southland.
John Francis Daley and Jonathan Goldstein, who wrote last year's Vacation and next year's Spider-Man: Homecoming.
Joe Robert Cole, who wrote for The People v. O.J. Simpson and is currently penning Black Panther for Marvel.
Jeff Pinkner, a co-writer on the upcoming adaptation of Stephen King's The Dark Tower.
Nicole Riegel, whose screenplay Dogfight was featured on the Blacklist, the list of the best unmade screenplays in Hollywood.
Geneva Robertson, who is currently writing the upcoming Tomb Raider movie.
As previously reported, Paramount and Hasbro have also hired Akiva Goldsman to oversee the group, a job he previously performed for the Transformers writers room. The result of those meetings were a decade's worth of sequels being planned out. Apparently, the people with their fingers on the pursestrings were happy enough with that process to bring him back for another round.
And yes, it's no accident that this line-up of writers includes many women and people of color. As Hasbro CCO Stephen Davis explains:
"We first and foremost put together a list of writers who we wanted to be in business with and could be the worldbuilders that we needed. But we want to be sure that in the room we have diverse perspectives, diverse backgrounds, and diverse experiences."
The Hasbro Cinematic Universe will hold its first meeting this Monday and I would give anything to be a fly on the wall so I could listen to this group put their heads together and figure out how to make this whole thing work. It's not clear right now which of these writers will ultimately go on to pen actual screenplays for this burgeoning franchise and which ones are just present to spitball ideas, but the make-up of the room is absurdly promising.
Okay, Paramount and Hasbro. This is how you make me pay attention to a M.A.S.K. or Micronauts movie.