Adam DeVine Will Take A 'Paternity Leave' For 'The Final Girls' Director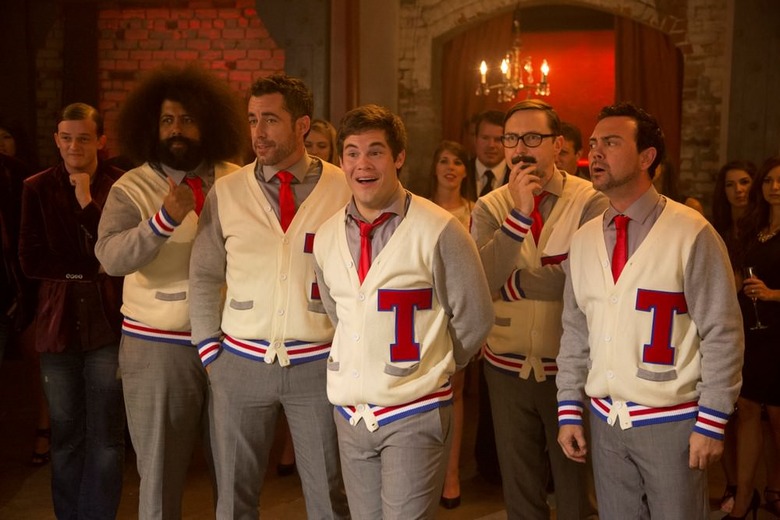 Earlier today we saw the trailer for the Adam DeVine and Zac Efron summer comedy, Mike and David Need Wedding Dates. The trailer fell a bit flat, which is a shame, considering the actors involved, and the fact that it's DeVine's first starring role in a big summer comedy. The Workaholics star has appeared in some fun supporting roles over the years, but Mike and David Need Wedding Dates could potentially lead to him starring in more comedies.
Any fan of DeVine's should be happy to learn that he's already lined up another starring role for himself. The actor will reunite with The Final Girls director, Todd Strauss-Schulson, for Paternity Leave. Learn more about the project below.
The Hollywood Reporter describes Paternity Leave as having "shades of The Hangover and Wedding Crashers," which basically means it's a very male-centric comedy. The project has been at New Line since 2005, after David Diamond and David Weissman sold the studio their pitch and wrote a draft of the script, which Adam Cole Kelly and Sam Pitman rewrote.
Very much in the vein of The Hangover and Wedding Crashers, the story centers around some dudes making some questionable decisions. A pack of immature bachelors decide to take a phony paternity leave, with the help of a pregnant friend, and they all go on an expensive paid vacation together.
Strauss-Schulson worked with New Line on 2011's A Very Harold & Kumar Christmas 3D, but it was his last directorial effort, The Final Girls, that left a strong impression. Nothing against the Harold & Kumar sequel, but Strauss-Schulson's horror-comedy is a very clever, funny and surprisingly sweet movie.
Although Paternity Leave sounds mostly about a group of guys going wild on vacation, maybe the director will bring more to it — or maybe there's already more to this story we don't know. That was certainly the case with The Final Girls, a movie that has more heart than one would maybe expect based on the plot synopsis.
With his previous feature, Strauss-Schulson also established he's adept at directing ensemble comedy, making him a fine choice for Paternity Leave. Every actor scores laughs or serves a purpose in The Final Girls. DeVine almost steals the show, playing a goofy and horny camp counselor, so the news of him and The Final Girls director working together again for Paternity Leave is promising news. THR describes DeVine and his role in the comedy as "the linchpin around which the others will revolve," meaning he will lead the Paternity Leave cast.