'The Girl On The Train' Trailer: Emily Blunt Sees A Gone Girl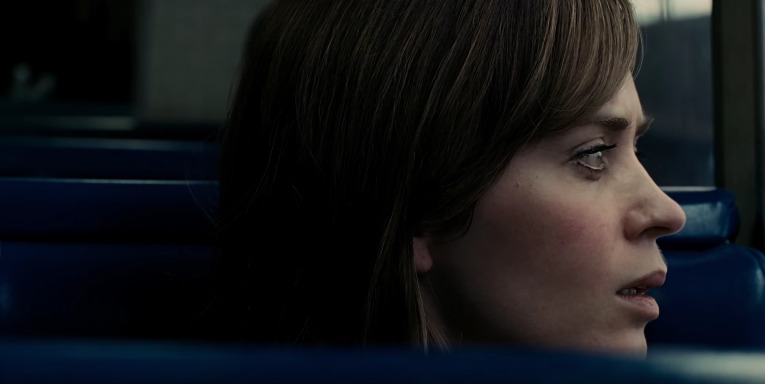 How was your ride to work this morning? Did you get snarled up in traffic? Was your train unbearably crowded? Maybe it was raining, or maybe you spilled coffee on yourself in your rush to get out the door. Whatever the case, though, it seems a pretty safe bet you still had a better time than Emily Blunt's character in The Girl on the Train.
Directed by Tate Taylor and based on the bestselling novel by Paula Hawkins, The Girl on the Train follows Rachel (Blunt), an alcoholic who's still reeling from her divorce. Every day on her daily commute, she passes by a perfect-looking couple and fantasizes about what their lives must be like — until one morning, when she witnesses something she wasn't supposed to. Watch the Girl on the Train trailer after the jump. 
There are strong shades of Gone Girl here, between the vanishing victim, the unreliable protagonist, the twist-filled mystery, and its complicated female leads. If you loved that film, this one looks like it could scratch a similar itch. If nothing else, it's a chance to see yet another side of Blunt. She's already proven she can switch between Disney princess, action hero, and comedy star without batting an eye, and here she gets to be a bigger mess than I think we've ever seen her play before.
The Girl on the Train opens October 7, 2016. Also starring are Justin Theroux as Rachel's husband Tom, Rebecca Ferguson as Tom's new wife Anna, and Haley Bennett and Luke Evans as the golden couple.
Emily Blunt, Rebecca Ferguson, Haley Bennett, Justin Theroux, Luke Evans, Allison Janney, Edgar Ramirez, Lisa Kudrow and Laura Prepon star in DreamWorks Pictures' The Girl on the Train, from director Tate Taylor (The Help, Get on Up) and producer Marc Platt (Bridge of Spies, Into the Woods).
In the thriller, Rachel (Blunt), who is devastated by her recent divorce, spends her daily commute fantasizing about the seemingly perfect couple who live in a house that her train passes every day, until one morning she sees something shocking happen there and becomes entangled in the mystery that unfolds.
Based on Paula Hawkins' bestselling novel, The Girl on the Train is adapted for the screen by Erin Cressida Wilson and Taylor. The film's executive producers are Jared LeBoff and Celia Costas, and it will be released by Universal Pictures.